I went for the
walk for media freedom
yesterday, seeing as All-Blogs was involved and my wife wanted to go also. You can get the details of the event from the links below, so I'd just like to mention the moments when blogs came up, and say something about the role of blogs as an
indexical symbol
.
First Ms. Norila Mohd Daud - the President of the
National Union of Journalists
spoke, she said it was an historic occasion where all stakeholders - journalists, bloggers, Benar - had come together for press freedom.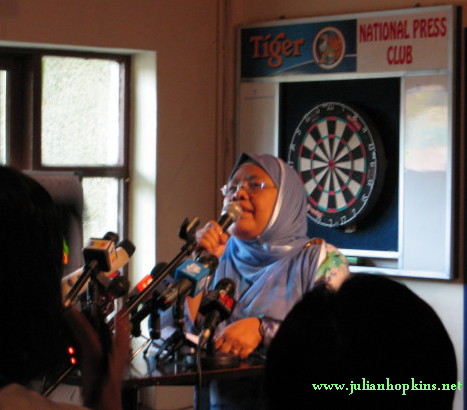 Then Gayathry Venkiteswaran, Executive Director of the
Centre for Independent Journalism, Malaysia
spoke, for her organisation and on behalf of All-Blogs and Benar. She basically argued that a free press is important for the country, and also emphasised that journalists and bloggers, need to be professional and responsible to make it work too.
Then the Minister in the Prime Minister's Department, Datuk Zaid Ibrahim, spoke. I was surprised that he had turned up and it is a sign of the times but, disappointingly for me, he didn't say anything about blogs - though he did say at one point that "control is elusive", referring to the ability of the government to control the spread of information. Overall, he concentrated on issues relating to media laws and how the media can organise itself.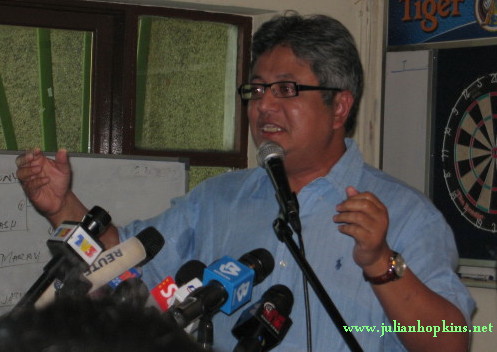 During the Q&A session I noticed something that may be relevant to understanding the significance of blogs in Malaysia. The usual protocol is for the questioner to state their name and the organisation they represent - e.g. 'Steven Gan, Malaysiakini'; there were about 6-7 questions in all, with three or four being from bloggers and when they introduced themselves one said "[name], a small-time blogger", and another "[name], a very insignificant blogger" (I couldn't catch the names). So it struck me, the fact of having a blog is a kind of institutional 'anchor' that can give a person a certain amount of authority that they otherwise wouldn't have. If I was Joe-always-shooting-my-mouth-off-in-the-coffeeshop, I couldn't use that as a reason to claim an authoritative voice, but as a blogger, I suddenly can. Is it something about the apparent permanence of the blog-as-text that makes it different to someone who shares their opinions with others on an informal basis?
Another question came from someone who has a blog, but also represents an NGO - so he used that 'anchor' instead, and another well known blogger introduced himself as "retired". So it seems that they chose to align themselves differently - perhaps depending on the context (i.e. in a press conference), or what they see as a more significant aspect of their identity.
To be sure, some social-political (SoPo) blogs have had a significant impact on political discourse: the 'blog' has accumulated a certain amount of social/political capital and, since the last election, it has gone more mainstream with a slew of mainstream politicians suddenly opening their own blog. It seems like blogs have come to symbolise the possibility of political success, but when you really look at it, it's very difficult to work out what real impact they have had...
Overall, it seems to me they work in two complementary ways:
• As a real alternative source of information that the state cannot control entirely. This means that some stories have to be picked up by the mainstream media, otherwise they lose whatever initiative they have.
• As a symbol of the potential of dissent. As long as people are aware that 'someone out there' is speaking out, this may raise the possibility of believing that changes are possible. Seeing as
most
people
don't
read blogs, what is in those blogs may not be as important as their symbolism - they act as 'empty signifiers', vessels for anyone to fill with their own vision of an alternative.
Finally, here's a picture of the walkers assembled under the flag at Dataran Merdeka. A small group of people with a loud voice, under a symbol of the nation - you make up your mind what that symbolises

What follows is a list of what I could find online about the walk yesterday:
The Bloggers
BENAR
seems to be the main organiser, and there are a number of posts leading up to the event and a couple after;
Zaid throws down gauntlet
is how they portray the speech by the Minister.
Jinggo's FotoPage
A Little Taffer's Room:
Media Freedom Day - The Walk and the Talk
Broken Shield and Sword:
Sunday Updates!
[Politics] Walk for a Free Media
Euphoria in Misery:
Walking on the wild side with Zaid Ibrahim
I am Malaysian:
BENAR: All in the name of Media Freedom
Mental jog:
live blogging - the walk and the talk
People are the boss:
Media Law Reform to Complete Decolonization
Rocky's Bru:
Where were the Editors?
SUSAN LOONE's blog:
Zaid hits nail on journalists' coffin
The Sensintrovert:
Yes, There Was A Walk, And A Talk, But Was There A 'Walk The Talk'?
somewhere in the middle...

The Group Editor of The Star who is also a blogger
New Malaysia:
Let's push for reforms
The Press
Bernama:
Zaid Asks Media People To Forward Proposals For Greater Press Freedom
Malaysiakini:
Malaysiakini
NST:
Provide ideas for reforms, Zaid tells media
NST:
Zaid asks media practitioners to forward proposals for greater press freedom
The Malaysian Insider:
Give your plan on press freedom, Zaid tells media
The Star:
Zaid: Media should unite for reforms
Journalists, bloggers walk to press for more freedom
Try again, Zaid tells media
The Sun: they had an article in the paper today, but online seem to only have this -
Walk for Media Freedom called off, only dialogue