A few weeks ago (been meaning to blog about this before, but am busy) I got the chance to attend a talk by
Datuk Mohammad Nor Khalid
, or as most people know him, Lat. A national icon, he articulates the many facets of Malaysian society through his evocative cartoons.
He gave an interesting talk, going over his own life story, and making a few comments on the development of cartoons as an art and Malaysian society. Listening to Lat was almost like reading one of his comics, I felt myself slipping into a warm, cosy, other place, where hearts are bared on sleeveless arms and friends meet after school to play into the evening. It reflects the power of art, and Lat's artistic skill, that I could feel the nostalgia even though I am not Malaysian. His rendering of scenes of his early life, evoked that sentiment of cosiness which in me is associated with winter afternoons in a warm room, playing board games or reading a favourite adventure story.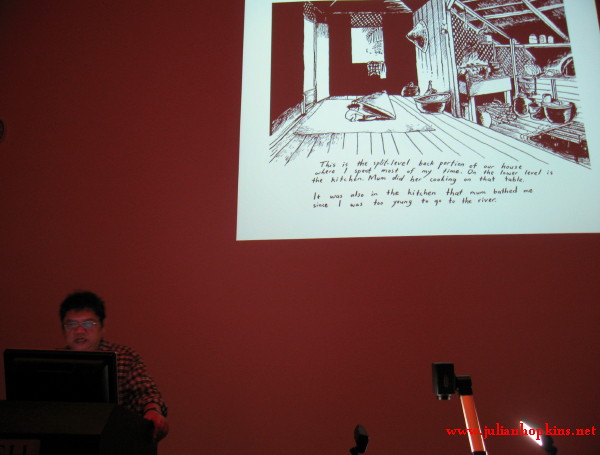 I was introduced to Lat's cartoons in 1987, the first time I came to Malaysia, and it helped me to understand many of the subtleties of Malaysian life. One cartoon I remember is where you see a news reader looking serious, with shirt and ties and reading the news; in the next picture, you see he has finished and is walking away from the desk, revealing his sarong. Maybe this is the essence of what Lat represents in his cartoons, reminding many Malaysians of their roots in kampungs and the chaotic developing cities of the sixties and seventies.
His talk was a reminder of how far Malaysia has come in such a short time, a rapid acceleration into a different world, but one where most Malays, and many of the other ethnicities, still have memories of kampung life and the enforced simplicities of poverty, where a small shared snack is a moment to be cherished.
In spite of his warm demeanour, and easy-going manner, I couldn't help but deduce a steely determination underlying it. He seems to have been very hard-working from when he was a teenager – when he was 14 he had already produced a comic
and by 16 he was making RM200 a month, apparently the same as a clerk would get then. Meticulous too: he showed us a photo of him at 16 which, he explained, he had carefully planned by placing particular objects in the background, wearing a wristwatch, and so on.

There was lot more: memories of school where Mrs. Yew (the teacher with pointy glasses that all Lat readers will be familiar with) was somewhat fearsome but encouraged him to draw; meeting up with friends and a pre-arranged agreement to comb their hair forward like the Beatles ('more shocking than changing your religion' in those days); his early days as a journalist and move to KL; and his rise to prominence.
At the end of the talk he was asked a few questions. On modern cartoons and styles he said that time is the real test of good art, and he was happy with his style. On politics, he said that he preferred to leave that to political writers, but recounted a recent incident where one of his pictures was rejected by the editor because it portrayed a retired political figure – although the context was not political, he was told that publishing his cartoon would make that figure seem important. It shows the importance given to Lat, and the respect he commands amongst most Malaysians.
After the talk was over he was surrounded by people eager to get his autograph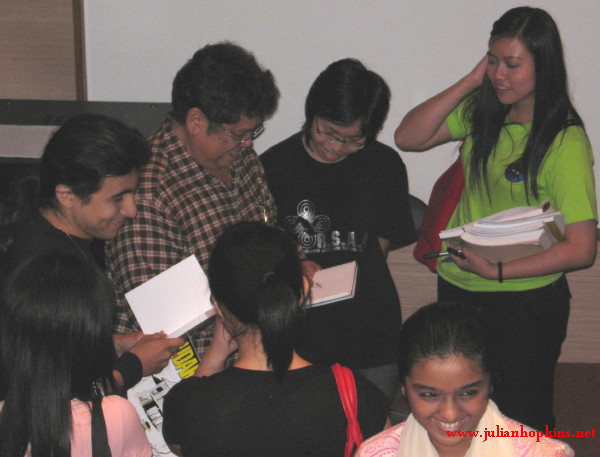 and I even saw him drawing something for someone. Then, I wished I had brought a copy of one of his books, so that I could bring home a souvenir of that unique hour spent in the presence of a true artist.
Here are a few links relating to Lat:
Kampung Boy Review (Which goes completely off the rails about half-way through.)
A Tribute To LAT (Datuk Mohd Nor Khalid), The Malaysian Cartoonist
Lambiek.net
Lat