Thanks to the
Nuffnang
and
Digi
, I got to attend the launch of a Digi promotion on Friday. They're having "fear-themed roadshows" in malls in April and May, where you can get to sample such delights as baby grasshoppers
or play Snakes 'n' Ladders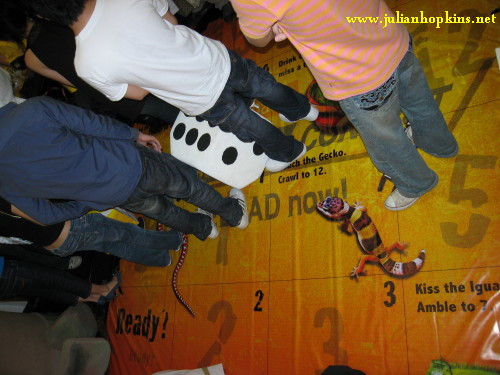 and win prizes. But the theme of their promotion is an "Easy Win" contest: to win free calls for a year, charge up RM30, wait for a call (if you're lucky) and answer three questions. If you charge RM50 then you get a chance to win RM100,000 cash - only one question for that one. Entry is automatic as soon as you charge up, and the calls will be made on Fridays from 9-12 noon, and 3-6pm. So if you use Digi Prepaid, make sure your phone is switched on Fridays!
There were other bloggers there of course, including
Kim Yoong
who went into the snake pit and got paparazzied afterwards.
I got to meet some more bloggers, and afterwards we went to Charms in The Curve - having met
Robb
for the first time, I'm sure he isn't going to forget me as I gave him a lift and I managed to forget where my car was not once, but twice! :-/
But, you've been waiting for the shocking revelation about the Blogging Bevy... after daring investigation and facing unparalleled obstacles, I can now bring to you the TRUTH about the secret world of B.L.O.G.S.
Thanks to the (unwitting) participation of
Robb
,
Skyler
,
Kim Yoong
,
Joshua
and
Jan

And 'Hi!' to
Yee Ming
,
Amy
,
Nick
,
Kate
, and
Kenny
.
Trackbacks
Show preview

Last night was the Nuffnang Dragonball Premiere screening - I was pleased to get a ticket as I had not been to one for a while, and wanted to catch up with some bloggers. And coincidentally my online survey – myBlogS 2009 – was just completed so I took t