Well, after making
a spectacle of myself online
, I got another chance to do it offline at the Borneo Baruk Club for
Nuffnang's birthday party

I turned up in my M&S pyjamas, accompanied by Eeyore (lucky for you, no photos this time).
The venue is nice
and the beer was free! So I was looking forward to a nice evening, though I was also there to 'be an anthropologist', which is something I have still to work out what exactly that is… I had my new Monash name cards to hand out, my camera and mp3 player/recorder just in case.
After checking out the locale, I spotted someone I recognised from numerous blog posts –
Suanie
. I introduced myself, and she turns out to be a nice young lady. She also introduced me to some other veteran bloggers who were there, enjoying Kilkenny at the bar: Fireangel (who wrote
one of my favourite blog posts
); Wingz – who showed true dedication by
blogging from the party itself
;
Kidchan
(I realised after that I forgot to give my card to him – Sorry!) and
Optimus Prime
, who prefers to remain anonymous. Somehow I managed to not get a picture with Suanie.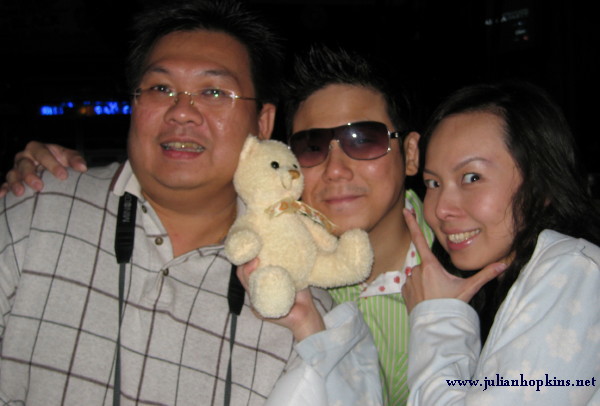 Wingz, Kidchan, Fireangel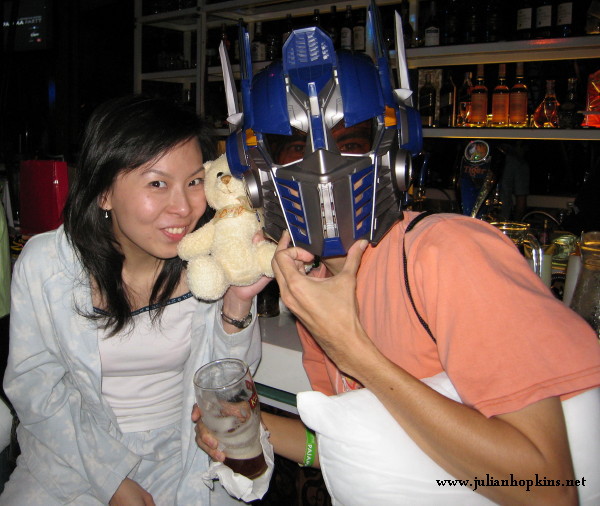 Fireangel, Optimus Prime
Optimus Prime is an interesting example of an online practice carrying over offline. Actually, the mask was only worn for photos, meaning that the desire to stay anonymous was restricted to being exposed on the web rather than an absolute intention to remain anonymous to everyone. Another thing that struck me was, when I asked Suanie whether
ShaolinTiger
was there she said he wasn't because his mother was visiting. As soon as she said it I knew the context – as I've been following his blog for a few years, I know that when his mother visits they usually go on some trip together or something. I also get the feeling he has quite a close relationship with her, and would put spending time with her before other social activities. So without ever meeting him, I actually know a fair bit about him – though of course there's probably more I don't know about him.
Here's a photo of the founders of Nuffnang, Tim and Ming who were approachable and amiable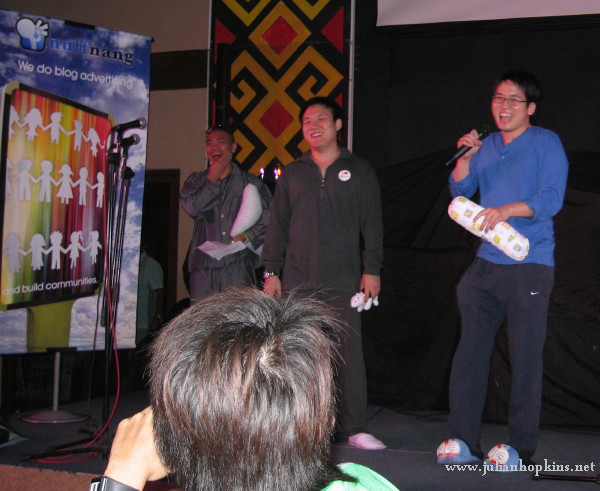 notice the banner behind…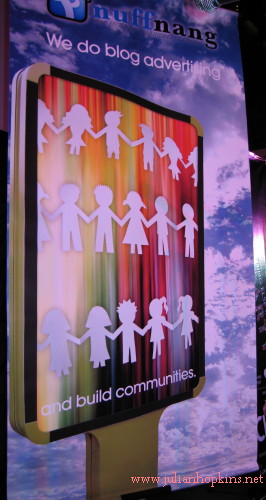 'Community'! Hehe, as an anthropologist that word calls out to me with bells and flashing lights. That's something I want to know more about: do the bloggers there feel part of a Nuffnang community? Or is Nuffnang a small part of the blogger community? Or is there any community at all?
After the dinner, I had an interesting chat with a guy called Peter who's in a company developing some interesting image recognition technology. Then I continued trying to learn what was happening around. One thing for sure, bloggers like their cameras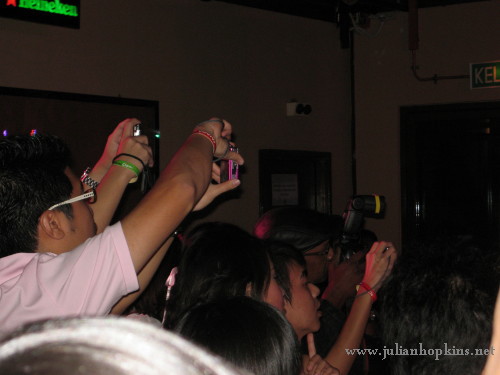 Here are Singapore uber-bloggers Xiaxue and Dawn Yang, getting their photos taken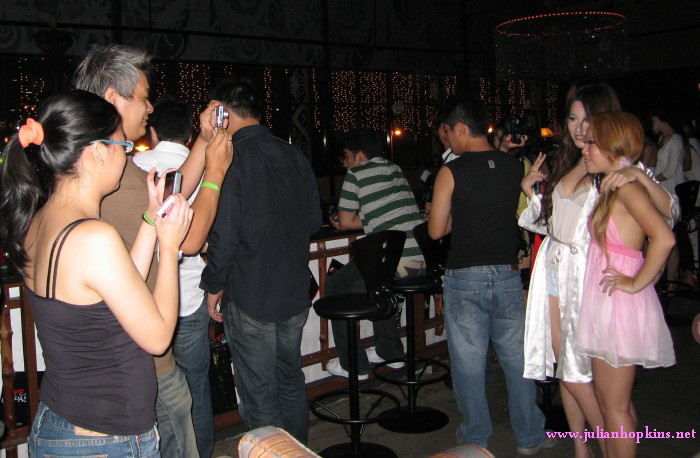 I approached Xiaxue briefly and gave her my card. I didn't want to intrude, but afterwards I reflected that I should have tried to make a bit more conversation… I must say, I am not the most social of persons, and I wonder how that will affect my skills as an anthropologist. Ideally, I would be in a position where people share their insights and experiences with me openly, but that won't happen without trust, and trust won't happen without significant social interaction…
Later, I met
amy
who didn't seem shy to me at all

Anyway, she also reminded me that I should be making more effort to talk to people, but by then the party was shutting down… So, next time I suppose!
I'll do another post with a little more analysis, but I just wanted to get this up first. Thanks to Nuffang and everyone I met for being so welcoming, and hope to meet you all again soon – on or offline!