It's election time in Malaysia and voters will make their choice on the 8th March. One of the features of elections in Malaysia is an inordinate amount of bunting and flags, everywhere – for example at an overpass near my house…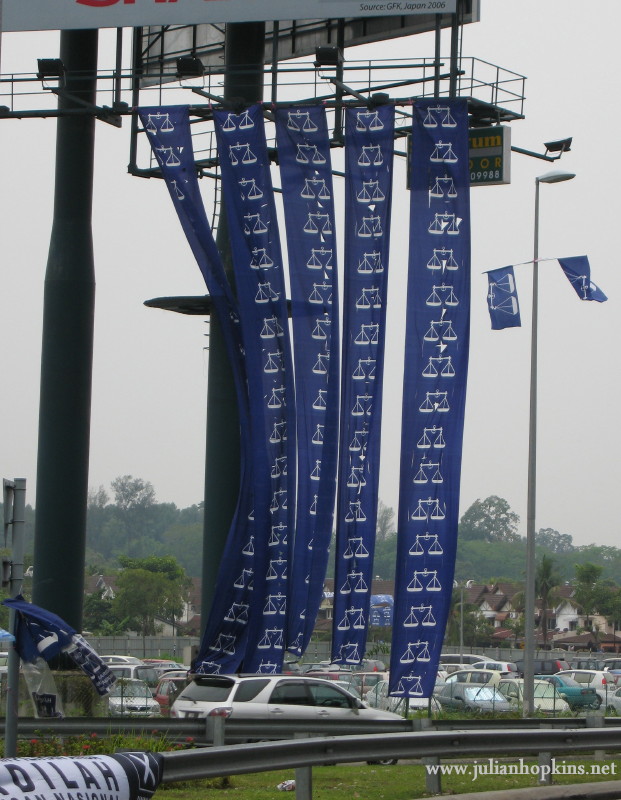 and…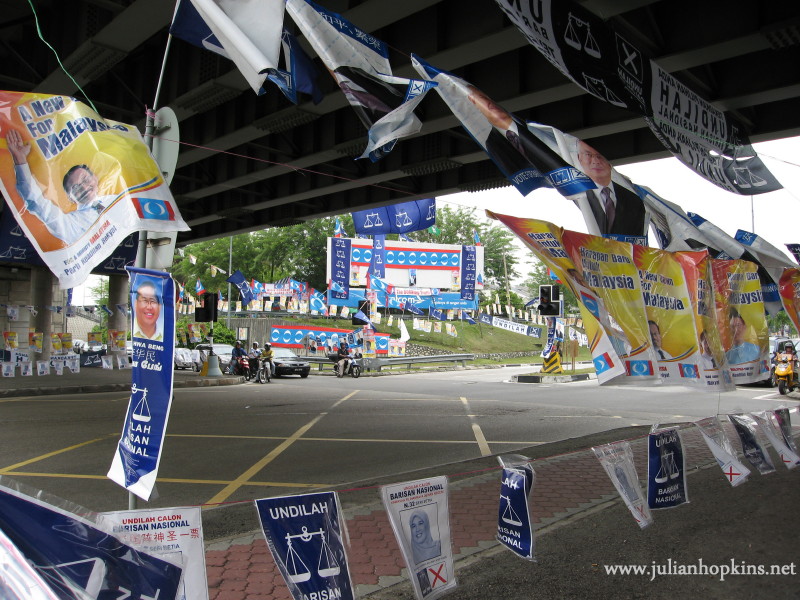 The flags and bunting are for the
Barisan Nasional
and
Keadilan
.
Barisan Nasional
('National Front') is an umbrella group of three main parties that represent the main ethnic groups in Malaysia (Malay, Chinese, Indian) as well as
some smaller parties
– some of which purport to be multiracial, but they tend to get support from one ethnic group or the other (the situation in East Malaysia is a bit more complicated, but follows the same pattern).
Keadilan
('Justice') was founded by the Wan Azizah Ismail, the wife of ex-Deputy PM,
Anwar Ibrahim
, who was removed in 1998 following a power struggle with the PM,
Mahathir bin Mohamad
in 1998. It's a long story, but after mass protests Anwar ended up in jail on charges of sodomy (later overturned) and corruption. Due to his prison time, he is barred from engaging in politics until April this year.
Just up the road there is an UMNO division building. UMNO is the dominant party in the Barisan Nasional (BN), and has been so for the last 50 years (technically, it was the Alliance before 1973).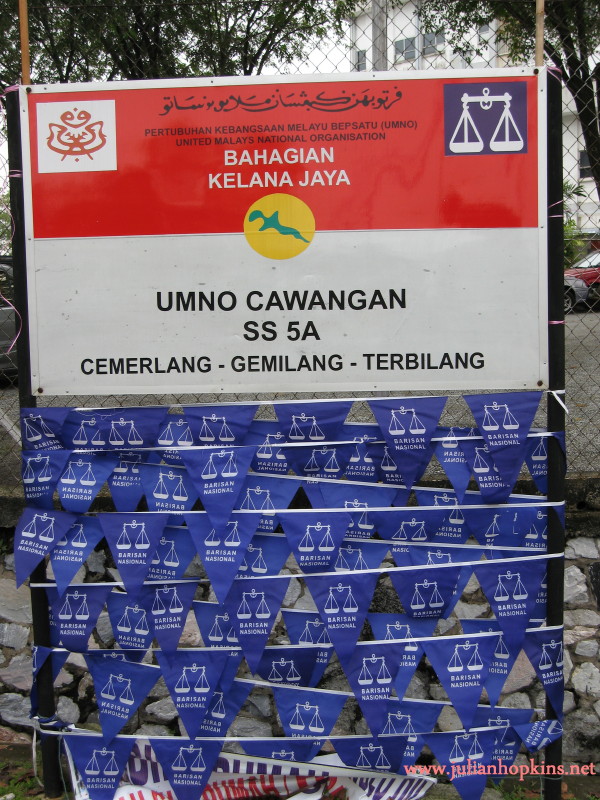 And a
bilik gerakan
(campaign HQ) close by too. This one may be an MIC locale, going by the banner on the left, but during the elections they all run under the BN logo.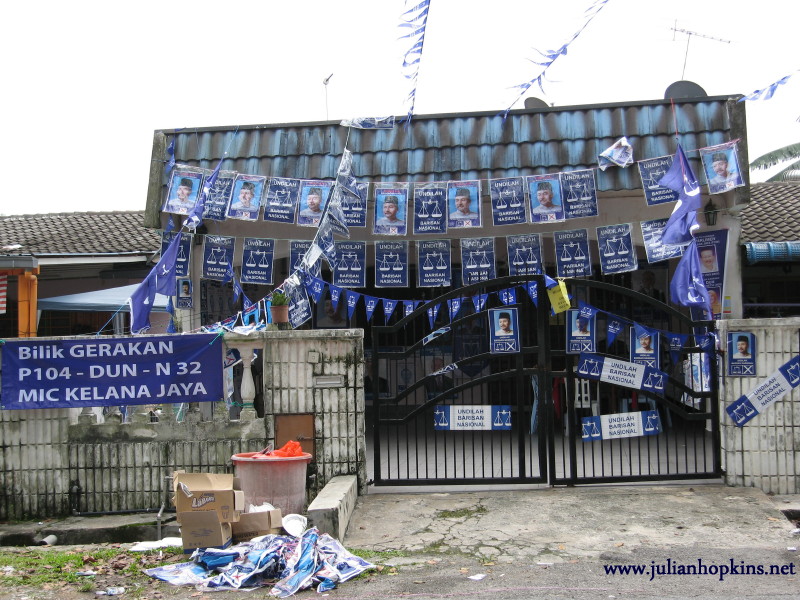 …and just in case you didn't get the message, as you drive up the road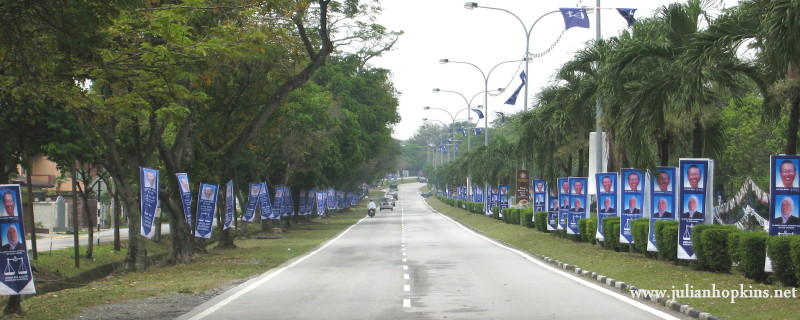 The BN have vastly more resources than the opposition parties, and have a firm grasp on the media – each day in the newspaper there is page after page of coverage of BN candidates, there are ads on TV and the radio. You have to wonder, why is there this overkill of bunting? (which is very eco-unfriendly I may add).
The anthropologist in me tells me to look beyond the ostensive purpose of this bunting – i.e. to provide information about candidates. Most of the campaigning by the BN is based on personalities and local development issues – the candidates avoid debating national issues with opposition members, and the emphasis is on how BN candidates are able to ensure development funding for the constituency. The kind of macro-issues you see debated in America, or Europe – for example – are mostly missing. There is a localisation of politics. Patronage also plays an important role: for example, an important role of MPs is to help individual constituents with problems such as education funding, government bureaucracy tribulations, charity, and so on. A more institutionalised aspect of this is seen in how the
MCA
(Malaysian Chinese Association) and
MIC
(Malaysian Indian Congress) both operate private higher education institutions – offsetting to some extent the official quota system which guarantees more Bumiputras (i.e. Malays and indigenous groups) get into the public universities.
Given that the outcome of the elections are pretty much a foregone conclusion (the target for the opposition parties is to deny BN a two-thirds majority), they are also more ritualistic than less predictable elections – perhaps describable as "ritual celebrations of cultural renewal" (Boyd 1985: 328). Some aspects recall some ceremonial exchange systems: they activate "the highest level of social and political integration within a given region" and are "important in establishing… the relative social status and prestige of individuals and groups … The power and influence of individual leaders [is] judged by their ability to exert control over the proceedings and to direct the distribution of items exchanged" (
ibid.
).
Getting all this bunting organised mobilises the local party organisation, giving them common tasks and reinforcing group solidarity; it also means spreading around some money – to the printers and party workers who help out. However, to the general public, maybe what it does is to display the ability of BN (or its local constituent party) to effectively mobilise people and distribute resources – it's saying "Look we can gather and spend all this money, think of what we can do for you!" So the bunting overkill can be seen as a display of conspicuous consumption… a potlatch of a kind (for some explanation of potlatch, see
here
and
here
).
Works Cited
Boyd, David J. "The Commercialisation of Ritual in the Eastern Highlands of Papua New Guinea." Man. 20.2 (1985): 325-40.