We went for a short break to Phuket a couple of weeks ago, with Air Asia of course.
One thing I love about flying is sitting by the window and watching the world go by underneath – in fact I get a bit childish about it all and have been known to sulk a bit if I don't get a window seat (*ahem*). Anyway, I was lucky to get one this time – I also found out that it's best to be
in front
of the wing because your view is not obstructed.
Getting near Phuket, I managed to get this shot of Koh Phi Phi – made famous by "The Island"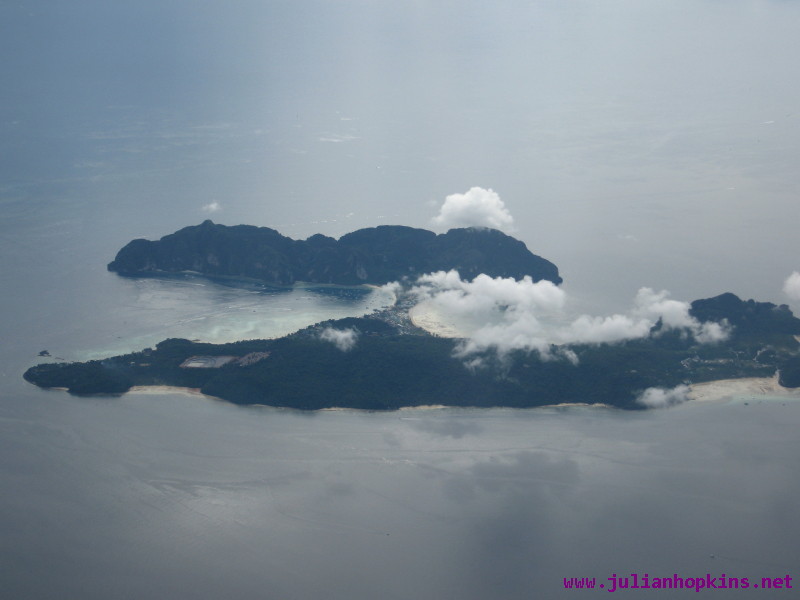 and on the east of Phuket, while descending to land, this shot shows the many islands that feature on boat tours etc.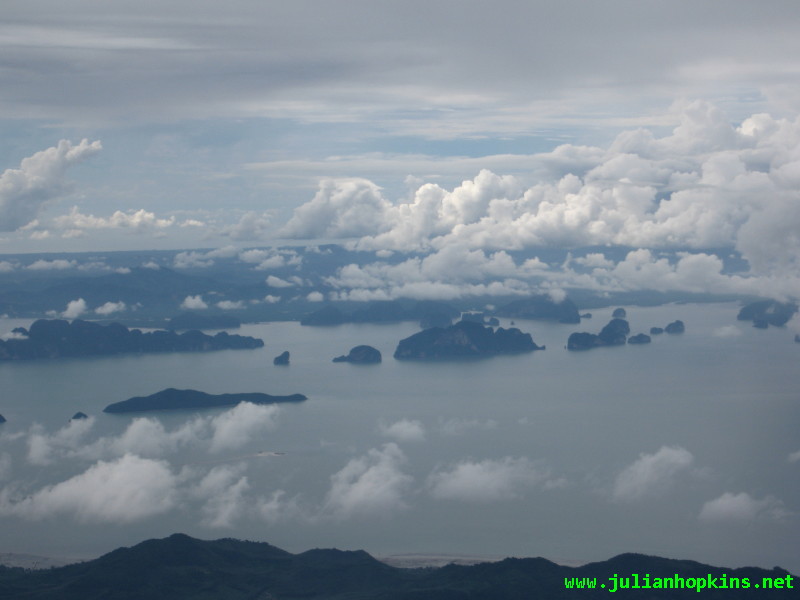 Getting to Phuket we actually had a very annoying episode. There was a package as part of the stay – the standard whip-around-the-main-spots-and-shops thing: I find a little introductory tour can be quite useful, though I do detest being rushed around. Anyway, what happened was we landed at about 3pm and this guide met us at the airport and we piled into the van; first stop, a huge blinking gem shop –we sat through the short film (in Mandarin) and walked quickly through the huge display room and multiple shops. But when we got out again we had to wait almost half an hour for someone in the other van who was buying something. After that we were rushed up to a sightseeing spot (it was dark by then), we were not able to see the other sites mentioned in the itinerary, though fortunately the guide abandoned his plan to take us to another shop. We arrived at the hotel at about 6.30-7.00: it's 40km from the airport to the hotel, it took us about three hours… He then told us to be up at 7am next day to go to Phi Phi: a two-hour ferry ride, visits to shops and birds' nest places, etc. We declined.
Then he told us to be ready to be picked up at 9.00 on Sunday for the ride back to the airport. When we asked why so early, as the flight was at 1.15pm, he told us he'd be taking us to some shops before going to the airport! We declined, somewhat testily by now, and arranged our own way back.
Discussing this with my mother-in-law, she told me something interesting: holiday operators get cheaper rates if their customers check in after 6pm and leave before 9pm. It's to do with the hotel being able to stagger their cleaning staff. Which explained why the insistence on getting us out at 9am, and the long ride from the airport.
Anyway, Phuket is very touristic, and don't expect to be going there for a bit of idyllic paradise on the beach stuff – though there are many nice hotels if you spend enough. Also, as usual, it's always relatively easy to get away from the tourist hordes if you make a little effort:
Jamie's Phuket
is a good place to check out some nice spots. Oh, and we also found out that if you want to watch Thai-boxing, the matches happen on Friday night and the Patong arena is overpriced and doesn't have "real fighting" (all this according to the driver of the van we hired who was a retired boxer); one place to go is near the Phuket Zoo on the east coast.
We enjoyed our stay though – went to a
nice spa
, and ate good food. The
Savoey Restaurant
was relatively expensive, but very good. They have two locations, the main one on the street, and a much nicer beachfront one a bit further down and at the end of a gallery.
For Malaysians, it's not particularly cheap: a meal will cost you from RM3 (hawker meal) to RM20 and upwards; shopping is also similar to Malaysia – a t-shirt will cost you about RM13-15, for example – you also need to bargain quite hard.
We didn't see any signs of the tsunami, apart from ubiquitous 'Tsunami Evacuation Route' signs. From what I gather Patong (where we stayed) was badly hit – I tried to imagine waves as high as the trees on the beachfront, but there are no signs of it now, it's bustling and full of shops, etc. There are
Tsunami Survivor Stories
here, and
pictures
.
It is (was?) a beautiful island in many ways – this picture shows some of the bays, and you can imagine how was 20-30 years ago.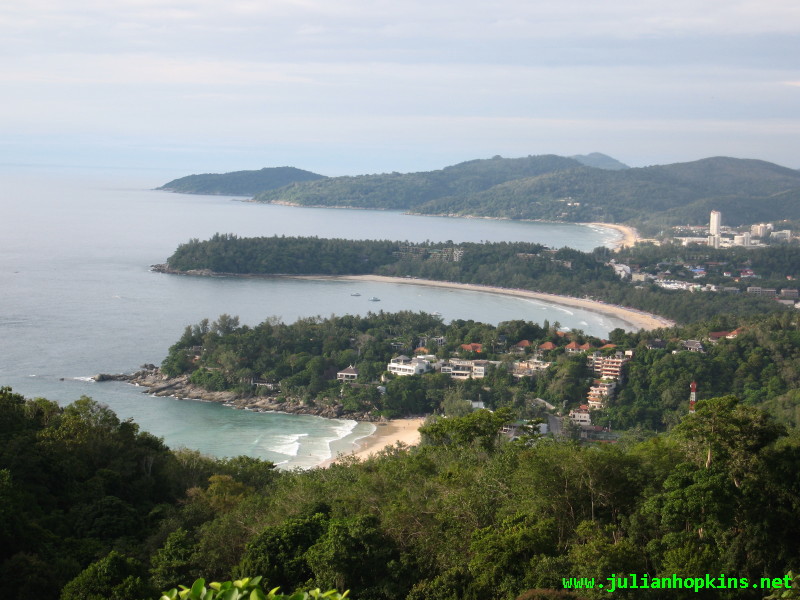 Now, as this Google Earth picture clearly shows, development has occurred throughout the island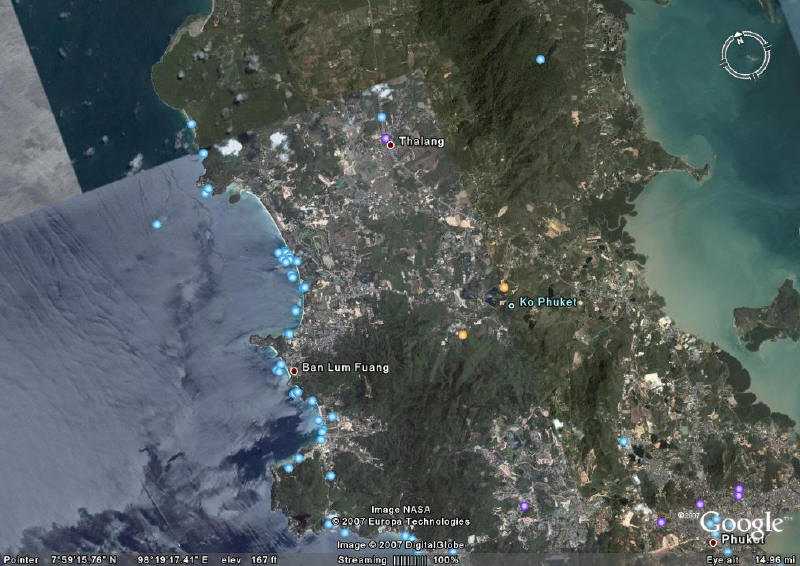 While flying out, I took this picture of some beachside development, I also took it because you can see the river (on the bottom left) pouring dirty water into the bay
Tourism is such a double-edged sword... a source of cultural exchange, and cultural imperialism. Of wealth and exploitation...