The 25th August was a very significant date for the Malaysian blogosphere: the National Alliance of Bloggers (All-Blogs) was launched, complete with its own bricks-and-mortar locale in Bukit Damansara.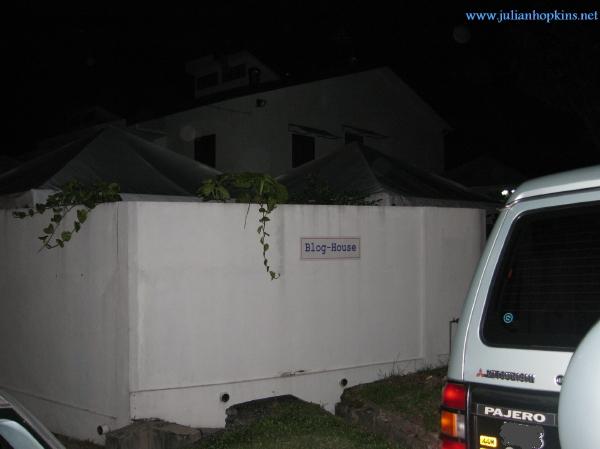 The first 'Blog House' in the world?
Despite not having registered, the organisers were kind enough to let me in after I dropped Cheryl's name (thanks Cheryl!

) Once I was in I spotted a few familiar faces, such as
Wattahack?
,
muststopthis
,
Howsy
,
Jun x 2
and
desiderata
; and also met some new people, such as the prolific graphic artist
mob1900
.
After a while
Rocky
opened the proceedings by leading a rendition of the Negaraku, and giving a brief history of All-Blogs, then
Haris Ibrahim
expounded a bit on the theme of Bangsa Malaysia which had been the subject of the forum in the afternoon.
I won't go over the evening in detail, as others have given various accounts of it (I parked the urls
in a previous post
), but I thought I'd go further into something I said while there. At one point bloggers were asked to introduce themselves, and I was 'volunteered': I said a few words, then proceeded to say that the event there - the forming of a blogger alliance and Blog House, was possibly unique in the world. Afterwards, I wondered how accurate was that - so here is a little research into the issue...
'Blogmeets', bloggers meeting offline, have been happening for a while (I don't have any accurate information there, but I do remember Reed mentioning them happening in UK, at some point between 2001 and 2005), and in my opinion usually mark a certain 'maturity', or stage of development, of a blog 'community'. In terms of the virtual/real discourse, it marks a confluence of the 'virtual' and 'real' worlds: though I prefer to use the terms online and offline, as it's all 'real' to me. Blogmeets were usually somewhat informal events, social gatherings with no particular objective in mind apart from getting to know other bloggers better. So bloggers meeting offline isn't new, but the Blog House inauguration was specifically about inaugurating a place to house a formal organisation designed to represent the interests of bloggers - All-Blogs. This is unusual I think. It was also the venue for the launching of PELITAR, a movement to promote the concept of Bangsa Malaysia - but I'll not go into that in any depth as it doesn't relate specifically to blogs.
To find out more about alliances, I googled the following terms: 'blogger alliance', 'blog alliance', 'blogger union', 'blog union'. I also searched in Technorati, but surprisingly hardly any of the blogs I got through Google turned up in Technorati. This is what I got, grouped into rough categories.
Political
State of Ohio Blogger Alliance
: the subtitle states "The S.O.B. Alliance is the gateway to Ohio's conservative blogosphere." - so it's a portal really, using the word alliance in a loose sense of blogs banding together under a common banner.
Delaware Conservative Bloggers Alliance
: a USA group blog, based around a geo-political offline space too, at least three bloggers, though mostly one (Paul Smith Junior) seems to dominate. 12 members apparently, though they all have their own blogs too. 8 posted recently.
Old Dominion Blog Alliance
: they are organised enough to have press releases, which states that they are "an organization of approximately 25 conservative Virginia bloggers founded on December 9, 2005" (
Source
). Their central website is an aggregator, but there doesn't seem to be any specific original content.
Badger Blog Alliance
: political, based on geo-political offline space, group blog, 19 members listed who all have their own blogs too.
Dakota Blog Alliance
: seems to be defunct now, but was perhaps set up as part of an election campaign... In the comments of
this post
there is some discussion about the political partiality of the bloggers involved; a related post
here
. Basically, local politics.
Big Brass Blog
... :
also named
as the "Big Brass Alliance", but basically a group blog, "founded in February of 2005 ... to stand as the premiere forum where strong, enduring voices of Progressivism provide what liberal politics has been missing". Seven different bloggers on the first page, but no visible organisational structure as such.
The South Dakota Blog Alliance
: this one seems to have been still-born...
Religious
SoCal Bloggers' Alliance
: for "Allied Christian Bloggers in the Southern California Area". I'm not quite sure what this is, but it is part of a site called 'Blogdigger', it has 14 blogs listed on the "Group Roll", and a bunch of links from one site called 'HolyCoast.com'. Basically a portal-type thing.
Christian Fiction Blog Alliance
: "This is where people come together to further the Lord's kingdom by supporting Christian fiction." Claims to have "100+ members" (
on their home page
) but only two have written the last 10 (apprx.) reviews
Muslim Bloggers Alliance
: a USA group blog apparently set up by an individual who invites other like-minded people to blog there (
details here
). Based on the first page, there are at least nine different authors posting here.
"Infidel Bloggers Alliance" (USA) and associated "Infidel Bloggers Alliance of the UK" are also group blogs based online. These are not strictly speaking religious, but do revolve around religion - though in a negative sense: adopting a distasteful anti-Islam tone, the posts tend to argue that the MSM is being too pro-Islam. For example, they provide cartoons of the Prophet Muhammad (which is why I'm not linking to them).
Hobby and Single Interest
Upper Andro Anglers Alliance
: this is really not very relevant, the alliance is "comprised of local guides and interested business owners whose goal is to promote the Upper Androscoggin River as a valuable natural and economic resource to everyone living on and near it." This is a blog of angler who is part of the Alliance.
Thoroughbred Bloggers Alliance
: this (USA) blog seems to more of a portal for horse racing enthusiasts, with a bunch of links to other blogs, some advertisements and racing information, and not much else. The mission statement is
here
.
Kurdistan Bloggers Union
: defunct, but was a group blog dedicated to issues regarding Kurds.
Sci Art Bloggers
: actually, I don't know how far this person has got with setting up of his/her alliance (proposed on May 30th). It's intended to be for bloggers interested in 'Sci-Art', and it's interesting here to see how a person might go about setting one up, as s/he lays out the basic membership requirements, etc.
Blogosphere Centred
08 Bloggers Alliance
: this one is the closest so far to All-Blogs. It is aimed primarily at bloggers as bloggers, with various aims such as: "to further
empower
bloggers", "to increase
awareness
of blog", "connecting politically diverse blogs". Of course, bloggers being bloggers, it also claims to be "a great way to promote your own site". It was/is organising "a massive presidential bloggers convention", and it finishes by saying:
"As bloggers, we want to be taken seriously (and yet not to seriously). Individually, our influence is limited. Collectively, we can do a lot."
All except one post on the first page are written by the same person though. Which raises questions about the extent of the alliance.
Blogs United
: I'll be lazy and just quote them:
" The mission of Blogs United is to provide a non-partisan forum to assess the state of the Virginia blog community, discuss its future, and share ideas on innovation, connectivity, and impact.

To this end, Blogs United in Hampton Roads is dedicated to enhancing personal relationships and respect among bloggers, journalists, and public figures, regardless of partisan affiliation, through both the formal agenda and informal socializing opportunities offered in a casual, fun atmosphere."
Interestingly, this is sponsored by a consulting company, a local Marriott hotel, and "The Vectre Corporation". There are 26 "Blogs Registered", and most of the posts seem to be by one person, unless you go back to 2006.
Media Bloggers Association
: this is definitely something along the lines of All-Blogs, though the word 'Media' is an important qualifier here. In the
Membership Prerequisites
it says "Applicant blogs must have some relevance to "media"; we leave it to member applicants to define the term "media" in their own way in their application essays." - further down it says "The goal is to find people who are serious-minded about blogging and citizen journalism and not so much about their subject mattter.". In the
'About'
page it mostly frames ('media') blogs in terms of journalism too.
All-Blog founding members, Rocky Bru and Jeff Ooi, will surely find resonance with their
second mission goal
: "Protecting members by defending the rights of bloggers and citizen journalists generally, providing first-line legal advice to members"
Independent Bloggers' Alliance
(this one gets its apostrophe right ;): also a USA group blog, probably started by one person, and also restricted to online activity apparently. It seems to act as a central place for bloggers to post stuff, "be heard by wider audiences."; it's not exclusivist, that potential members are told "If you write for your own blog or for a group blog, you are more than welcome to crosspost those essays here" (in the 'About' section).
Alliance of Free Blogs
: now defunct, this seems to be a humoristic in-joke with some American bloggers, all about small blogs 'fighting' a 'blog war' against the top blogs. Again: portal-type affair, initiated by an individual.
Progressive Blogger Union
: this is now defunct. Its working principle seemed to have been an attempt to get bloggers to simultaneously blog about particular issues in order to raise the profile of those issues: e.g. next week we all talk about cancer-causing rubber ducks, and therefore the MSM and others are more likely to take note. Depending on type and intent of the choices of subject matter, this could also be classified under 'Political'.
There is apparently
a suggestion to form some kind of professional bloggers' union in America
, this one along the lines of a professional union: i.e. like a writer's union or journalist's union. Various debates are going on about this:
Suburban Guerilla
and
The Oxford Medievalist
, and
Gawker
, for example. This could make sense eventually for probloggers, those who make a living from blogging, but the greatest number of bloggers don't, and probably never will - i.e. as 'blogging' becomes a profession for some, they may want to establish minimum rates for advertisements, reviews, and the like; and then by having subscriptions they could provide some form of assistance to bloggers who have no work, or need legal support or something... But there are fundamental issues to do with establishing what exactly
is
'blogging'? Why not have bloggers just go in as a subcategory of other professional groups - journalists, writers, marketers, etc?
OK - that's it for this post (phew!). In the next I'll look at Malaysian alliances, and try to draw some conclusions as to the common characteristics of blogger alliances in general
Works Cited.
Reed, Adam. "'My Blog Is Me': Texts and Persons in UK Online Journal Culture (and Anthropology)". Ethnos. 70.2 (June 2005): 220-242.
Trackbacks
Show preview

Hi and thanks for dropping by – this post is to explain (a bit) the anthropological research I'm doing on Malaysian blogs and bloggers for a PhD in Social Anthropology at Monash University. If you're a Malaysian blogger, or a blogger living in Malaysia
Show preview

All-Blogs started around April last year , Blog House opened in August, and Malaysian politics entered a dramatic new phase 100 days ago (actually 122 today). To celebrate the 100 days, All-Blogs organised a dinner last Saturday. Given all the heated