If you're anything like me, and I guess 99.9% of internet users out there, you never bother checking those long and boring terms of service that you have to confirm you've 'read and understood'.
Recently, I decided not to accept Google Desktop tracking all my searches to 'give me better service', and although I have a gmail account (which I use for throwaway registrations and the like) I don't much like the idea of everything being scanned for advertising purposes. There are a number of issues, but basically it seems to revolve around Google storing loads of data for ages, and not giving you much/any control over what happens to it.
Wikipedia
,
CNET
and
Google Watch
comment on this.
Interesting:
"2.3 You may not use the Services and may not accept the Terms if (a) you are not of legal age to form a binding contract with Google" (
Gmail Terms of Service
)
does this mean minors cannot get a Gmail account?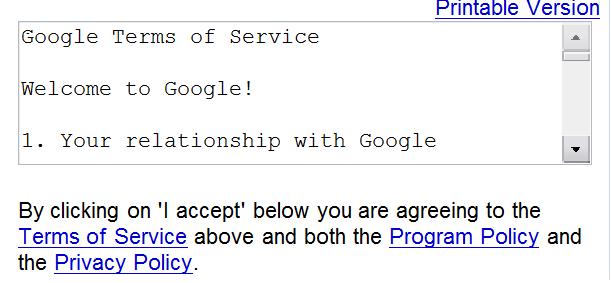 This is a scary one:
"11.1 You retain copyright and any other rights you already hold in Content which you submit, post or display on or through, the Services. By submitting, posting or displaying the content you give Google a perpetual, irrevocable, worldwide, royalty-free, and non-exclusive licence to reproduce, adapt, modify, translate, publish, publicly perform, publicly display and distribute any Content which you submit, post or display on or through, the Services. This licence is for the sole purpose of enabling Google to display, distribute and promote the Services and may be revoked for certain Services as defined in the Additional Terms of those Services." (Gmail Terms of Service)
I don't understand: the first line says you "retain copyright and any other rights" relating to "Content which you submit, post or display on or through, the Services"; then the next line says that Google has all rights until hell freezes over to "any Content which you submit, post or display on or through, the Services". Seems somewhat contradictory to me... It also seems like anything you email also belongs to them which seems weird. I must have misunderstood something...
I also wonder what does "post" mean in this context? 'Post' as in send my email? Or 'post' as in blogs? What, if anything, will I be 'displaying' if I only use Gmail??
Let's compare: what does Yahoo! say?
"Yahoo! does not claim ownership of Content you submit or make available for inclusion on the Service." but with exceptions
"With respect to Content you submit or make available for inclusion on publicly accessible areas of Yahoo! Groups, the license to use, distribute, reproduce, modify, adapt, publicly perform and publicly display such Content on the Service solely for the purposes of providing and promoting the specific Yahoo! Group to which such Content was submitted or made available. This license exists only for as long as you elect to continue to include such Content on the Service and will terminate at the time you remove or Yahoo! removes such Content from the Service." ( Yahoo! Terms of Service)

This seems a lot more clear and fair: in public areas only, and as long as it's kept online. I think that they have to have this provision, otherwise you could sue them for displaying your content (pictures, text, whatever) as part of the usual service.
MySpace recently announced that
29,000 'sex-offenders' were barred
, which seems like a good idea in principle, though one would think that any serious nasty paedophile out to entice children is unlikely to log on/register under his (probably) own name.
Stephanie Booth gives a good analysis of the situation
, so check that out if you're interested. Also, apparently MySpace donated "a database containing information about sex offenders to the National Center for Missing and Exploited Children" (
Wired.com
). One thing struck me here, although the intention is no doubt benign and non-commercial, what other uses could MySpace put to the masses of data on registered members...? Could they decide to sell the details of all boys between 16-18 who like PlayStation, for example?
Though maybe the data they provided is "non-personally-identifiable information [that] may be shared with third-parties to provide more relevant services and advertisements to members."
MySpace.com Privacy Policy
With regards to content you post there:
6. Proprietary Rights in Content on MySpace.com.
1. "MySpace.com does not claim any ownership rights in the text, files, images, photos, video, sounds, musical works, works of authorship, or any other materials (collectively, "Content") that you post to the MySpace Services... By displaying or publishing ("posting") any Content on or through the MySpace Services, you hereby grant to MySpace.com a limited license to use, modify, publicly perform, publicly display, reproduce, and distribute such Content solely on and through the MySpace Services." (MySpace.com Terms & Conditions)
It's good that here they actually explain why they have such terms:
"Without this license, MySpace.com would be unable to provide the MySpace Services. For example, without the right to modify Member Content, MySpace.com would not be able to digitally compress music files that Members submit..." (MySpace.com Terms & Conditions)
So what about Facebook?
Legal Andrew
has given an analysis of their Terms of Service and he probably understands more than I do. He quotes this section:
" By posting User Content to any part of the Site, you automatically grant, and you represent and warrant that you have the right to grant, to the Company an irrevocable, perpetual, non-exclusive, transferable, fully paid, worldwide license (with the right to sublicense) to use, copy, publicly perform, publicly display, reformat, translate, excerpt (in whole or in part) and distribute such User Content for any purpose..." (Facebook Terms of Use)
and comments:
"In plain English, this means you're giving up copyright control of your material. If you upload a photo to Facebook, they can sell copies of it without paying you a cent. If you write lengthy notes (or import your blog posts!), Facebook can turn them into a book, sell a million copies, and pay you nothing." ( Legal Andrew)
Actually, the Facebook TOS do go on to say:
"You may remove your User Content from the Site at any time. If you choose to remove your User Content, the license granted above will automatically expire, however you acknowledge that the Company may retain archived copies of your User Content." (Facebook Terms of Use)
so it's not in perpetuity like Google seems to be.
So, conclusions?
• There's a lot more in these 'Terms and Conditions' than you think, and
• You probably won't understand most of it anyway
• The future of social networking sites, search machines, email services, should be carefully thought about, and hopefully someone will come up with non-proprietary, non-controlling, systems that allow people to network and communicate without having to go through commercial entities bent on squeezing blood out of data. Something like a peer-to-peer network, where everyone has their own blog/homepage/profile (they would have to pay for this though...), and all communicate via communication lines, just like telephone wires or something... I mean, no telephone company is ever going to claim the rights to your conversation, or that they will monitor your conversation to harvest data for advertisers! Why do Google
et al.
do it? Because they can, basically.
Trackbacks
Show preview

Thanks to @SurindRaj I just heard about the most recent Facebook attempt to use your data to make money From what I understand, this means that they want to use your pictures (e.g. your profile picture) in conjunction with ads to - for example - say