SMCKL
is a group that meets occasionally to explore matters relevant to social media and industry. The most recent one was about social media monitoring tools, and featured three presentations by
comScore
,
Brandtology
and
JamiQ
. They were interesting, but I was surprised that nobody was talking about social network analysis - so I thought I'd do a little demonstration here.
There was much tweeting going on before and after the evening, which was also an occasion for people to meet and network. Using
NodeXL
, I gathered all the tweets with the hashtag #smckl: in all there were 71 tweeters, and 757 'edges' (i.e. links in the form of 'Followed' relationships, 'Mentions', or 'Replies to'). The following examples only take into account the Followed relationship - i.e. I am only showing a link between tweeters when one follows the other.
A question for social media monitoring has to be: how influential is any particular tweeter? Here I'll look at two ways of visualising that.
Followers
A common measure is how many followers a tweeter has.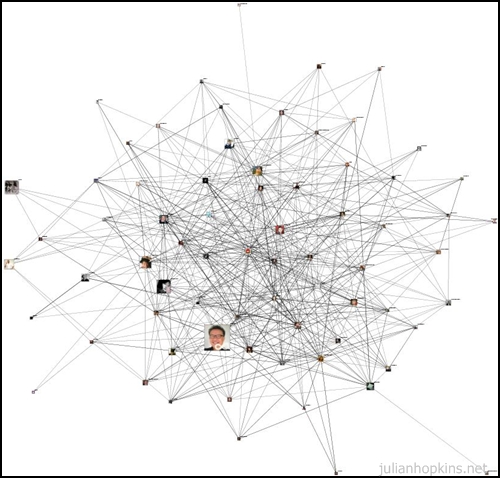 In these images, the size of the profile picture is proportionate to the number of followers - the bigger the profile picture, the more followers. Also, the more central the tweeter is, the more ties s/he has with the other tweeters. The person in the middle is the most embedded in the network - with the most ties to other people, directly or indirectly; on the other hand, as you can see, there are some really on the edge - with only a couple of lines attached them to the denser cluster in the middle. They are outliers, less likely to be influential within this group.
The first picture was very dense, so I have filtered out all tweeters with less than 500 followers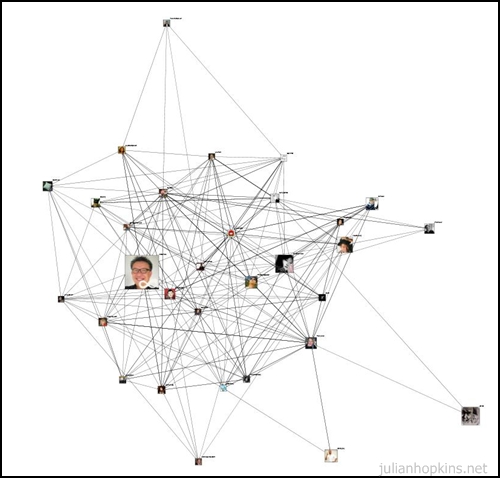 and with less than 1000 followers.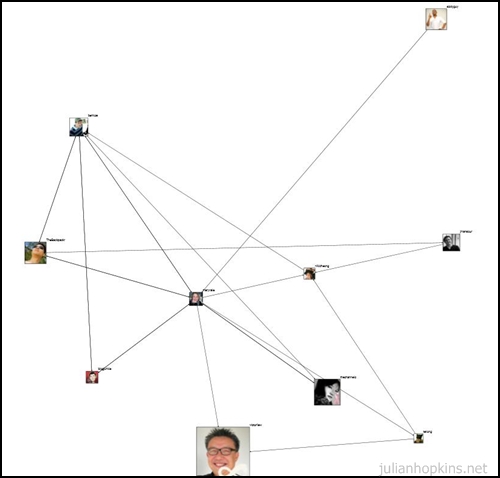 Again, a pattern emerges of a denser cluster in the middle with a few outliers. What this suggests is that most people at the SMCKL evening already know each other. But not all: I said above that outliers are less likely to be influential
within that group
- it's important to note here that the person with the most followers (
@victorliew
) is an 'outlier'. This suggests that he could be an important 'bridge' for this group to connect to another group. The question would be - who is he? And why are so many people following him?
The 'Following Differential'
Now, we have all seen 'Followers' like this
Spam tweet accounts seek to build up as many followers as possible, and the number of followers does not necessarily indicate influence. Another measure is the difference between the number of followers and the number followed:
@Oprah
is a good example of this

So, I've done the same thing as above, but looking at the 'Following Differential'
The picture is now very different; the largest node is now
@nikicheong
- but the differences are not as high as in the Followed graph above.
We can look at those with a difference of more than 100
and more than 200
So, does this mean that @nikicheong is more influential than @victorliew? Not necessarily: although it is a feature of spam accounts to have almost the same number of followers as followed, it may also just mean that @victorliew follows people back as a matter of courtesy, or that he is not very familiar with Twitter, or that his own personal networking focus is not centred on Twitter. You can't know without more investigation. It does however suggest that if he follows you, he's not necessarily interested in what you're saying

It's probably also worth noting that @nikicheong is also a columnist for a major daily newspaper, a blogger, an actor, and I dunno what else

The point being, he is likely to be active in more than one network of people, and thus gather followers from different walks of life. He is an 'Outlier' on this network, but his high 'Following Differential' suggests that people are listening to him in different networks, or clusters of social activity, too.
Conversations
Finally, another way of looking at the SMCKL online twitter network, is to look at those who actually talked to or mentioned each other. Just like on Facebook, and with blogs, many people are not very active even if they have an account.
So this is the network of people who talked to/about each other, with the node size based on Followers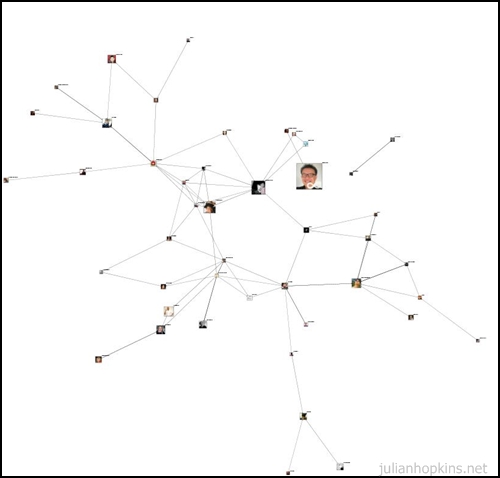 And the same with the node size based on the 'Following Differential'
As you can see, it looks very different! The network is much less dense, and is more likely to reflect (to some degree) actual interactions on the evening itself. @nikicheong is in the centre here, suggesting he tweeted a lot and others responded to him. @victorliew, however, was not as active.
OK, that's it for now - any thoughts?
Trackbacks
Show preview

This post was mentioned on Twitter by julianhopkins: Blog post http://bit.ly/c3sxfD : social network analaysis visualisation of #smckl . Or, why @nikicheong was the networker of the night