One useful thing about blogs is that they also serve as a kind of '
digital memory
' - like a diary, memories and thoughts are stored for a future time when you can go back and be reminded of what you've been through. How some things you thought were so important at the time have turned out to be insignificant, and others have developed into so much more.
Anyway - here's my retrospective of 2009
January
Nine posts. As for most of the year, I was reflecting and thinking about blogs - the topic of my PhD. I was ruminating about the importance of comments in
The Commentosphere
, and
Bloggers, transparency, truth and personhood
.
Also, as Chinese New Year and the
Dancing God of Prosperity!
beckoned, I made one of my many failed resolutions 'blog every day' in
Decisions, decisions: ethnographic focus
.
February
Sixteen posts for this month, which is probably a record. More thoughts on comments with
The 10 types of commenters
, musings on
How SoPo blogs helped the advertisement industry
; a fieldwork experience at
Profit Blogging Bootcamp - Meeting for money?
; and a cryptic references to events in Perak in
Silver transformations
.
Apart from helping me to get a cinema premiere ticket in
I'm Going Kame Hame Ha with Dragonball Evolution
, our dog Gambit appeared in The Star in
Canine Car Seat Belt

(yes it was just a pose, no we didn't actually strap him in like that).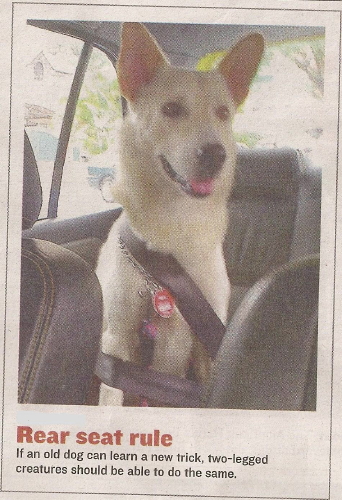 March
Eleven posts in March; I tried initiating a map of
Recycling Centres in Petaling Jaya
, and did a little
Tourist in KL
post after a friend visited.
But the most important thing for me this month was on March 9 -
myBlogS 2009 - Malaysian Blog Survey now open!
. I relentlessly promoted and harassed anyone I could about it for a month, including at the
Dragonball Evolution Premiere and my Thought Bubble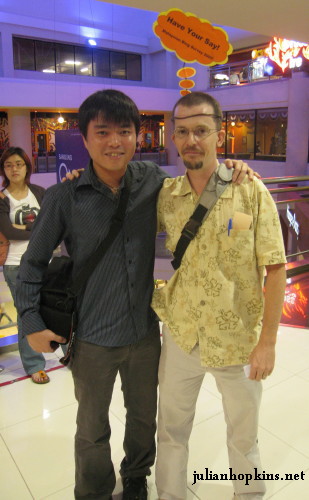 and the
eLawyer Conference - Be informed!
.
And amongst a few food posts, I admitted to
My food fetish - Cili goreng!
April
Nine posts for this month, which saw quite a few events - I won a PS3 for dressing up as Bob Marley at the
Nuffnang Music Bash - Super prize!
. Due to that, and the myBlogS survey (
myBlogS 2009 - 538 already and only two more days left!
), I got some attention from The New Straits Times, who did a full page spread on me, boosting my readership (temporarily) by thousands, thanks to mentions by other bloggers, leading me to remark that
Bloggers are not journalists, and blogs are not newspapers
May
Eight posts this month (note the decline

). Thanks to
AMBP
, I met some
Star Trek Camwhores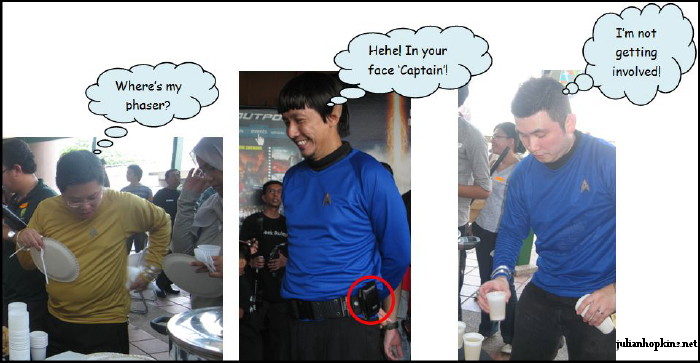 After compiling and cleaning up:
myBlogS 2009 - First Malaysian blog survey results released
. I also attended the BUM 2008 meeting, whose star guest was the never-quiet ex-PM, and I blogged about
Dr Mahathir on blogs and the media in Malaysia
.
June
Ahem, four posts... but my excuse is that I was having a wonderful trip in France that finished with
A room with a view - in Provence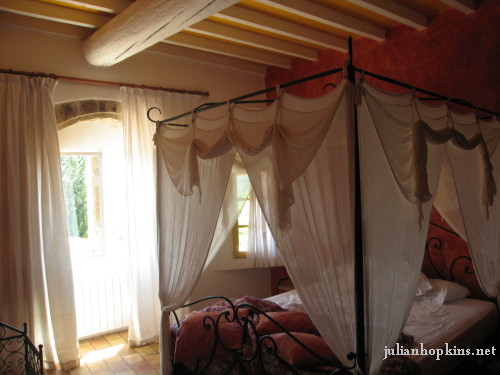 We went via London for my mother's wedding party, and taking in some
Beers!! Delicious! Enticing! Belgian!
, and visit to
Saint Veran - the highest commune in Europe
.
I also did some first analysis of the myBlogS 2009 results -
The 'ideal type' blog?
.
July
July (eight posts), saw some more travelling when I went to Brisbane for the inspiring
Oxford Internet Institute Summer Doctoral Progamme
- the
Air Asia eXperience
was less inspiring, though acceptably cheap.
A PR firm, Text 100, released an interesting survey -
Blogging and business cultures - comparative survey on blogs
. And I continued fieldwork by participating in Nuffnang events and competitions, such as
District 9 - sci-fi film coming soon
.
August
Six posts. I had some thoughts about social networks, comments and social network analysis in
Social networks and commenting
, learnt something about the use of Twitter for demonstrations in the Anti-ISA demonstration in
Business as usual...

And attended my only
Advertlets Malaysian Bloggers Evening
.
September
Five posts for this month that started with my fortieth birthday - which I didn't blog about for some reason. I think it was because I forgot to take photos that night (being somewhat intoxicated), and I guess other things, such as the
Twestivalkl - first tweetup!
, attending the launch of
Alpha Project bloggers
, and musing about
The virtue of practice
.
Of course, during this time I was also doing my tutoring duties at Monash University Sunway campus, and planning for the Monash University Postgraduate Association (MUPA) events, in my capacity as President of MUPA. These were things that took up time throughout the year; but I always enjoy having contact with students, and the MUPA experience - though frustrating at times, was very educative.
October
Seven posts for October - for which the big blogging event was the Nuffnang Asia-Pacific Blog Awards, held in Singapore and for which I won an invite for me and WW and blogged about it in
Nuffnang Awards - Whistle stop tour
. I chose this as the cut-off point for my fieldwork, and am now writing up my thesis.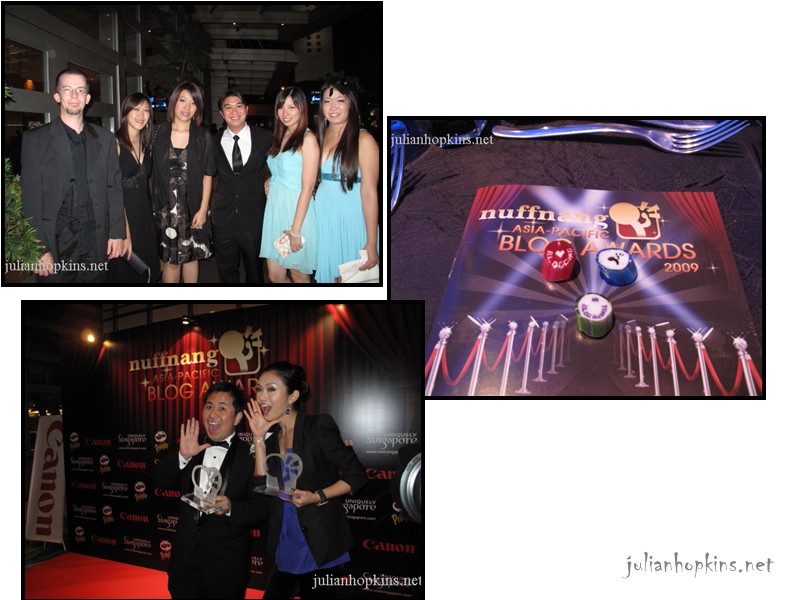 Following the American FTC decision on disclosure for bloggers, I used my survey to answer the question
Do Malaysian bloggers think that blog advertorials need to be disclosed?
. I also tried to win a Blackberry (
Xpax, Blackberry, Party, Future
), and used
NodeXL
to track a paid Twitter campaign in
Visualising a monetised Twitter network
November
Five posts. After three months, I could finally blog about the secret I'd been holding back since September - WW is
Expecting!
, and we're due to have a baby boy next April/May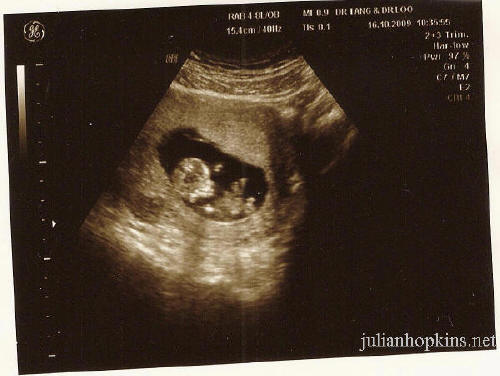 On another note, I blogged about a
Chez Vincent - Brussels restaurant
, and tried to philosophise about potato chips in
No Compromise for Mister Potato Fiesta 2009
December
Five posts again, I continued with my 'autobiographical' series with a post about
Auschwitz - The Death Camps
, and uncovered some evidence of
Appalling standards in Malaysian newspapers
.
Throughout the year I was also interviewing bloggers, writing notes, and planning for the thesis. But the best news of all was the pregnancy. For 2010, the goals are to finish my PhD (and therefore, not procrastinate by blogging too much!), and learn how to be a good father.