August 1990
I spent about three weeks in Poland from August to September 1990. It was a depressing place at times - heavily polluted, and with communist style buildings everywhere. And it has a tragic history too - it was designated as the part of the
Lebensraum
('living space') by the Nazis, who intended to empty it out and fill it with German colonists (
Wikipedia
for more details). An example of this was
Zamosc
, a beautiful Renaissance-era town, which was emptied out and renamed 'Himmlerstadt' ('Himmler Town') after Heinrich Himmler, the head of the SS.
For anyone visiting Poland, a visit to Oswiecim is a must - renamed
Auschwitz
by the Nazis, it was the location of two of the camps built to kill Jews, Roma, homosexuals, Jehovah's Witnesses, Polish, Russian POWs, dissidents, and anyone the Nazis deemed sub-human or a nuisance. Those who weren't killed immediately, were used as slave labour until they died of malnutrition, disease or injuries.
A visit there is important, to bear witness to this horrific moment of the history of humankind - born out of racism and ethnocentrism.
I took this following picture in 'Auschwitz I', the smaller original camp.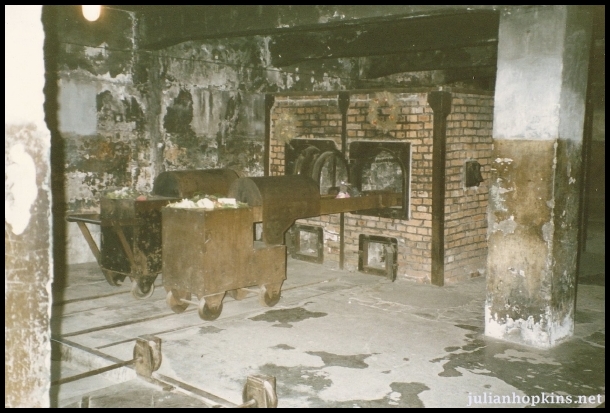 It shows the trolleys used for putting bodies into the crematorium. Although it felt voyeuristic and somewhat inappropriate, when I saw how it was so obviously made to put bodies in (note the shape and size), I felt that this photo could be a small way to show the truth to anyone who doubted it.
The camp itself was deceptively calm - red brick buildings and leafy trees (though the trees would be more recent).
The exhibit that shocked me the most was this
and on top of the hair, I saw a blond plait (maybe this one, not my photo though)
It made me retch. It's one of the most horrible things I've ever seen.
At Auschwitz, they would use every part of the people they murdered - and this included making rough cloth out of the human hair. For that, hair was stocked - when the Russians liberated Auschwitz, they found 7 tons of hair, packed and ready to be shipped out.
A final note: while I was taking the bus to the camp from the train station, I started talking to an old man who spoke some German. I asked him how he knew German, and he said that he had had to learn it at school in Ozwiecim during the war; so I had to ask him - did he know what was happening in the camps? He shrugged and said Yes, everyone knew. How? I asked. He held his nose and said, 'The smell', waving his other hand to demonstrate the smoke wafting over the small town.
It's difficult, almost impossible really, to imagine what happened. But it did. And we should never forget it.