[OK touching wood and not jinxing anything OK?!?!?]
Well - the Charlene/Charlotte/Charlize issue is sorted, anyway. We hadn't intended to check the sex of our baby, and leave it as a surprise, but at the last check up we were looking at the scan and suddenly WW said - "Is that a willy?", and the doctor confirmed it was.
So - here is Charles (to be known as Charlie, probably):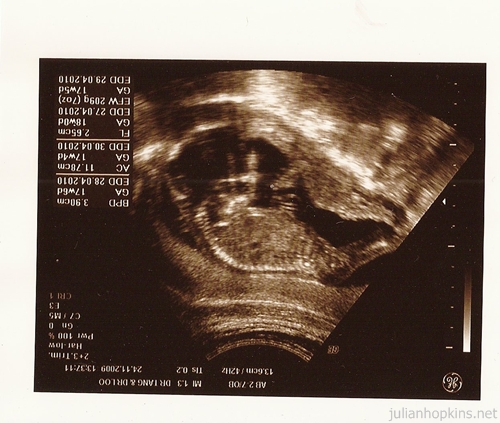 It's not a great picture (at first I thought the picture was a total disaster, but WW told me to turn it upside down :-p), but you can see the backbone clearly, and his arms and legs are all there - and everything is fine so far apparently. The doctor said he was 'clapping his hands'

This is what he might look like in more detail
They're doing the
'Triple blood test'
from WW's blood to see if there is any likelihood of Down's Syndrome, neural tube defects (for the baby - indicating possibility of spina bifida, or anencencephaly - taking folic acids helps to avoid these defects), and anemia (for WW). They said they will only call us if there are positive results (i.e. if something may be wrong). So hopefully, NO calls from the doctor next week!