I've been wanting to announce this for a while, but we were waiting for the first three months - we're expecting!!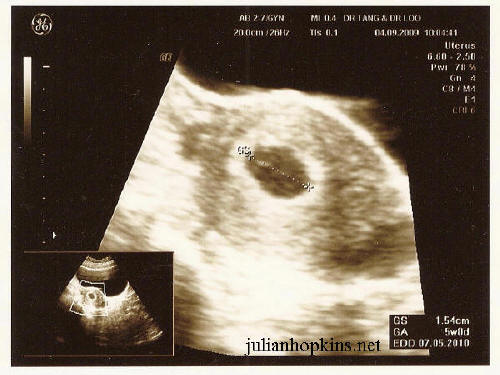 It was the best birthday present I ever had - on the 1st September, the pregnancy test confirmed what we've been hoping for for almost two years
Above is the first scan, at about five weeks. When the doctor said 'It's in the uterus', I felt a massive rush of relief, and realised how worried I'd been that we'd have a repeat of what happened two years ago. WW was pregnant, but it turned out to be an
ectopic pregnancy
- i.e. the fertilised egg got stuck in the fallopian tube and started to develop there; surgery was needed and the fallopian tube was removed...

Fortunately, WW was fine, but it meant that getting pregnant again was more difficult...
I guess we got our first lesson in parenting - plans are wise, but don't expect them to always work as intended...

A couple of weeks later, all was developing smoothly
but we've both found out that we do worry about whether all will go well... It struck me that a lot of time being a parent must involve being worried about the kid. Just have to hope for the best, and prepare for the worst, or something like that I suppose.
At about twelve weeks, we heard the heartbeat for the first time! And saw it too - although the heart was just a blinking pixel, it was pretty amazing and really brought home the fact that WW is carrying a living person-to-be in there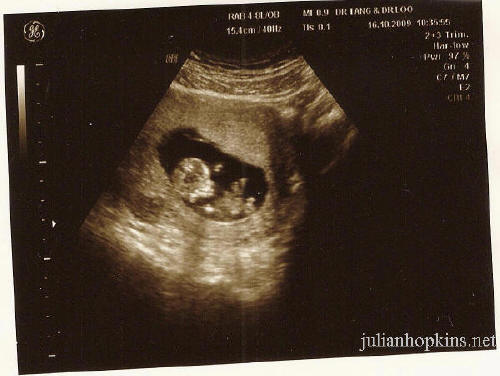 In the above one, baby was looking a bit like an alien and waving arms and legs. About a week later s/he seems to be taking a nap or something...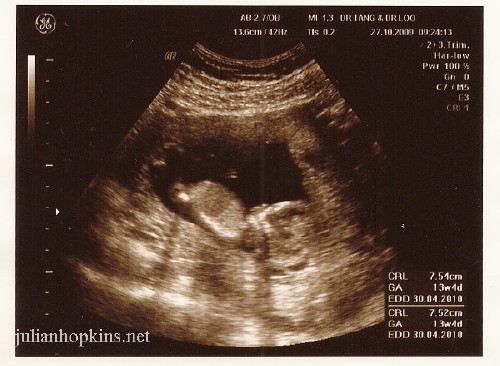 Though I guess that also has something to do with the skill of the doctor at positioning the ultrasound, because originally when she started the scan baby was upside down, lol.
She checked three things: the backbone (all there), the nose bone (check), and whether there was swelling around the neck (nope). So all is OK so far (touching wood).
So there you go - sometime about the beginning of May 2010, I'll have some photos of a chubby little Charles or Charlene (named after my grandfather) to share

(or does anyone have any other female versions of 'Charles' to suggest??) In the meantime, I'll just have more scans, and find one of those widgets to put in the sidebar, in true proud blogger parent-to-be