The
Nuffnang Asia-Pacific Blog Awards
were held last weekend, and various lucky nominees and bloggers were transported into Singapore from Malaysia, Philippines, and Australia. It was the first of its kind and, for me, the cut-off event for my data collection - from now on, it's time to start reviewing all my field notes, transcribing interviews and aiming to finish 100K word in one year.
Here is a rapid tour of how it was for me - we gathered at the Nuffnang offices in KL, and arrived at the
Link Hotel
at about 3pm.
Yee Hou
was our efficient shepherd, leading us safely to Singapore and back, even those who didn't declare cigarettes...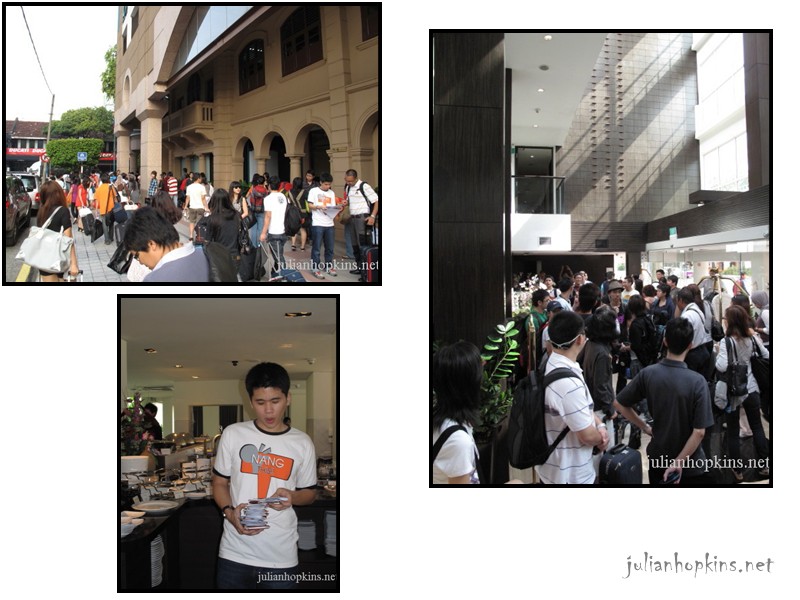 After we booked in (was a bit slow) - a welcome beer!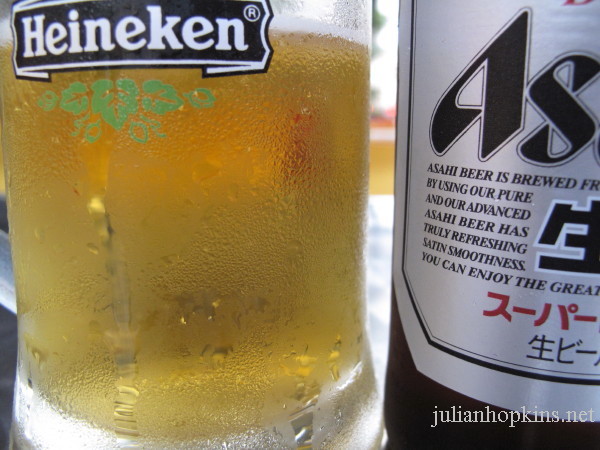 Then, off to the Awards ceremony! Efficiently run, nice food, nice people, many awards - nominees from all four countries where Nuffnang has a presence.
Blog celebrities
and
Celebrity Bloggers

(
list of the nominees and winners
)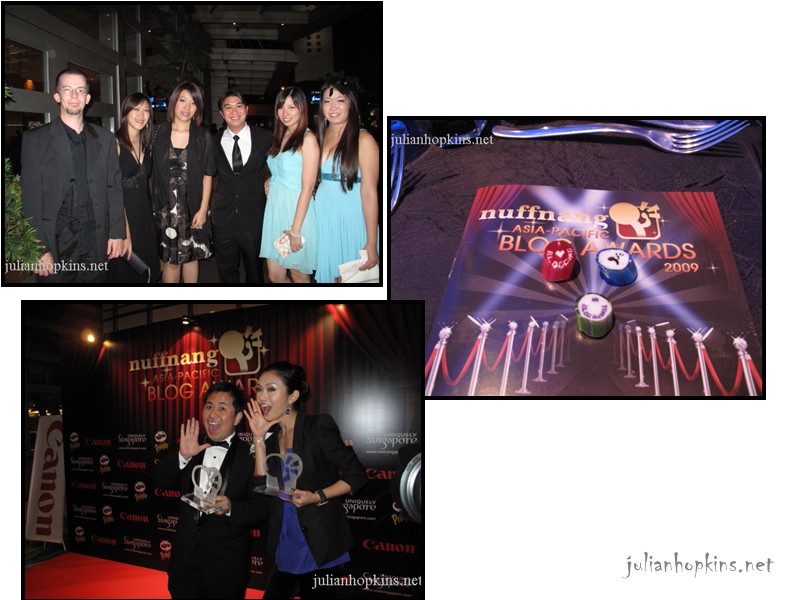 In the group photo (L-R): dork on the left, dunno who sorry,
Swee San
,
Soon Seng
, Wenli, and
Jolene
(click her name for a much more complete account of the awards).
Got back to the hotel for a pleasant surprise welcoming letter with a gift of cute cows from
Exabytes
, longtime advertisers with blogs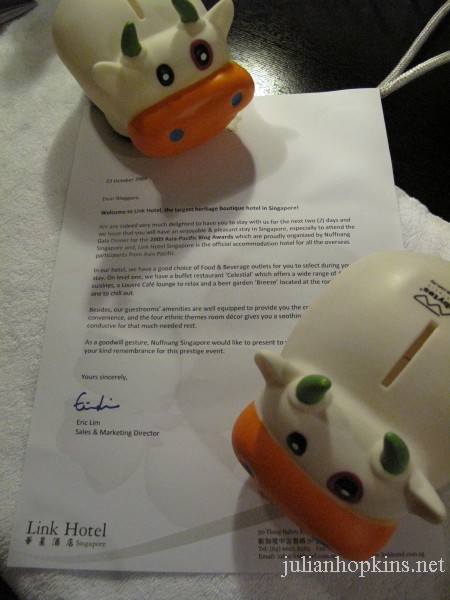 Saturday was dedicated to a tour of Singapore, courtesy of
Uniquely Singapore
. It started with a lesson at the 'School of Hard Knocks' at the
Royal Selangor Pewter Centre
, where we got to make our own pewter bowl.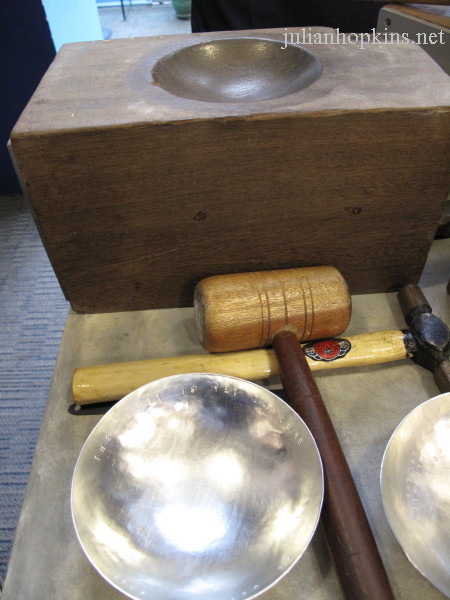 After that the tallest Ferris wheel in the world, the
Singapore Flyer
, took us over a scenic view of Singapore (though at the moment there's a lot of building going on, the future casino and other sites). Apparently they will be offering dining sessions in the Flyer - they put in a table, have a butler, and - I think - up to ten people can dine in one of the capsules.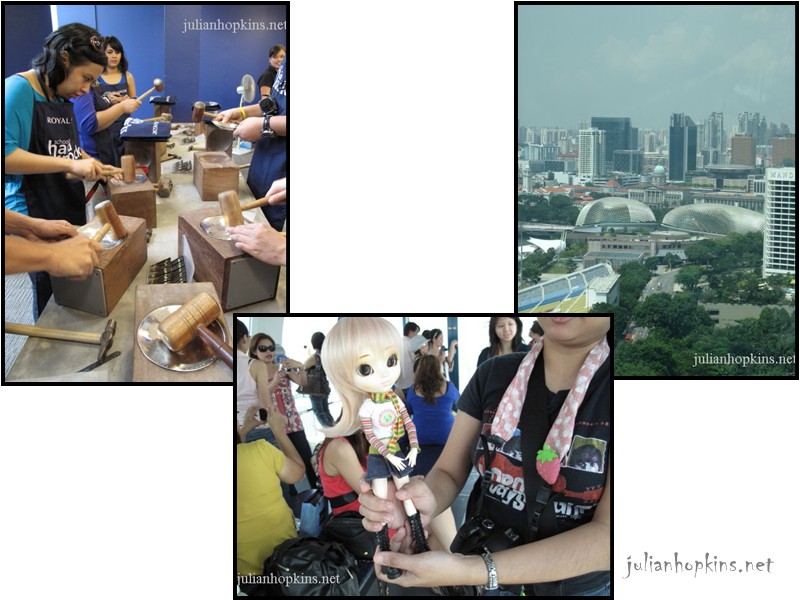 And I met kaoko, a versatile Japanese doll who blogs at
kitchencow
After lunch we went to Chinatown, and the
Chinatown Heritage Centre
- it's a well designed museum, that recreates many different aspects of the old Chinatown, with accounts by people who lived through it... the poverty and resilience of the migrants is humbling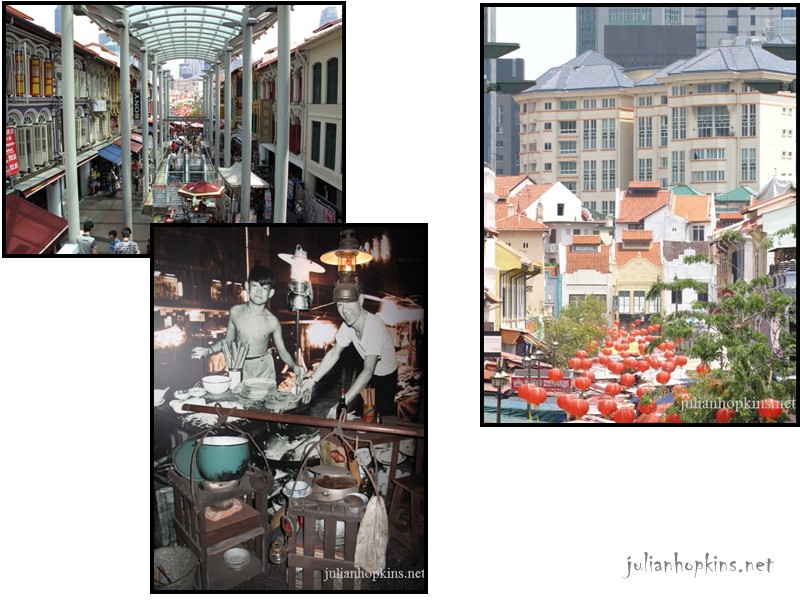 but some things are surely better off consigned to history :S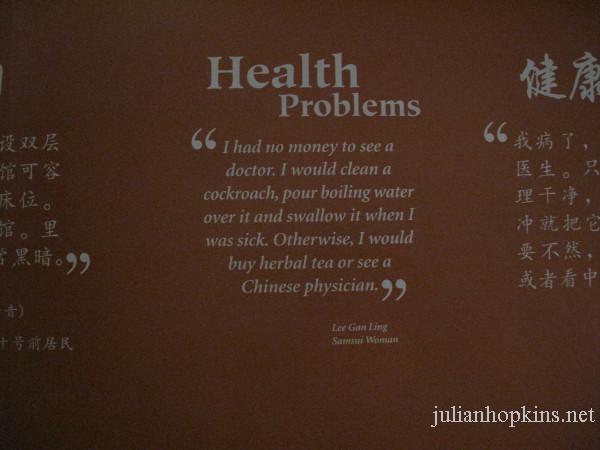 After that the
Mint Museum of Toys
- a fascinating and immense collection of original toys dating back to the 19th century, housed in a purposely designed architecture-award-winning building
and many tired bloggers

Later, back on the rooftop Beer Garden of the hotel, I had nice chat with
MING
and watched bloggers take photos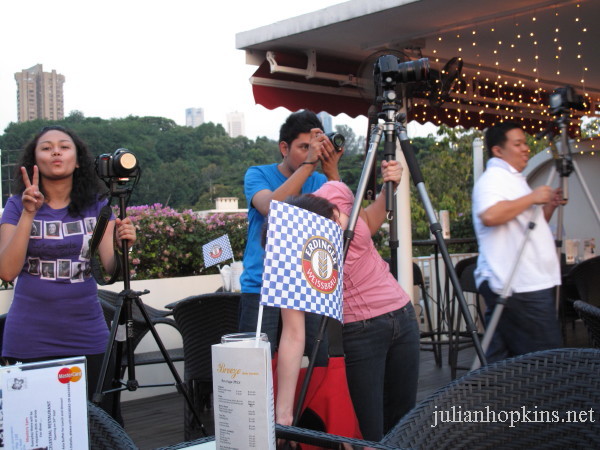 Sunday - all good things have to come to an end... though first we tried (unsuccessfully) to introduce Arne to Bak Kut Teh - hope we didn't spoil his Sunday!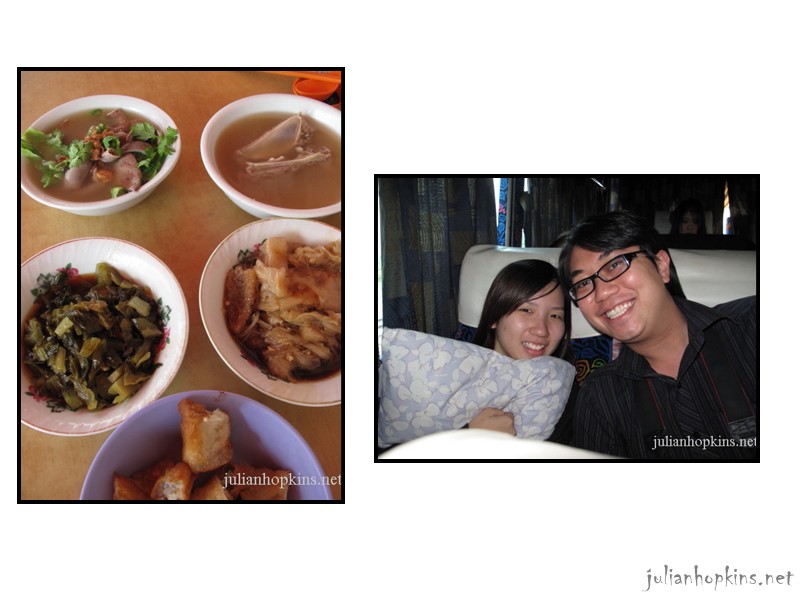 And on the bus back, I had an interesting chat with Soon Seng, though I probably ended up boring him with the results of my survey ...
And that was that! Of course I met many other bloggers too but too many to mention - all in all, it was a great trip, an interesting glimpse into bloggers from other countries, and a real milestone in the development of blogging in Asia.
Thanks Nuffnang!