I went to a wedding with WW on Sunday, at the
Shangri-La in downtown KL
. I don't like the decoration of that place very much, but the food was nice.
Chinese weddings can tend to all have the same food and lots of it tends to get wasted, which is always a pity to see. The portions were smaller there, and little was wasted; in addition they had individual servings like this one of rice steamed in lotus leaf
They also had herbal chicken which was very nice (also individually wrapped), a delicate cod with some kind of fruit sauce thing, and apple pie with coconut ice cream for desert.
The thing I really want to mention though, was the band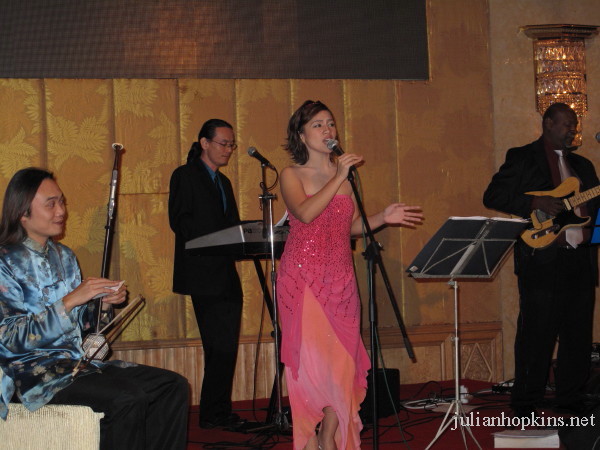 I'm not sure what they are called, but the card says 'Jason Geh Entertainment', and you can
check them out here
. They had a nice blend of jazzy, bluesy and for the dancing did some rock n roll, Dancing Queen and various crowd pleasers.
What I liked most of all was the erhu
The erhu is a
traditional Chinese instrument
, usually heard in kung-fu movies and the like, but here it made a really nice additional touch to the modern music. Very contemporary - hybrid, globalised, etc.
So thanks to Sasha and Phil for inviting us - and many congratulations again! Love always