How was my Air Asia eXperience? To check in and get on the plane was OK - the usual minimal service and bus-station-like experience of the LCCT. Though I must say the international departures lounge now has many more shops than before - and it almost feels like a real airport.
The flight was much cheaper than the cheapest MAS flight, about RM1700 cheaper. The 'Brisbane' flight lands in Gold Coast Coolangatta airport, which is about one hour from Brisbane, but there's a Malaysian/Australian company called
AAExpress
that runs a bus service that will pick you up at the airport and take you to Brisbane for AUD38.
So money-wise, it's great value and I can't complain there. But I do have two major grouses.
The seats are pretty minimal, narrow, and don't lean back very much - OK it's budget travel... but there is no footrest! Maybe it's just because I have shorter legs or something, but I find that a footrest can make so much difference and surely they can't cost a lot to have! It's rare even to find a bus without them now.
And the second problem is the food - I booked a 'Vegetarian meal' and this is what I got...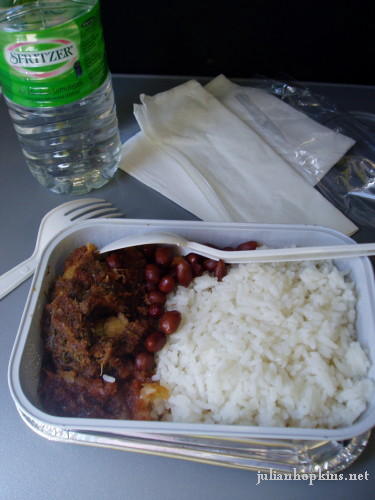 yep, like one scoop of rice and a few spoonfuls of some (admittedly tasty) fake meat-type thing. Oh, and a bottle of water. It's really not enough - and they only serve one meal in an eight hour flight. I mean, I would be fine with paying more to get a proper meal! Some fruit, bread roll, whatever... shame!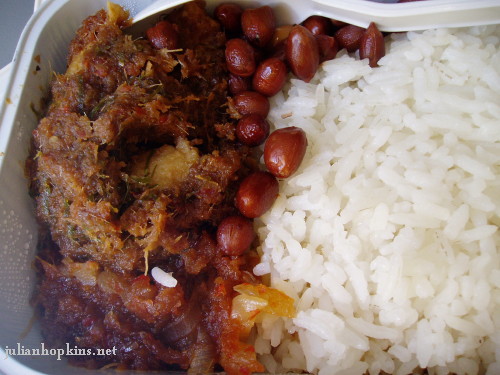 And because they spend so much time giving people change, etc, it takes ages to serve.
Anyway; something I would recommend is that it's probably well worth paying in advance for the entertainment (i.e. films, etc.) - if you're saving RM1,000+ on the flight, might as well allow yourself RM30 or less to avoid spending the whole flight staring at a map with the plane's flight track... And bring a pillow and blanket.