Just two more days to go!! I was
soooo stressed
when I launched this survey, and just hoping that I would get at least 100 responses, but now there have been 538!! 500 was my target, so that's cool

but I want more, more, more!! - muahhhahahahhaaha
No seriously, 500+ is great! And a big
to all of you who have taken the time to answer it

But the more responses there are, the more likely it is that the results really do represent Malaysian bloggers as a whole.
For those of you who have not heard of it yet – it's a survey that's part of my
PhD research for Monash University
, and it's asking what Malaysian bloggers and blog readers think of the increased monetisation of blogs – like the advertisements you can see on the right, or 'advertorials', when bloggers are paid to write about products or services.
It takes about 5-10 minutes for a blog reader, and 10-15 minutes for a blogger, and when you finish the survey you can enter your email for a prize draw for
Platinum Movie Suite
vouchers (or something similar near you, if you don't live in Klang Valley). I'll be posting up the results for all to see once I've compiled them.
It's completely anonymous, because I want people to be honest in their answers

So try it now before it's too late! It will be open until tomorrow midnight, so
do the Malaysian Blog Survey 2009 now!!
And my eternal and kow-towing thanks goes out to those who were kind enough to spread the word (previous ones
here
)
A particular mention goes to
Kenny Sia
who had a sidebar panel up for a week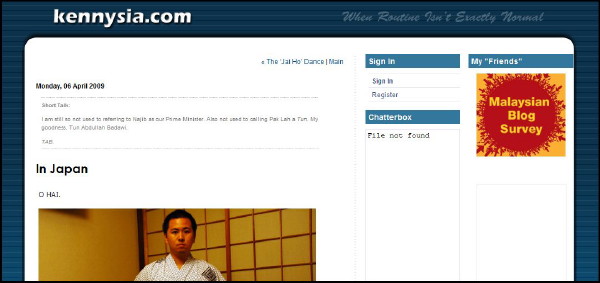 and thanks again to the others who also took the effort to make the survey more successful! (Please tell me if I've missed someone out)
• Hic Sunt Dragones:
myBlogS 2009: The Monetisation of Blogs in Malaysia
• deep inside:
myBlogS 2009 - Malaysian Blog Survey
• As Suanie Sees It:
elawyer law conference 2009 @ um
• Follow the cable:
Blogger turbulence.
And not forgetting tweets from
bytebot
,
kueee
,
ShaolinTiger
, and
synical
*Edit*
: Thanks to
Me, Mine, and Myself
also!