One morning I noticed that some of the leafs on my qumqat tree were stuck together – like this…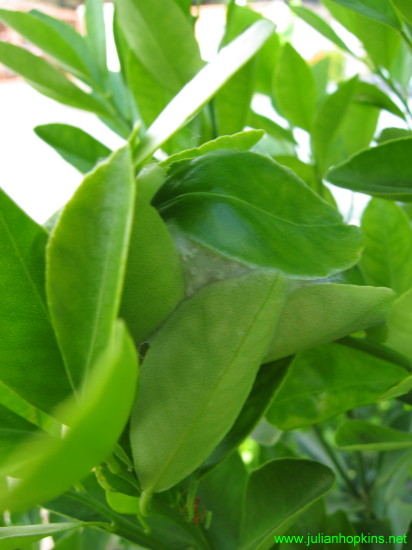 curious, I poked it with my finger and quickly retreated when large red ants suddenly swarmed out, looking mean and angry…
It seems that they are weaver ants (
Formicidae Oecophylla longinodaie
); if in doubt compare my photo with
this one
. Apparently "Weaver ants form the most elaborate communicative organization in the insect world." ("Weaver ant"), which seems kind of cool to have in one's garden; on the other hand, "A mature colony of weaver ants can hold as many as 100,000 to 500,000 workers and may span as many as 12 trees and contain as many as 150 nests." (
ibid.
).
Argh! I don't want half a million of these in my garden!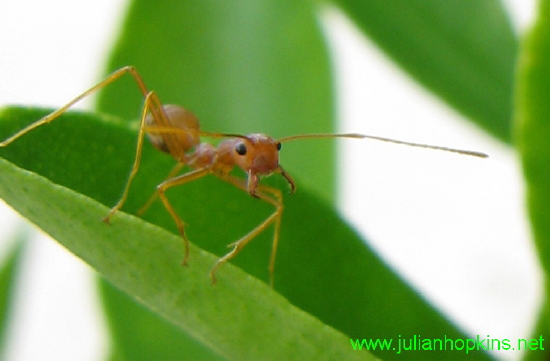 Me and 499,999 others know where you live!
It makes me wonder what to do about them. My initial worry was that they were going to eat my tree to shreds, but in fact it seems to be doing better ever since they arrived, I think they scare off any other leaf eating bug. They don't seem to have built any other nests on the tree either, and it seems rather small.
++++++++++
Works Cited.
"Weaver Ant".
Wikipedia. The Free Encyclopedia
. 2007. 1 July 2007
http://en.wikipedia.org/wiki/Weaver_ants


The video was done with Windows Movie Maker 6.0: I put in a sound track, opening and closing credits etc. It's the first time I've tried editing a video clip, and it was pretty simple to use.