Last Saturday I attended the
"eLawyer Law Conference 2009 - Blogging & Law"
. It was interesting, I got to meet up with some bloggers and also (of course) tell people about the survey –
myBlogS 2009
(there are 151 responses so far – have you had your say?).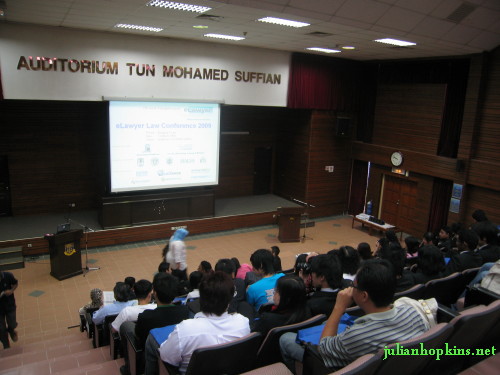 When I arrived I first spotted
Suanie
, then also
Foong Cheng Leong
and
Nizam Bashir
. I always have difficulties remembering Cheng Leong's name, because I really knew him first (before I met him) as
'xes'
- which is his blog that has been around a long time. I had met them before at the Bar Council
Blogging and Defamation Forum
, so I was familiar with quite a lot of what they said, but it struck me again that spreading this information around is really important for bloggers. I find that there are still too many bloggers who seem to think that just because you're online, suddenly there are no laws and you can start to act (figuratively) like
Marv
from Sin City.
I also met
kruel74
for the first time, and
DiEsE
- I forgot to take photos with them though (tsk tsk – lose two points for not being a proper blogger

).
kuE
and
CurryEgg
were also there, and have done a pretty good job summarising what was said in the two talks; I have also talked about some of the issues before (link above), but here are the ones which stuck in my mind:
First of all,
Eddie Law
opened the conference and explained what
eLayer.com
is all about; mostly it's for lawyers and law students (job announcements, online resources, etc.), but there are also some useful services for ordinary Joes and Janes like you and me.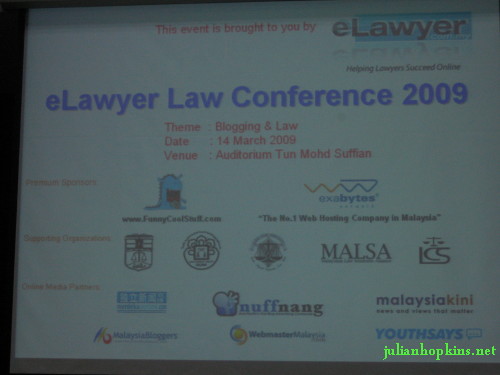 •
Legal Q&A
: you can submit legal questions and get a professional opinion.
•
Find a lawyer
: you can search for a lawyer near you, and with a particular specialism
•
S & P Legal Fee Calculator
: this will calculate legal fees for Stamp Duty and Sales & Purchase agreements.
Then we had the main talks.
Foong Cheng Leong - Intellectual property
• Cheng Leong mentioned that brand names are protected against cybersquatters, and others who – for example – would use the name/logo in their blog or as a name of a blog. It also means you shouldn't be using logos, brand names, etc. in your blog (except for 'Fair dealing' – see below).
'Cybersquatting' is basically when someone buys the domain name using a brand name – e.g. cocacola.com.my, normally in the hope of reselling it, or pulling traffic their way. He said that blog names may also eventually fall under this category – giving an example of someone having a blog called 'cheeserland2.com'. Coincidentally, I noticed recently that someone has done exactly that recently with kennysia: if you add a '.my' at the end of 'kennysia.com' you'll arrive at a website that is full of advertising links.
• He explained the 'Fair use' principles – known under Malaysian law as 'Fair dealing' – this means that you may be able to use copyrighted material as long as it is for the following reasons: non-profit research; private research; criticism; review; reporting of current events. Helpfully, he used me as an example – since this blog is used for non-profit research, I can use the 'Fair dealing' defence. Woohoo!

On this subject, while reading the other blogs and reports of this event, I feel some people didn't understand the issues properly: and example of this is in the NST
If an image is taken of a website and posted on a blog, said Foong, the defence of fair dealing would be available if the website was credited to the proper owner. (NST)
This is not true: if I was to use a photo that was copyrighted, and indicated the source, I could still be sued if I could not justify myself based on 'fair dealing'. This is obvious when you think of it – otherwise you could use anything you wanted as long as you indicated the source. What I think Cheng Leong meant to say was that if you
don't
credit the source, then you may not be able to avail yourself of the fair dealing defence (unless, I suppose, you can prove there was a good reason not to credit the source).
• What to do if someone contacts you and demands that you remove some content? First, remove the work – but don't delete it! Keep a copy (either a screenshot, or just make the post invisible/password protected). Second: don't admit liability! I suppose this means you say something like 'OK I'm removing it for the moment as a good will gesture, but this doesn't mean I agree I have done anything wrong.' Third: negotiate. Check with a lawyer, decide what you want to do. I suppose that once you have decided, you can put it back online if you think that you are safe – but be sure first!
(By the way, if I'm not mistaken, you can get a copy of his presentation if you contact him)
Nizam Bashir - Defamation
• The most important point that you have to remember here is that if you say something that damages a person's reputation you can be sued. Doing it online is no protection.
• Another point that is specific to the internet, is whether you are liable if you link to defamatory content. He used the case of Ahirudin Attan (of
rocky's bru
) being accused of contempt of court for linking to a particular blog; in the end the court decided he was not in contempt because the link was a 'passive link' – i.e. it was in the sidebar, no particular encouragement was given to click on it, and it was a link to the website, not to a particular webpage within that site (this case is discussed by Jeff Ooi
here
).
Where someone may be liable is when they do 'deep linking' (no it's not a film

). For example, if you link to a specific page, or even if you give detailed information – search terms, tags - about how to find defamatory material.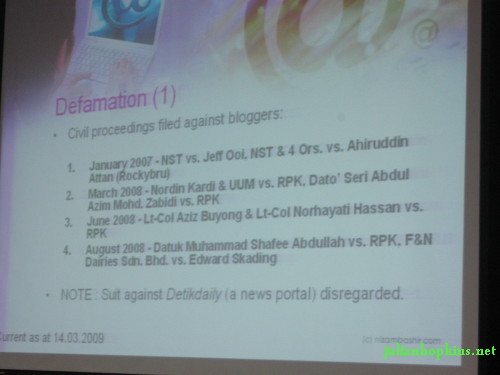 The questions were interesting – they were mostly asked by younger participants, and for me they reflected a change in tolerance of certain types of behaviour due to the nature of the internet – i.e. the reproducibility and the permanence of what were, previously, much more temporary phenomena.
For example: when I was doing my A-levels – for some reason I never really understood – a bunch of girls I used to get on well with decided that I was a jerk, and proceeded to ignore me, and this had a knock-on effect on other people who started to shun me too (I suppose the probable reason was that I was being a jerk). No doubt they talked about me and said unpleasant things. It all blew over in a few months, and nothing important came out of it. OK, so transplant that to 2009. What would they be doing? Most probably posting stuff on their blogs, on Facebook, leaving nasty comments on my blog, posting photos of me looking stupid, etc. Various forms of 'cyber-bullying'. Once again, this could blow over and be forgotten in a few months. Except it won't fade away: the comments, photos, etc. would probably stay online for all to see – even 20 years later maybe. Also, maybe it could escalate – trolls and people with nothing better to do could jump on the bandwagon and spread the word about what a jerk I am supposed to be. Maybe, a few years later when I'm applying for a job, or dating a girl, the company or the girl google my name and suddenly reject me based on what they find online.
The questions by the younger
'digital natives'
at the conference seemed to be addressing issues where they feel they should have redress: they asked about someone posting unpleasant pictures of you (answer: the copyright belongs to the person taking the photo), people spreading untruths about a person that others repeat (answer: can try to sue, but probably too expensive); hate commenters (answer: moderate). But the older generation does not understand them in the same way because of different practical experience: they think – 'Ah just ignore it and will go away'.
The conference made me realise the significance of following changes in the law: laws are basically formalised social rules – nowadays we take for granted that children should not work, but there was a time when it was a completely common practice throughout the world (and still is in many places). Times changed, people's attitudes changed, and eventually a law was passed forbidding it. The law often comes after material and social conditions have changed, making the new law relevant (aka 'culture lag').
There was some prize-giving after that, but I noticed some people leaving so I snuck out to tell them about my survey. Got asked by Malaysiakini.tv to say something about Malaysian blogs, met
Soon Seng
, and also met
khailee
of
YouthSays
too – interesting chap who talks a dozen a minute

After the conference I went for lunch with Suanie, and xes,
Peter Tan
and their partners. I was late arriving, as I had stayed on at UM a bit, and expected them to have eaten already – but fortunately for me, and unfortunately for them, the service was kind of slow and Peter's hunger was making him into an irate version of his usual gentle self! Fortunately, food was had and we chatted a bit about blogs and stuff, and headed off after. Xes' partner gave me excellent advice on where to get cufflinks (Robinson's in Gardens) and I finally got my brother-in-law's Christmas present!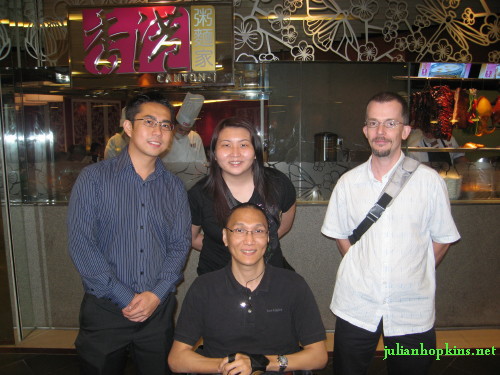 Here are some other reports of the event:
• all the world's a stage:
eLawyer Law Conference at UM
• Becklee's Blog:
http://beckleesblog.com/?p=245
• Beyond the Viewfinder:
Blogging and Law eLawyer Law Conference 2009
• dude.from.monkey.land
Blogging and Law
• elawyer:
Report on eLawyer Law Conference 2009 - Blogging & Law
(includes photo of me looking … dunno – you have a look

)
• exabytes:
eLawyer Law Conference 2009 - Blogging & Law
• juicedout.co.cc:
Elawyer Law Conference 2009 : Blogging and Law
• Malaysiakini:
All about intellectual property & defamation law
• Malaysia Today:
this cannot, that cannot, how to blog?
(actually this is a repost of mental jog's post – I wonder if they asked her permission?)
• mental jog:
this cannot, that cannot, how to blog?
• Musings of an endless dimension:
Jalan Universiti
• songs of an epicurean by sk =):
Legal Talk: Towards an Independent Judiciary
• The New Straits Times:
Blog with care, say lawyers