Banana leaf is one of my favourite foods, and whenever we feel like eating out, I'm almost inevitably (and boringly) going to suggest "Banana leaf!".
So last Sunday, we decided to check out a banana leaf place near our house. We walked there - a walk of about 15-20 minutes through the suburbs of Kelana Jaya (and I should have put on some suncream, as I ended with a very red neck!). On the way we saw this unusual frontage on a house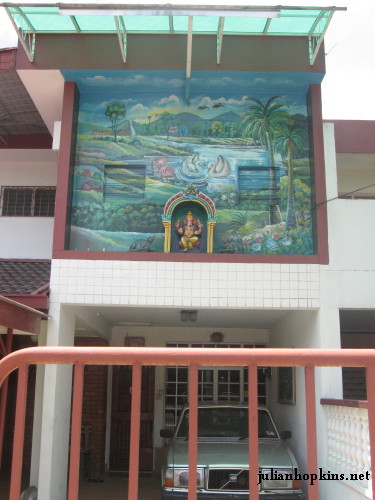 closer up, you can see how it's an elaborate scene with Lord Ganesh - apart from that the house looked completely normal though.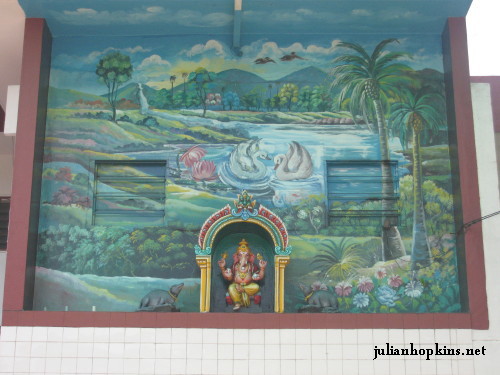 We got the the shoplots and ordered
daun pisang
, as well as some fried
tengiri
... yum...
One of the things I like best about banana leaf are the extra bits that come with - fried potato chips, pappadom, and especially
cili goreng
!!
Man, I'm drooling just thinking of them.
Cili goreng
are chilis that have been dried in salt, which draws salt inside the chili; then they are dropped into boiling oil, and scooped out as soon as they rise to the surface. Delicious, and although you can buy them in some shops, they are the best when they have been freshly cooked.
The meal for two, with two pieces of fried fish and two drinks each came out to RM22, which is OK. I didn't do a proper blogger job of getting a photo of the sign/getting the name and address (tsk, tsk) - but here's a map of where it is.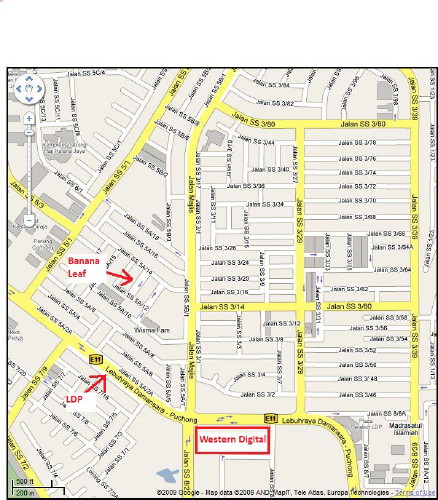 And here's a close up of that
cili goreng
again - oOOOooooohh it's sooOO hot