Last night was the Nuffnang Dragonball Premiere screening - I was pleased to get a ticket as I had not been to one for a while, and wanted to catch up with some bloggers. And coincidentally my online survey –
myBlogS 2009
– was just completed so I took the opportunity to tell people about that too.
After discussing blogs at
Dave's Pizza Pasta Vino
(confirmed good pasta) with
Jan-E
and Rachel (who turned out to be an ex-student of mine from HELP

), I arrived at the GSC where, for some reason, RELA has been drafted to help out with the crowd control and anti-piracy measures (i.e. checking people for recording equipment).
As usual, Nuffnang were well organised - with friendly people to greet us, hand out tickets and so on. But lots of people who had got the tickets didn't turn up – there was a whole stack of tickets left as the show started. Honestly that sucks - if you don't want to go, there are many others who do >:[ (thinking of me who missed 'The Punisher' screening which looked fun) – just email Nuffnang and they'll pass on the tickets to someone else. Anyway, apparently people who do no-shows get blacklisted - and after two no-shows, I think they will no longer get any invites and so on. Nah!
As I got my ticket, I met
Marcus
– whom I met at previous Nuffnang meets, and we took a photo with some others whose name I can't remember (sorry…)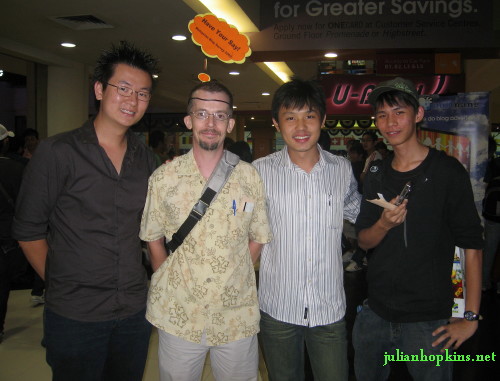 What's that above my head you're asking? Maybe you can see it better with me and
Huai Bin
?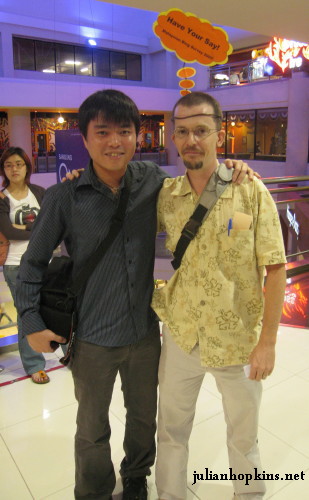 It was an idea by WW – to attract attention and tell people about the survey. It's a thought bubble with 'wtf?' on one side and 'Have Your Say' on the other, with 'Malaysian Blog Survey 2009' underneath; the thought bubble is because I want to know what you think about blogs and blogging. It also helped to meet up with
Bernard
to give him his ticket – I texted him 'I'm the guy with a sign above his head' lol

You can see it better in this photo, with
Zoe
and
Sue Me
(hmpf, my camwhoring skills leave much to be desired...)
Zoe reminded me that we first met at the
Digi promotional event
last year in April – seeing that post now, I'm surprised that it was less than a year ago. It seems like more than that. That was when I first met
joshua
too - who is like the most prolific blogger I have ever seen! (Though he claims 'it's not like it used to be').
How was the film? Well, the plot was predictable - the villain was nasty
and the love interest was hot and feisty
and you won't be surprised to hear that Goku won in the end - with the help of a
Kame Hame Ha!!!
I never really watched the cartoon or read the comics, but most of those I spoke to were somewhat underwhelmed by the film. For me, I wasn't expecting too much of the film, but I was so stressed yesterday (almost had an argument with someone at university), after working non-stop for the last few days to finalise the blog survey, that I just enjoyed a moment to relax and be entertained. Though the way they pronounced 'Qi' (i.e. chi) as 'Ki' got on my nerves.
After the film, while waiting in the queue to get my camera, etc. back (they were efficient, which was a relief), I met
Tian Chad
, who seems to leave a comment in every blog I read

Also met
KY
,
Yatz
,
Yee Hou
and many others. I'd just like to say a big Thank You! to everyone for listening to me going on about my survey, and I am knocking my head on the floor in gratitude to those who have done the survey already (listen hard and you may hear

).
Please please please
do the survey
, and
spread the word
if you can

If there are not enough people who do it, the results are not valid…

Here are some of the other posts on the event – if I've missed your one, leave a comment and I'll add it below:
• cwee:
DragonBall with Nuffnang
• Green Tea Movie:
DRAGONBALL EVOLUTION
• Harry:
Short Post: Back from Dragonball Evolution
•
joshuaongys: review on Dragonball Evolution
• Tian Chad:
DragonBall EVoLuTion @ 1 Utama by NuffNang
*Update 16/03/09*
• A journey called Jloi:
Dragonball Evolution Premier Screening + Gathering with NuffNanger
• Awesomeness Aaron:
Dragonball Premiere Screening
Trackbacks
Show preview

Just two more days to go!! I was soooo stressed when I launched this survey, and just hoping that I would get at least 100 responses, but now there have been 538!! 500 was my target, so that's cool but I want more, more, more!! - muahhhahahahhaaha No