Going downtown to areas where tourists go is always a bit strange for me - suddenly people start treating me like a tourist, calling me into their shop or offering me dodgy watches. In PJ, people generally may look at me a little curiously but mostly don't care; I guess it's because around Chinatown and areas like that, since they depend on tourists for a lot of trade (as opposed to in PJ), there is more competition and therefore it's more important to attract the tourists to them...
Anyway, when friends come to visit, I normally give them a little 'walking tour' that is based on a walking tour that I did once; it pretty much mirrors the one that's recommended in the Lonely Planet that our visitor had. Although it feels strange, it's also nice to be a tourist for a while - it gives you a chance to do and see things you normally wouldn't.
Here are some highlights from a walk around downtown KL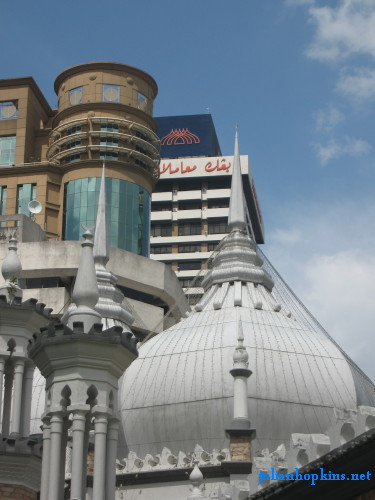 A view of Masjid Jamek shows old and new, Mughal, English and Arabic influences as part of the modern Malaysia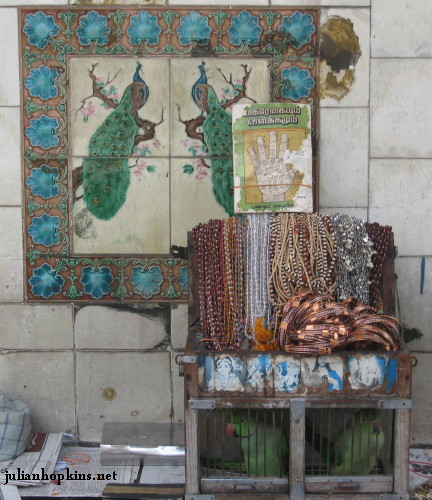 Fortune-telling parrots look bored in front of the peacock tiles of Chettiar House on Lebuh Ampang.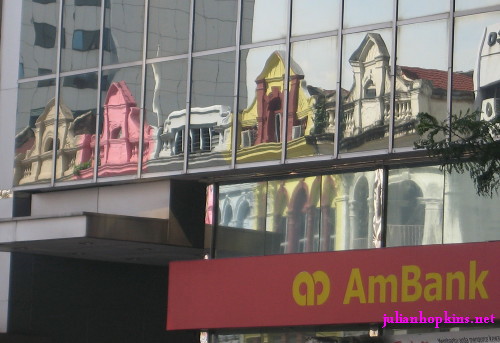 Painted shophouses in Medan Pasar reflected in the windows of a modern building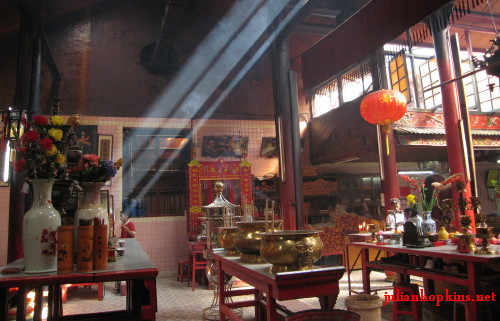 One of my favourite places - the Sze Yah Temple (which I call the 'Yap Ah Loy Temple' - he founded it)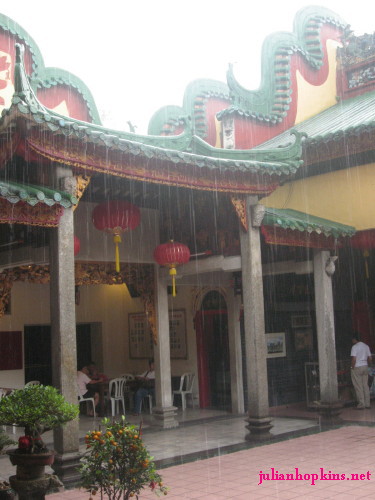 There are many more sights around Petaling Street - we had some very nice Curry Laksa, then ended up at the Chan See Shu Yuen Temple, when it started to rain heavily.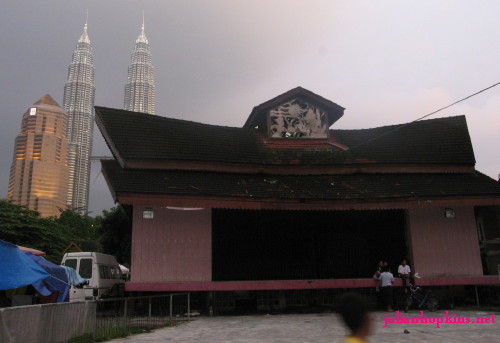 Finally, a jump across town to the evocative Kampong Baru, where houses on stilts lie under the Petronas Towers. We strolled around, checked out the Pasar Malam, and had delicious
ikan bakar