The
Cathedral of Our Lady
in Antwerp (Belgium) took one hundred and sixty-nine years to build (yes, 169 years!), and building stopped in 1521. In a modern city, its size and intricacy still impresses, so just imagine how it might have looked to a peasant arriving from a village, where a two storey house is already a significant achievement.
The point of the cathedral, just like huge skyscrapers and malls nowadays, was a reminder of the who has the power in the social system, and an invitation to come in and contribute towards the collective building of common value systems. Think of the Petronas Towers and how they are seen as representing Malaysia and the achievements of Mahathir's Barisan Nasional government.
Literacy was rare in those days, and masses were in Latin. So, you may ask, how did people learn about the religion then? Good question, and you can take it as a special assignment and come back tomorrow with an answer ;-P ...
OK - I don't know, I suppose there must have been some portion of the mass that was in the vernacular, the sermon I suppose. Which would leave it open for the priest to interpret the liturgy and the scriptures in whichever way he felt was most appropriate.
The
tympanum
is the hemispheric portion above the door; and for an illiterate looking closely at it, there are clear messages to take home. I read recently (can't remember where) that only 10% of European medieval children lived to the age of ten years old, death was omnipresent, and the promise of Heaven and the threat of Hell were probably the main tools of religious instruction. On this tympanum, the message is carved out clearly.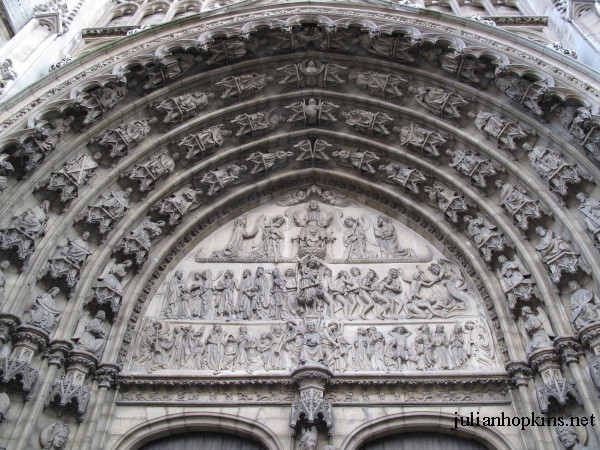 At the top sits the ruler, Jesus - who is also God according to Christians - sits at the top. On his right hand, you can see those who are chosen for eternal life and to the left are those consigned to damnation.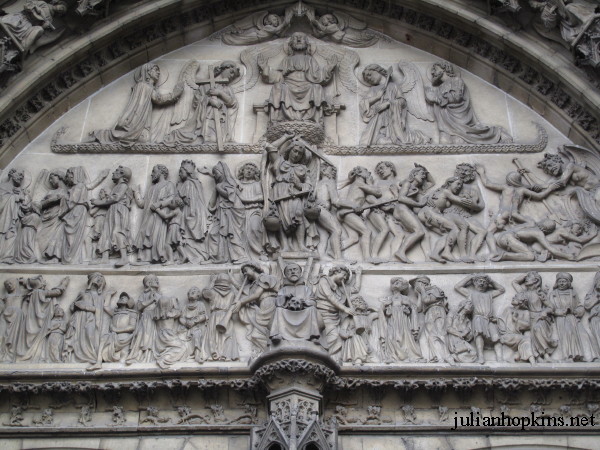 below him, the Archangel Michael (or Gabriel) holds the scales of justice and wields an unyielding sword. Below him is a monk with a skull, dunno who he is.
On the Archangel's left side, the despair and fear of those who were rejected is clear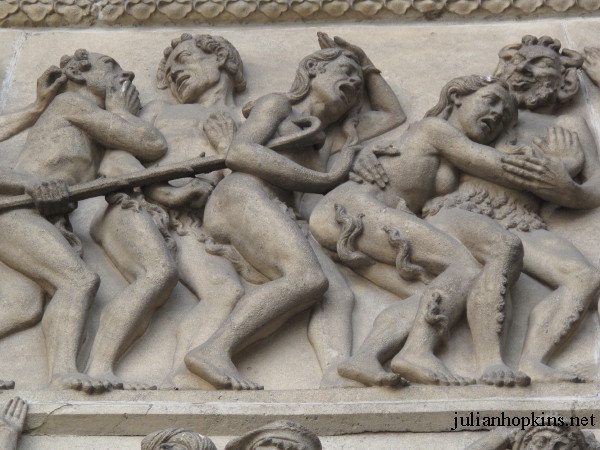 and we even have Satan, or a demon, grabbing the hair of a condemned sinner
Continue reading "Heaven and Hell in Antwerp"