I've been meaning to blog about this but many things are happening...
Anyway, as readers of
joshuaongys
or
*fourfeetnine*
may have noticed, I appeared in an article by NST ten days ago.
Being interviewed was new to me - I've been asked my opinion on blogs a few times (e.g. by the
Committee to Protect Journalists
, the NST (last year sometime) and malaysiakini.tv - but nothing ever seemed to come out of it. This time, the journalist turned up with a photographer and the interview lasted almost an hour - with the photographer hovering around and snapping away constantly. It was an interesting chat, but it made me realise one thing for future reference - the journalist knows less about the subject than me, and therefore may not always be able to ask the right questions. No disrespect to the journalist here, who did a good job condensing my ramblings into coherent and concise points: it's a journalist's job to get information obviously, and if they knew everything they wouldn't have to interview people. But it made me understand more how politicians and people in the public eye must approach journalists - wanting to make sure that their own message is heard, whatever the journalist actually asks.
Another thought is how, as a blogger, I have already got quite used to putting stuff out there for all to see - which was initially a little worrying sometimes. With the interview it was different, however, because I had no control over what was written - the journalist was kind enough to do 'quote check' and show me the draft article for feedback, but in the end she could write whatever she wanted. With a blog I can think about it beforehand, and even if I want take it down afterwards (though that's not usually a good thing for bloggers to do).
Anyway, you can read the article and tell me what you think (click to enlarge).
In terms of research ethics, I also found myself thinking about how much I can say - I have done a few interviews with bloggers already, and learnt some things during them. But part of the conditions of the interview are that I only use that information for academic purposes, and also that I keep the information anonymised. So, for example in relation to how much people are paid for advertorials, I actually have more specific information but I thought that I had better not use it.
But in fact - not at all. It's been noted before (e.g.
by ShaolinTiger
) that appearing in the newspaper has little to no effect on incoming blog traffic; the same happened to me. See on the 18th (when the article came out) there is no change, but I got a huge boost of about 1800 hits on the 21st from
Audrey
whom I had mentioned in my Top 10 (check her out – refreshing attitude and daily whatevers are her thing). This really suggests one thing - people who read newspapers don't read blogs much, and vice-versa.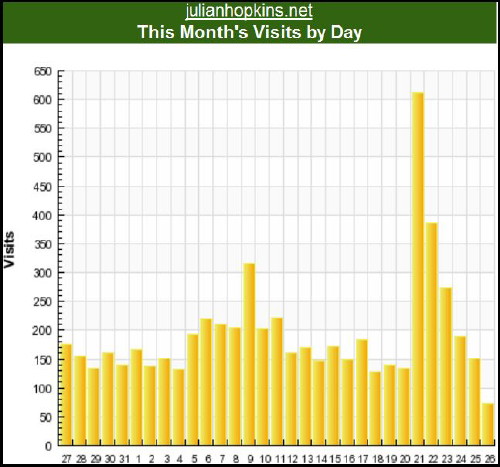 So, it's interesting to see how there are so many similarities between blogs and newspapers - they use words and images, they appear regularly and articles are written by individuals - but there are key differences. The blog is under the control of one person (with whom the readers can have some sort of direct relationship), but a newspaper is a large organisation; and although in theory they may share similar interests and concerns, their audiences are from different groups.