Last night was the Nuffnang Dragonball Premiere screening - I was pleased to get a ticket as I had not been to one for a while, and wanted to catch up with some bloggers. And coincidentally my online survey –
myBlogS 2009
– was just completed so I took the opportunity to tell people about that too.
After discussing blogs at
Dave's Pizza Pasta Vino
(confirmed good pasta) with
Jan-E
and Rachel (who turned out to be an ex-student of mine from HELP

), I arrived at the GSC where, for some reason, RELA has been drafted to help out with the crowd control and anti-piracy measures (i.e. checking people for recording equipment).
As usual, Nuffnang were well organised - with friendly people to greet us, hand out tickets and so on. But lots of people who had got the tickets didn't turn up – there was a whole stack of tickets left as the show started. Honestly that sucks - if you don't want to go, there are many others who do >:[ (thinking of me who missed 'The Punisher' screening which looked fun) – just email Nuffnang and they'll pass on the tickets to someone else. Anyway, apparently people who do no-shows get blacklisted - and after two no-shows, I think they will no longer get any invites and so on. Nah!
As I got my ticket, I met
Marcus
– whom I met at previous Nuffnang meets, and we took a photo with some others whose name I can't remember (sorry…)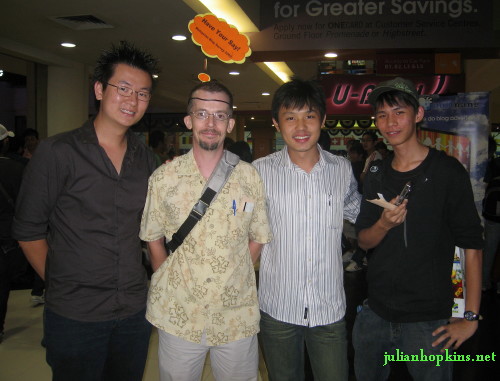 What's that above my head you're asking? Maybe you can see it better with me and
Huai Bin
?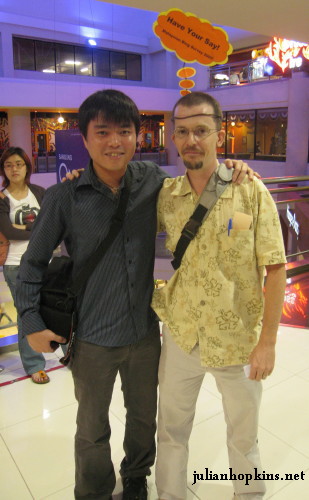 It was an idea by WW – to attract attention and tell people about the survey. It's a thought bubble with 'wtf?' on one side and 'Have Your Say' on the other, with 'Malaysian Blog Survey 2009' underneath; the thought bubble is because I want to know what you think about blogs and blogging. It also helped to meet up with
Bernard
to give him his ticket – I texted him 'I'm the guy with a sign above his head' lol

You can see it better in this photo, with
Zoe
and
Sue Me
(hmpf, my camwhoring skills leave much to be desired...)
Continue reading "Dragonball Evolution Premiere and my Thought Bubble :)"