Today has been procrastination day - for some reason I couldn't get started on anything really... so I've spent most of my time watching
Malaysian Dreamgirl
(Actually that was yesterday, while writing this I further procrastinated by camwhoring)
I'm not that interested in models and so on, but I like to watch a Malaysian show - the people all seem a bit more real and close to home. The concept of the online reality show is interesting and they are doing a good job overall. Though the bits they have between scenes, the speeded up shots of KL are kind of boring I find - I mean, who needs to see more traffic jams?? Also the relentless plugging of various corporate interests (Beautilicious, Lim Kok Wing, etc...) is tiring.
I like seeing the bits with photo shoots, when they are talking about how to do the poses, etc. It's interesting to see all the work that goes into presenting oneself as a model; and I understand more why some girl bloggers like to try out their different angles and all that when they are camwhoring. In fact, it makes me feel like trying it out a bit - just out of interest and for fun, though it feels kind of silly to me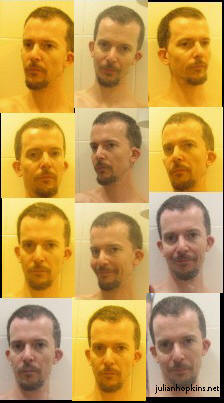 OK - there you go, me camwhoring. Conclusions: yes I am getting old! Too much smiling and wrinkles shoot across my face like Freddy Krueger or something! Solution? Only show small photos where it's difficult to make out too much

Which is my best profile? I have no idea - they all look pretty dodgy to me! What do you think?
Back to MDG: I particularly liked the photo shoot in series nine with Jimmy directing them, he explains well what he wants and why he's doing it; the catwalk episode was OK too, though one of the models looked scarily thin; the other one seemed to be a very conscientious teacher though.
As for the competition. Who would I vote for? I guess Juanita, Dawn, or Shasya would be in my top list. I find Ming kind of boring, and Farah looks so just so uninterested in it all.
Another thing I'm curious about (and why I started to write this post actually) - the MDG film streams really well, much better than YouTube etc. Even when some other sites are taking ages to download - the most obvious reason I can think of is that they pay streamyx to guarantee them full speed on the network. If that's the case, then
network neutrality
is already history in Malaysia; not good