Well I'm back home now, and I have a few more posts to do about Laos before I'm done

Laos is a great place, and I never felt threatened or harassed wherever I went. But that feeling changed a bit after I got some money stolen in Vang Vieng – here's the story.
It was my last afternoon (of two) in Vang Vieng, and seeing as I had missed out on the tubing, I wanted to see something around the small town before I went. Checking Lonely Planet, they recommend the "Tham Sang Triangle" as a half-day loop around some caves with a little walking. The book implied it was doable on your own – but frankly it could have been complicated, and I wouldn't go adventuring any distance in those caves without a guide.
Anyway, the scam might have started with the tuk-tuk driver, who suddenly dropped the price from 150,000 kip to 100,000 for a trip (there and back) to Tham Sang. Maybe he called ahead to announce a single visitor ripe for the picking? I dunno.
Anyway, I got to the village – Ban Tham Sang – and a self-appointed guide, a middle-aged man, short dark and wiry, with some kind of heavy-metal t-shirt, attached himself to me as I wandered in the direction of the first (and only) sign I saw pointing towards the cave. He called himself 'Han' (I think), and I didn't mind, expecting to have to pay him 10-20,000 Kip (2-3USD) but not wanting to get lost or something.
We walked through the rice fields, golden with the heavy ripe rice and the steep limestone karst mountains formed an impressive backdrop.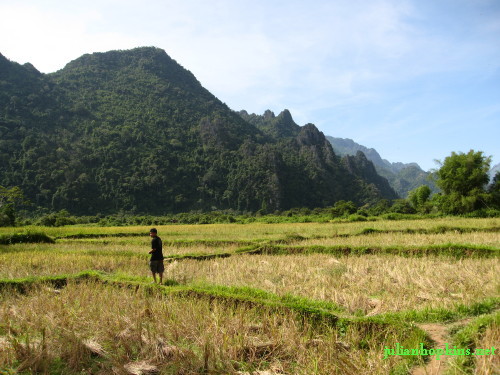 As we got to the caves, I had to buy a ticket from a guy under a concrete shelter, who also lent me a weak torch. The first was Tham Hoi – a large Buddha is at the entrance gazing serenely down at visitors.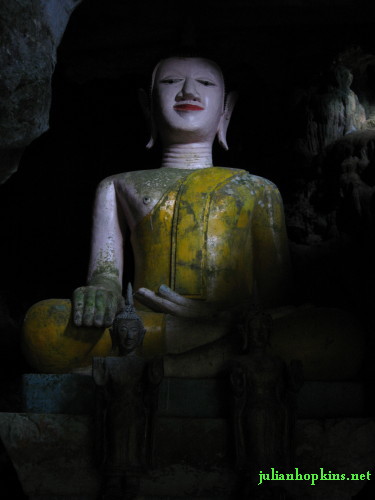 'Han' led me past the Buddha and on for a couple of minutes – the ground was a bit slippery and muddy, but easy enough. Then we got to what seemed like a dead end, and he suddenly laid down his torch and started to take off his trousers, indicating to me to do the same! WTF? I was thinking, and through gestures he explained that we would go through the pool of water at the end of the passage and, presumably, see some more caves. Running through my mind was the fact that I would be leaving my wallet, money belt (with passport, etc.) and everything there; also, I didn't really feel plunging into pools of murky water, going I don't know where. And I had shoes and socks on, rather than slippers. So, I told him I didn't want to go there.
So that was that, and we left to the next cave – Tham Sang, aka 'Elephant Cave' because of the elephant-shaped stalactite
Continue reading "Robbed in Vang Vieng, Laos"