It's a quote by Antoine de Saint-Exupery (the guy who wrote 'The Little Prince', amongst other things). I guess it applies directly to the size of the pack you carry on your back, but in a more philosophical sense perhaps it means that you should also let go of the 'baggage' you carry in your mind and heart, and be prepared to open up to new experiences if you want to enjoy them...
I'm off to Laos in six hours!! Finally got packed and got everything ready
This is everything laid out
Close up of the 'essential travelling kit' and all the little extras you may need
Then everything parcelled into bags: it's good to compartmentalise things – easier for unpacking and repacking when you move around a lot, and plastic bags stop things from getting wet.
And then everything into my trusty rucksack that went hitchhiking around Europe with me, and to my trip around SEAsia in 1997. One trick to travel light is simple – have a small bag so you're forced to bring less

This bag is 30 litres volume – basically I have five days worth of clothes, and minimal everything else (e.g. a hand-towel instead of a large one).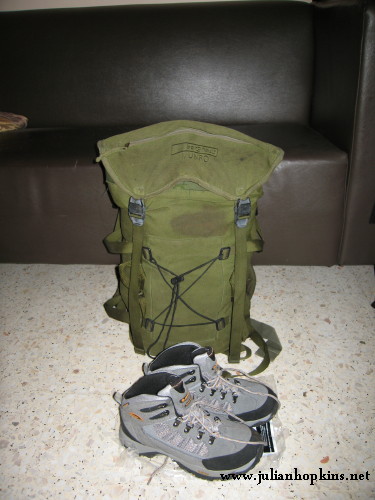 I have a slightly ambitious plan, for the first 5-6 days, I want to walk from Viang Chan (Vientiane) to Muang Vangviang – using the older national road that goes via Ban Tha Ngon. It's a total of about 160km; I'll probably cheat a little and take a bus out of the city some distance, then try to walk the rest.
Google Map looks very bare, but I have quite a detailed map from the Rough Guide (the best I found), and there are a number of villages and small towns on the way.
I'll be updating as often as I can on the way, but now I'd better get to bed!