All-Blogs started
around April last year
, Blog House opened
in August
, and Malaysian politics entered a dramatic new phase 100 days ago (actually 122 today). To celebrate the 100 days, All-Blogs organised a dinner last Saturday.
Given all the heated political happenings recently, you might have expected there to be some serious politicking going on, but the evening turned out to be much more relaxed than I expected.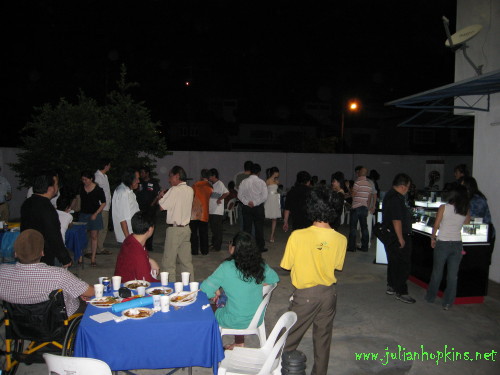 Soon after I arrived. More people turned up later.
I arrived about 8pm, and after signing in and signing my own cup (part of an effort to avoid wasting plastic cups – good idea

), I got a beer and some of the nice food provided. As the evening went on more people turned up, and I was surprised by the number of YBs there – seven in all:
Nurul Izzah Anwar
, Mukhriz Mahathir,
Jeff Ooi
,
Loh Kwo Burne
,
Wee Choo Keong
,
Ronnie Liu
, and
Tian Chua
came by – I didn't see him but saw a photo afterwards. Notice the odd one out? I asked Mukhriz Mahthir if he had a blog, and he said no but maybe he would get one...
This gathering really seemed to reflect some of the momentous changes happened over the last year: from 'stupid unemployed women', (some) bloggers have been promoted to legitimate political commentators on a national scale, BN and UMNO have been shaken to the core, and the opposition is in the ascendant.
Blogs really are the flavour of the week: when I went to the Blog House opening last year, there was a definite feeling of being a bit 'underground', and blogs were regularly being attacked and demonised in the press. And you would not have seen major companies sponsoring them! This time round, a whole slew of companies donated funds, including Air Asia and LG in particular.
In
Rocky's post
there are some comments questioning the implication of corporate sponsorship, to which Rocky has responded; and someone has suggested the formation of an alternative bloggers group.
Continue reading "A year for All-Blogs and 100 days for Malaysia (more or less)"