I was lucky enough to be able to attend the
AMBP Smashin' Gathering
last Saturday. There were some interesting talks by bloggers
Kimberlycun
,
Peter Tan
and
Aizuddin Danian
(who founded
Project Petaling Street
).
Kimberly mentioned how blogging had 'changed her life', which also includes getting an all-expenses trip to Thailand next month (*jealous*) - she started with the Xanga platform back then and eventually went public with her name because "Narcissism is necessary... (her tagline) and what's the point of getting all that attention if people don't know who you are? Makes sense! Peter Tan mentioned how using a blog enabled him and other disabled people to reach out and complement the MSM in a significant way: we had a chat afterwards and reminisced a bit about the old
blogwar
days, which was when I first came across his blog; he also said something that sparked off a good idea - thank you Peter

. Aizuddin basically told the story of PPS, which initially was not meant to be for everyone, just for some selected bloggers. He's been a blogger since 2001!
Vin Sen from
CinemaOnline
talked about integrating Facebook and cinema marketing - one thing that surprised me was that companies can use Facebook features without paying for them, for example creating an event as a film or something. Finally,
Rohan Thomas
demonstrated a new Microsoft online service,
Popfly
with which you can 'mash' websites together and do fancy things like bringing your photos from Facebook onto your blog in a slideshow (there's an example on his
blog
, but it doesn't seem to work very well, or takes ages to download, or something). You can also make games. The principle of the application is that you don't have to write any code, but still, it looked like it would take a little learning to get used to it. I was impressed though, and it's a sign of things to come.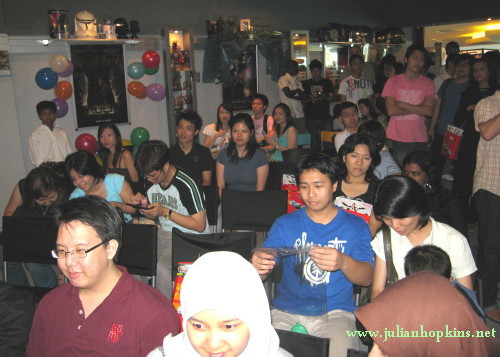 Continue reading "AMBP Smashin' Gathering"