Well, after making
a spectacle of myself online
, I got another chance to do it offline at the Borneo Baruk Club for
Nuffnang's birthday party

I turned up in my M&S pyjamas, accompanied by Eeyore (lucky for you, no photos this time).
The venue is nice
and the beer was free! So I was looking forward to a nice evening, though I was also there to 'be an anthropologist', which is something I have still to work out what exactly that is… I had my new Monash name cards to hand out, my camera and mp3 player/recorder just in case.
After checking out the locale, I spotted someone I recognised from numerous blog posts –
Suanie
. I introduced myself, and she turns out to be a nice young lady. She also introduced me to some other veteran bloggers who were there, enjoying Kilkenny at the bar: Fireangel (who wrote
one of my favourite blog posts
); Wingz – who showed true dedication by
blogging from the party itself
;
Kidchan
(I realised after that I forgot to give my card to him – Sorry!) and
Optimus Prime
, who prefers to remain anonymous. Somehow I managed to not get a picture with Suanie.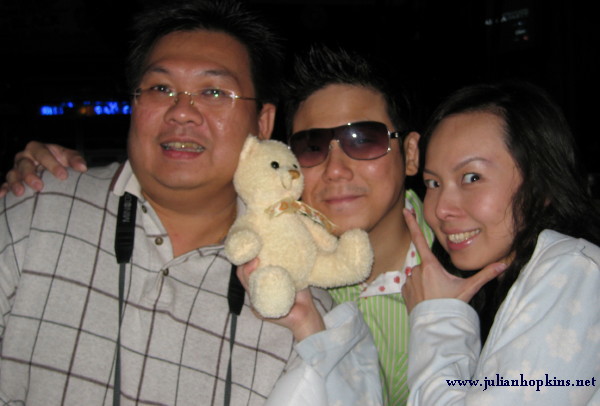 Wingz, Kidchan, Fireangel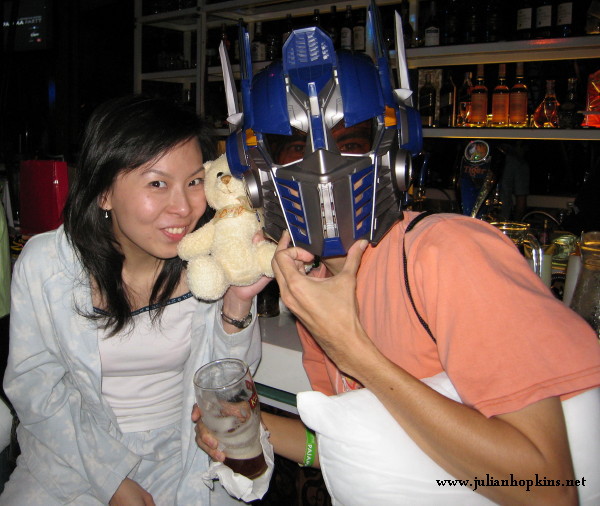 Fireangel, Optimus Prime
Continue reading "An anthropologist in pyjamas..."