The 25th August was a very significant date for the Malaysian blogosphere: the National Alliance of Bloggers (All-Blogs) was launched, complete with its own bricks-and-mortar locale in Bukit Damansara.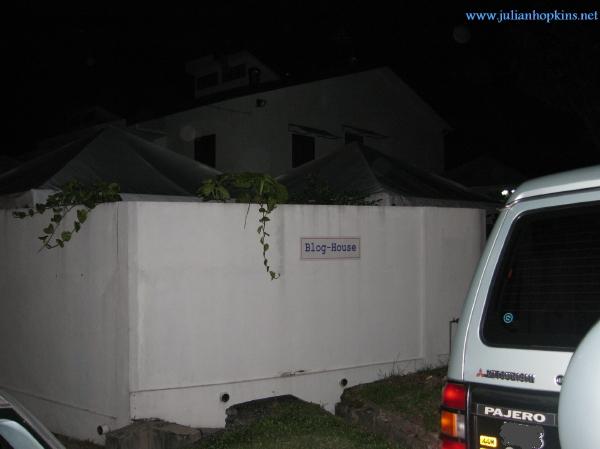 The first 'Blog House' in the world?
Despite not having registered, the organisers were kind enough to let me in after I dropped Cheryl's name (thanks Cheryl!

) Once I was in I spotted a few familiar faces, such as
Wattahack?
,
muststopthis
,
Howsy
,
Jun x 2
and
desiderata
; and also met some new people, such as the prolific graphic artist
mob1900
.
After a while
Rocky
opened the proceedings by leading a rendition of the Negaraku, and giving a brief history of All-Blogs, then
Haris Ibrahim
expounded a bit on the theme of Bangsa Malaysia which had been the subject of the forum in the afternoon.
I won't go over the evening in detail, as others have given various accounts of it (I parked the urls
in a previous post
), but I thought I'd go further into something I said while there. At one point bloggers were asked to introduce themselves, and I was 'volunteered': I said a few words, then proceeded to say that the event there - the forming of a blogger alliance and Blog House, was possibly unique in the world. Afterwards, I wondered how accurate was that - so here is a little research into the issue...
'Blogmeets', bloggers meeting offline, have been happening for a while (I don't have any accurate information there, but I do remember Reed mentioning them happening in UK, at some point between 2001 and 2005), and in my opinion usually mark a certain 'maturity', or stage of development, of a blog 'community'. In terms of the virtual/real discourse, it marks a confluence of the 'virtual' and 'real' worlds: though I prefer to use the terms online and offline, as it's all 'real' to me. Blogmeets were usually somewhat informal events, social gatherings with no particular objective in mind apart from getting to know other bloggers better. So bloggers meeting offline isn't new, but the Blog House inauguration was specifically about inaugurating a place to house a formal organisation designed to represent the interests of bloggers - All-Blogs. This is unusual I think. It was also the venue for the launching of PELITAR, a movement to promote the concept of Bangsa Malaysia - but I'll not go into that in any depth as it doesn't relate specifically to blogs.
To find out more about alliances, I googled the following terms: 'blogger alliance', 'blog alliance', 'blogger union', 'blog union'. I also searched in Technorati, but surprisingly hardly any of the blogs I got through Google turned up in Technorati. This is what I got, grouped into rough categories.
Continue reading "Bloggers allied"