If you're anything like me, and I guess 99.9% of internet users out there, you never bother checking those long and boring terms of service that you have to confirm you've 'read and understood'.
Recently, I decided not to accept Google Desktop tracking all my searches to 'give me better service', and although I have a gmail account (which I use for throwaway registrations and the like) I don't much like the idea of everything being scanned for advertising purposes. There are a number of issues, but basically it seems to revolve around Google storing loads of data for ages, and not giving you much/any control over what happens to it.
Wikipedia
,
CNET
and
Google Watch
comment on this.
Interesting:
"2.3 You may not use the Services and may not accept the Terms if (a) you are not of legal age to form a binding contract with Google" (
Gmail Terms of Service
)
does this mean minors cannot get a Gmail account?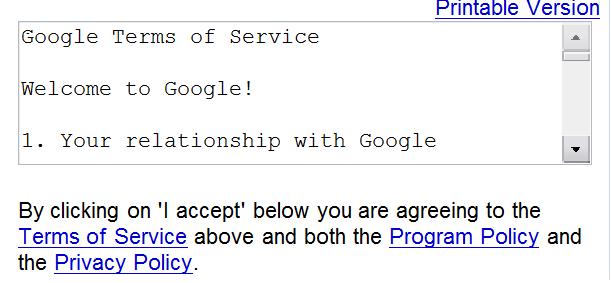 This is a scary one:
"11.1 You retain copyright and any other rights you already hold in Content which you submit, post or display on or through, the Services. By submitting, posting or displaying the content you give Google a perpetual, irrevocable, worldwide, royalty-free, and non-exclusive licence to reproduce, adapt, modify, translate, publish, publicly perform, publicly display and distribute any Content which you submit, post or display on or through, the Services. This licence is for the sole purpose of enabling Google to display, distribute and promote the Services and may be revoked for certain Services as defined in the Additional Terms of those Services." (Gmail Terms of Service)
Continue reading "Facebook owns YOU!" »