I went to my first debating competition this week – the
Bar Council Human Rights Debate 2008
. It was fun, I liked the challenge of having to think up an argument and a strategy in fifteen minutes (because that's all the time you're given between the announcement of the motion to the time the debate starts), and having to react quickly to the other debaters' arguments once the debate starts. I had adjudicated for debates before when I was teaching at
HELP University College
, and since then I wanted to try debating.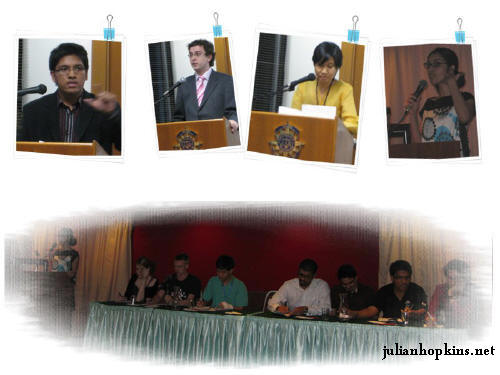 The debates I saw before had two teams of three debaters – with the opening speech, second and summing up speaker; the one this week was the
British Parliamentary Style
debate rules, which demand a more technical debate in some ways. There are four teams of two debaters each: Opening and Closing Government, and Opening and Closing Opposition; each one is separate, so although – for example – you are the closing government, and you have to follow the basic argument of the opening government, you won't know before they start what their definitions, context, and points will be. So you have to be ready to adapt to them, but still try to do better than them as the winning teams don't have to be on the same side of the house.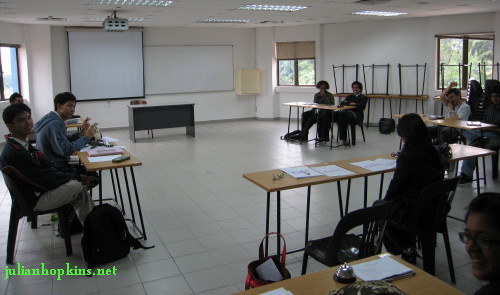 For Monash we had two inexperienced teams, and neither of us got past the qualifying rounds (five debates) to make the cut into the quarters; but that wasn't so surprising. I'm pleased that at least, my partner and I won one debate (i.e. came first out of the four teams)

It was on whether or not to have BM as the sole medium of instruction in schools; we had to argue against, which wasn't too difficult, as I have
thought about it before
.
In the finals last night, two teams were from NUS, one from IIU, and another was the 'WUPID' team (dunno why, WUPID is the name of an
international debate competition next week in KL
).
One of the WUPID team, which ultimately won the competition, was Praba Ganesan, also a local municipal councillor in Sepang and former editor at Malaysiakini. His style was to be comical, and slide in the argument after disarming everyone with witty asides at the opposing team; his team mate was also an older and experienced debater, and their tactic seemed to be to put Praba up front to warm up everyone with a deceivingly flippant approach, then the second one would move in with a detailed destruction of the other side's case. They were good, and I tried to watch and learn, though I couldn't help feeling that at times they (especially Praba) were overdoing the comedy. But then again, he won the best speaker of the night prize too – so I suppose he's doing something right!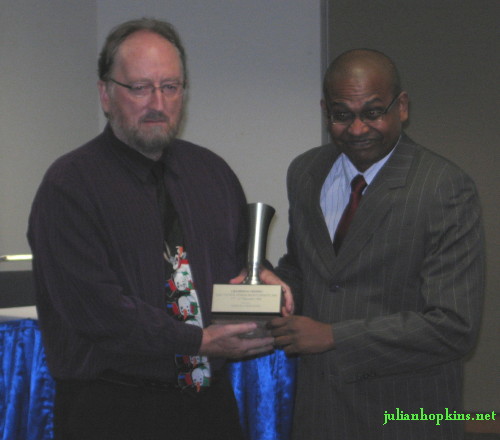 There was a public speaking competition (topic – anything on public speaking), and it was won by a girl who really impressed me. She stood up and started by saying she was a minority many times over – a woman, a Chinese and, … she seemed to gulp and I could feel what was coming – gay. She argued that gay rights were so often sidelined by human rights activists and discourse, but that they are just as important as the others. Human rights belong to everyone as a person, and their choice of partner should be as respected as anyone else's would be; she made a good speech, outlining the arguments for and also acknowledging that many would not agree with her but if they could not agree, at least they could tolerate (something like that, she said it better than I could). She finished by saying that she had a dream that one day she could live openly with the one she loves, and that – if she ever won a public speaking competition with this subject – she could tell her parents what she did to win the competition.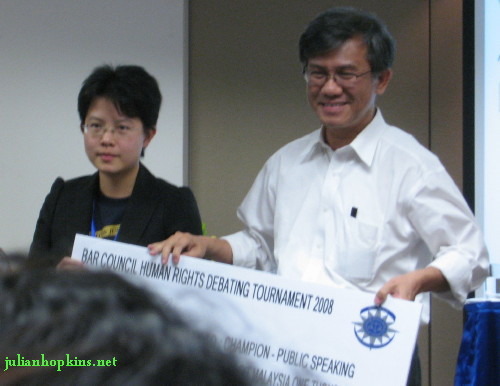 And win she did!

She really touched me with her bravery and lucid argument, and I felt teary while she spoke… I'm afraid I forgot her name, but I guess in the end of the day she stands for everyone out there who is denied respect, dignity and safety because of who they are.