Well today at the debate competition was fun and somewhat adrenalin-inducing; for a first time debater (me at least) I guess we did alright – 3rd in one, 4th (i.e. last) in the second, and 2nd in the third. Though overall that got us only three points out of a possible nine, so we're going to have to do significantly better in the last two rounds tomorrow if we want to make it through to the quarter-finals!
Anyway, something more important in the bigger scale of things happened this morning though: Gambit (one of our dogs) was making a terrible racket through the night and when I looked out I noticed there was a dog hanging around the house. In the morning, however, I heard a high-pitched howling coming from the drain – sure enough, when I checked there was a small puppy stuck in the drain, my guess is that her mother was hanging around at night wondering what to do, and eventually left.
She (the puppy with no name) was looking miserable, but was plucky enough to snarl at me and take off in the other direction when I tried to pick her up; so I went and got WW, we did a pincer movement and I grabbed her by the neck and pitched her out. Once she realised we did not want to hurt her, she let us stroke her and we dried her a bit (she was trembling all over), left her wrapped in an old towel with a couple of biscuits at the foot of a tree. I was hoping her mother would come back.
However, twenty minutes later I heard her piercing yelping again and our two dogs were up against the fence whining and yapping. I feared the worse and, sure enough, she had got up and got knocked over by a car!

When we got there a guy on a motorbike had stopped to move her off the road - the poor thing had blood coming out of her nose, and couldn't stand up. What to do… well, WW was in tears and decided to take her to the vet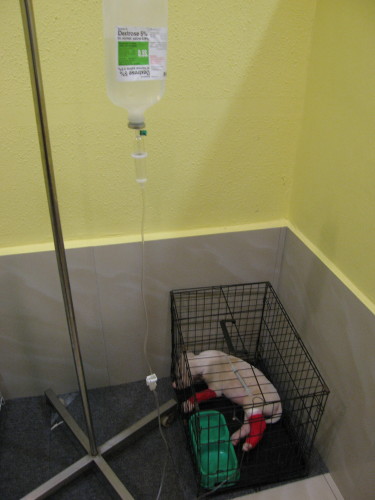 and there she was this evening; a broken leg and concussion, malnourished but otherwise the vet was optimistic
The thing is – she needs a home! We can't keep her, and can only keep her at the vet's for a couple of days. If we can't find a home for her, we'll probably have to put her down…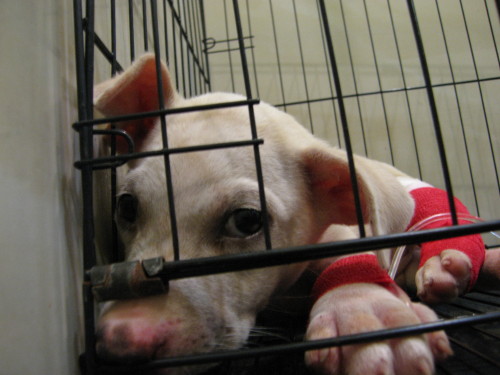 Do you want to give her a home? Or know anyone who does? She's 6-8 weeks old and seemed to a pretty smart little thing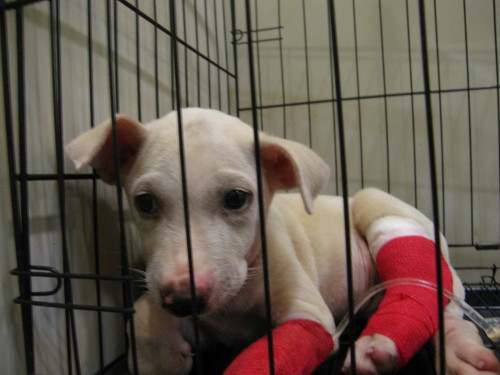 Can you resist this cuteness?
Obligatory small print:
Remember a pet is a commitment for (their) life. Puppylike cuteness is not guaranteed to last, but unconditional love, affection, and devoted companionship is.