Here is a short review of the hostels I stayed in while in Laos from in November 2008. Prices were between 50-70,000 Kip, about 5-8 USD, for a 'single' room (often with two beds, or one double bed) with fan and sometimes with a shared bathroom, sometimes with an ensuite bathroom; hot water was usually available with one of those electric heater things. Twice I was able to knock off 10,000 Kip off the price of a 'double' room (with two beds) by asking for a discount because I was alone. (For Malaysians, 1RM = apprx. 2300 Kip; so a room at 60,000 Kip would be RM26).
For this price you get a basic room with no frills, although often there is a towel, bottle of water and soap provided. None of them had particularly nice views (apart from in Vang Vieng) or anything else of particular note. Some places offer breakfast/food, but most did not have food. If you want to go cheaper, you have to look for dormitory rooms which are available, but not as common.
Generally the rooms and bathrooms were clean, and staff helpful and friendly - although the general lack of much English prevented much interaction. The bare switches and exposed wiring in bathrooms made me nervous occasionally. Laundry services were usually available (7-10,000 Kip per kilo), but the clothes never came back ironed, were damp once and also had a t-shirt missing once (they found it when I asked for it). In short, don't expect too much from the laundry service.
I mostly used the
Lonely Planet
guide and
Travelfish
to help decide where to go, but in the countryside I just had to take whatever there was.
Vientiane - Mixay Guesthouse
On Th. Nokeo Khumman, this guesthouse is conveniently located near the river and the centre. It was being renovated when I stayed there. There were two 'zones' with different prices (one dollar difference), I got the cheaper one though I'm not sure what the difference was. I got a single room with no window, fan, and shared bathroom for 6 USD; the room had a bed and a cupboard, the bathrooms were OK. Free coffee, tea, cake and fruits were available downstairs in the morning.
Travelfish review
here
; Lonely Planet review
here
.
Vientiane - Pathoumphone Guesthouse
On Th. Manthatulat, this is also close to the river and the centre. It cost 6 USD for a room (knocked down from 7 USD); the bathroom was OK but not kept clean all day and the room pretty dingy. There was a wide veranda useful for hanging out, and shoes were not allowed (which is always a good idea). I only stayed one night and left early in the morning to catch a plane, so I don't know if they had breakfast or food.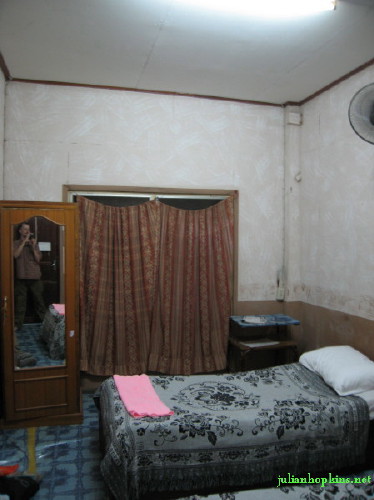 However, I can't recommend this place. There were
bed bugs
when I went there! Having bed bugs does not mean the place is dirty (they'll survive fine in very clean places); they can come from other travellers or in different ways, and can be very difficult to get rid of - so my sympathies are with any hotel that finds themselves with bedbugs. However, the reaction of the receptionist when I told her (she tried to convince me it was ants), would make me avoid ever going here again.
Kutsambath - Pheth Dao Heuang Guesthouse
Located on the main road (Road 10) a few minutes further along from the Ban Dong School (coming from Vientiane), this was more like a motel with two rows of rooms in the back with space for cars to park. There were about 16-20 rooms, but only three were occupied when I was there (including me). No food was available, but there was a stall with phoe and beer five minutes away on foot. It cost 50,000 Kip for a room with fan and ensuite bathroom - there was no hot water though.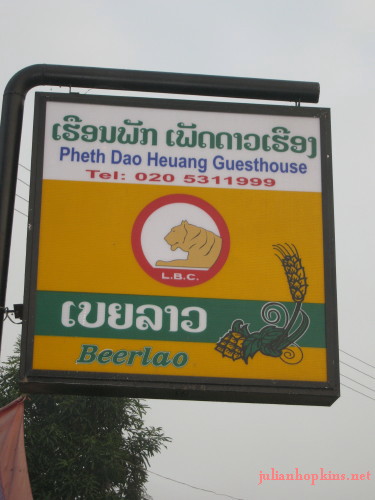 There was another hotel (I think), if you turn off the road further down to the right.
Keun - (no name)
I forgot to take the name of this guesthouse, but it was two minutes away from the main bus station area towards the main road (Road 10). It cost 60,000 Kip for an aircon room, with satellite TV (all in Lao or Thai though) and ensuite bathroom. No food was available, but easily got close by.
This was the best deal I got in Laos in terms of facilities, but the town itself doesn't offer much to entice you to stay... No email or internet.
Phonhong - Touktar Guesthouse
This is very near to the junction where Road 10 meets the Road 13. The first room they showed me, a single at 40,000 Kip really didn't appeal to me (somewhat dingy, no window, dodgy looking bathroom) and I tried to find another in town. Although Lonely Planet says that the town "has a couple of cheap guesthouses", when I asked around everyone said it was the only one in town (though I wouldn't bet on it, seeing as communication was mostly gestural). So I went back and this time was shown a more decent room, which I got for 50,000 Kip (down from 60,000). It had a fan, satellite TV (with Cartoon Channel

) and ensuite bathroom.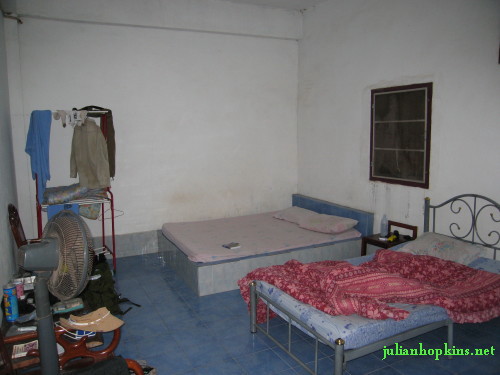 The lady who spoke with me the second time around also worked in the restaurant/shop next door and spoke some pretty decent English and was pleasant and helpful.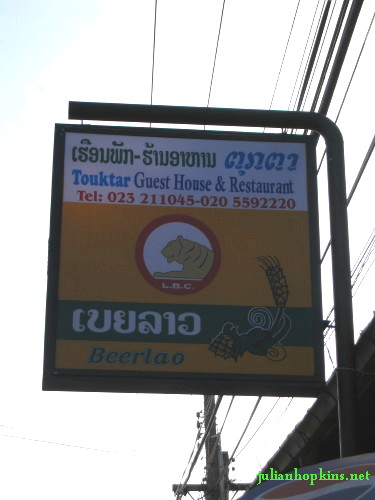 There was no email or internet in town, though there was a Tourism Office left off the road further down towards Vang Vieng where they offered to let me send a fax if I wanted. They also have information about things to do in the area, and spoke English.
Vang Vieng - Otherside Guesthouse
This is located (surprise) on the other side of the river; you go down towards the island area and past the tubing centre, then down to the river where there is a springy footbridge (that manages to accommodate motorbikes too) across the river. The setting is very nice with the mountains as backdrop and a place to sit beside the river and have breakfast, etc. The rooms are all Thai-style beach 'chalets', complete with hammock and mosquito net.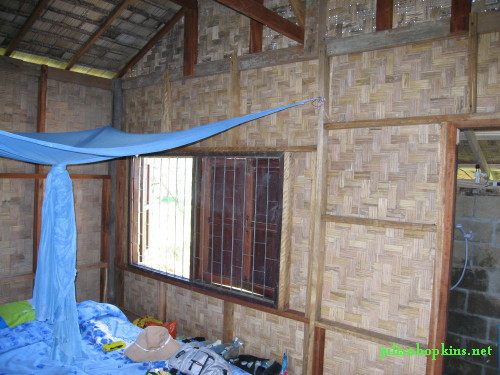 With bathroom (includes hot water) it was 60,000 Kip, and without was 40,000 (I think); the staff was competent and there are safety boxes. I would recommend this place, but try to avoid taking a chalet near the food/reception area, as it can get a bit noisy.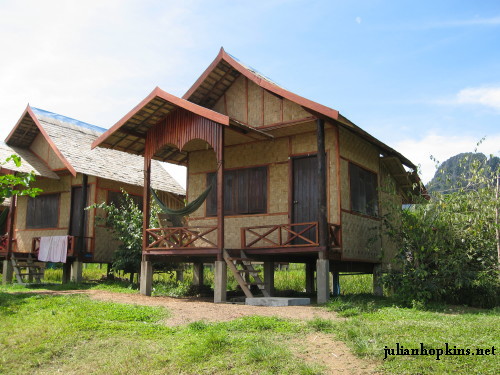 Travelfish review
here
; another post about Vang Vieng
here
.
Luang Prabang - Sarika Guesthouse
This was somewhere between the long distance ferry quay and Somchanh Restaurant, on a corner. It's an odd little place, but I chose it because it was relatively cheap (50,000 Kip) and there was a common balcony on the front where you can watch the world, and the Mekong, go by. It was mostly all wood upstairs where the rooms were, with thin partitions and the floor was covered by plaited bamboo strips - you could hear most of what was happening in the 4-5 other rooms there. The ensuite bathroom had hot water and a toilet with manual flush (i.e. use the bucket). The owners had minimal English and were friendly.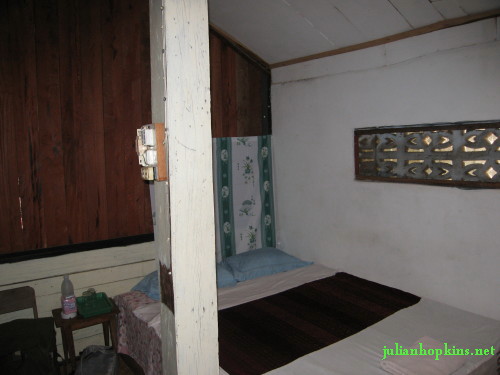 There was no food, but you can have
nice coffee close by
and nearby is 'The Antique House' (something like that) where they have BeerLao at 7,500 Kip (cheapest I saw anywhere), and a standard tourist menu mixing pizza, pasta, Thai and Lao food. Also close was Somchanh Restaurant which had some decent Lao food and a platform overlooking the river.