My first experience of bedbugs, or
Cimex lectularius
, was in the Salvation Army Hostel in Bombay, in 1989. It was completely infested with them and some were still on my body three or four days later. The second one I remember was while sleeping on a bench in a train station in Poland in 1990; this time I could recognise them well, and did the only really possible thing to get away from them – go as far away as possible.
Well, there have been another few encounters since then (including in Kota Bahru, Kelantan), and in Vientiane on my last night in Laos I met those nasty buggers again. I stayed at the Pathoumphone Guesthouse, on Th. Manthatulat; for USD6 I got a basic room with shared bathroom – clean enough but not spick and span.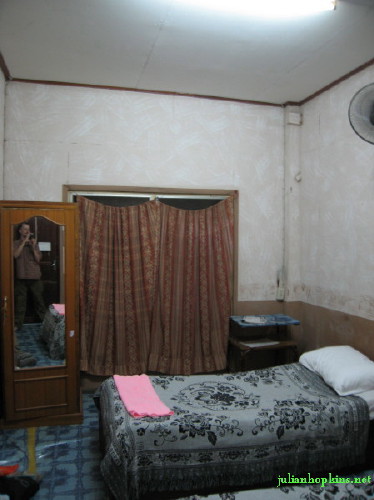 Although all the hostels I went to in Laos were generally clean, most of them have a thick blanket to sleep with as the nights get a bit nippy there. I couldn't help wondering how often they were cleaned… anyway, it's usually something not worth thinking about too much but here, about five minutes after I lay down with the blanket over me, I realised that I was getting itchy all over. I quickly threw off the blanket and realised I had been bitten.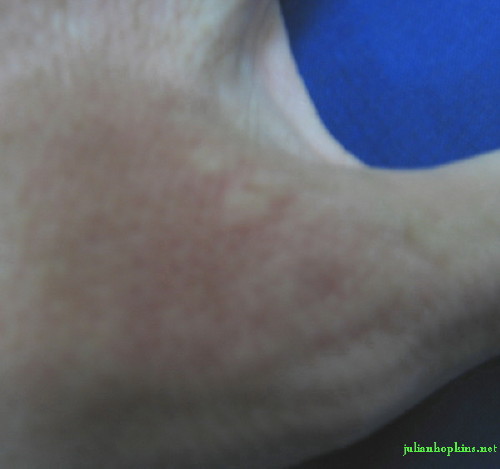 The three bites close together was an immediate giveaway – it was bedbugs! Argh! I hate those things! And there's not much you can do apart from leaving the hotel asap, which isn't really an option at 1am… They are difficult to kill, check out this video of a traveller
trying to kill one in a hostel in Kuala Lumpur
. They are very tough! But one thing he doesn't try is burning it, which is what happened to this one that I tracked down
Luckily, I also had a sleeping bag liner with me; these are really useful for travelling – it's basically a lightweight sheet folded over into a sleeping bag shape. You can use it to avoid getting sleeping bags dirty, sleeping in hot weather, or – as in this case – to avoid being in contact with hotel beds. The one I got was the
Sea to Summit Lite Cotton Poly Liners
. (I got it at 'Outpost' in 1 Utama (near Popular Bookshop in the old wing) – it cost me RM63.50, but it was their last one and discounted I think; they also have some other outdoor stuff, but seem to specialise in uniforms (RELA, police, etc.).
Corezone
in SS2 has an amazing range of outdoor equipment – everything you need, but unfortunately all top of the range and therefore pretty expensive, but good stuff.)
Anyway, after putting some mosquito repellent on my face, neck and shoulders (just in case it made a difference, I don't think it did though) I got in my nice clean sleeping bag liner and slept more easily, but still had a number of bites the next day – mostly on my neck and shoulders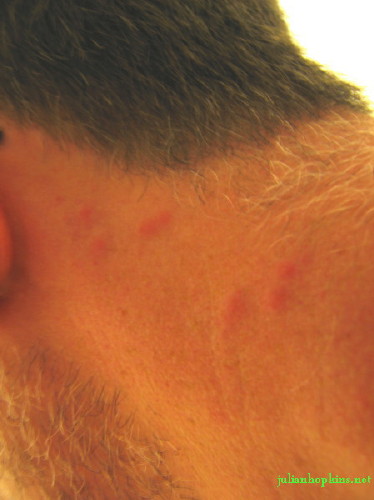 two days later, the bites were still clearly visible, and itchy, and you can maybe see the clustering pattern again. And today, five days later, they are still there though not itching much any more and mostly healed.
I told the lady at the reception as I was checking out, but she tried to convince me it was ants…
Anyway, so that was that. Just to finish it off, here's a video of one sucking blood; this one goes from translucent to dark as it fills itself with blood, but I'm not sure if they're all like that. Maybe adult ones are darker.
Bed Bug Sucking Blood
-
The funniest movie is here. Find it
Trackbacks
Show preview

Here is a short review of the hostels I stayed in while in Laos from in November 2008. Prices were between 50-70,000 Kip, about 5-8 USD, for a 'single' room (often with two beds, or one double bed) with fan and sometimes with a shared bathroom, sometimes