Well I'm back home now, and I have a few more posts to do about Laos before I'm done

Laos is a great place, and I never felt threatened or harassed wherever I went. But that feeling changed a bit after I got some money stolen in Vang Vieng – here's the story.
It was my last afternoon (of two) in Vang Vieng, and seeing as I had missed out on the tubing, I wanted to see something around the small town before I went. Checking Lonely Planet, they recommend the "Tham Sang Triangle" as a half-day loop around some caves with a little walking. The book implied it was doable on your own – but frankly it could have been complicated, and I wouldn't go adventuring any distance in those caves without a guide.
Anyway, the scam might have started with the tuk-tuk driver, who suddenly dropped the price from 150,000 kip to 100,000 for a trip (there and back) to Tham Sang. Maybe he called ahead to announce a single visitor ripe for the picking? I dunno.
Anyway, I got to the village – Ban Tham Sang – and a self-appointed guide, a middle-aged man, short dark and wiry, with some kind of heavy-metal t-shirt, attached himself to me as I wandered in the direction of the first (and only) sign I saw pointing towards the cave. He called himself 'Han' (I think), and I didn't mind, expecting to have to pay him 10-20,000 Kip (2-3USD) but not wanting to get lost or something.
We walked through the rice fields, golden with the heavy ripe rice and the steep limestone karst mountains formed an impressive backdrop.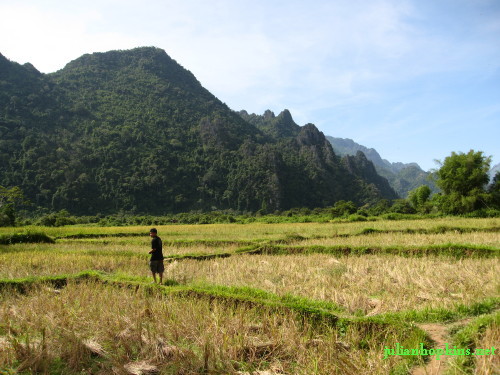 As we got to the caves, I had to buy a ticket from a guy under a concrete shelter, who also lent me a weak torch. The first was Tham Hoi – a large Buddha is at the entrance gazing serenely down at visitors.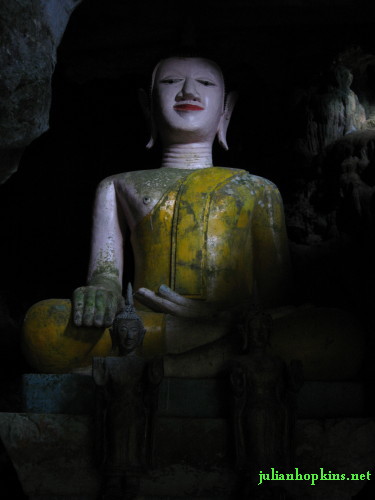 'Han' led me past the Buddha and on for a couple of minutes – the ground was a bit slippery and muddy, but easy enough. Then we got to what seemed like a dead end, and he suddenly laid down his torch and started to take off his trousers, indicating to me to do the same! WTF? I was thinking, and through gestures he explained that we would go through the pool of water at the end of the passage and, presumably, see some more caves. Running through my mind was the fact that I would be leaving my wallet, money belt (with passport, etc.) and everything there; also, I didn't really feel plunging into pools of murky water, going I don't know where. And I had shoes and socks on, rather than slippers. So, I told him I didn't want to go there.
So that was that, and we left to the next cave – Tham Sang, aka 'Elephant Cave' because of the elephant-shaped stalactite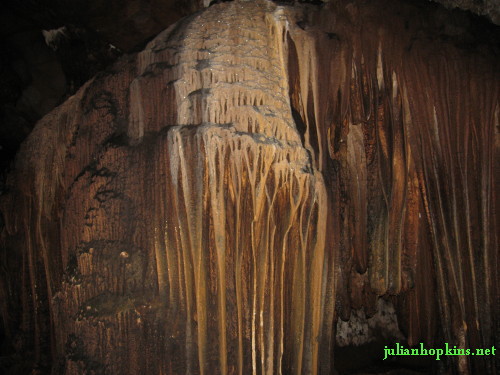 Well, it looked vaguely like an elephant, and was about as big as one. Less impressive were the marks left by visitors as they knock on the slats to make musical tones. So, with another few interesting rock formations and a Buddha, that was that cave. Then we went on to the next – Tham Nam
the thing is, to get into the cave you need to strip off (again!) and use a inflated inner tube and pull yourself along with the rope. So, all the same things went through my mind again, but this time – seeing as there was another person there as well (a lady who charged 10,000 Kip for tube and torch) it felt safer, and – I reminded myself – no one so far had been anything but honest. She also gave me a dry bag to put my money belt and stuff in, so I was leaving behind my camera which she was not likely to steal – seeing as I would blame her, etc.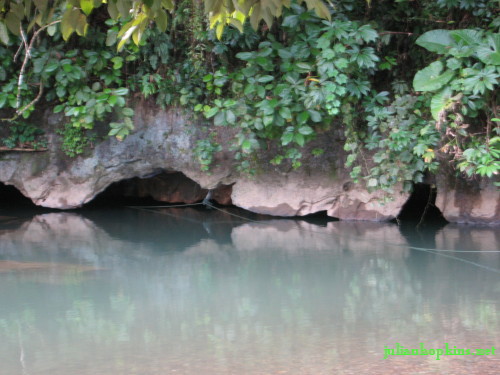 so, in we went and pulled ourselves along the rope until we got to a muddy embankment where we got off the tubes, and pulled them up. Then he indicated that we were going to go further in, under a low passage, and told me 'Dry bag, here!' – pointing at the tubes. I wondered why, but assumed that it might get caught somewhere, so I passed it to him and he put it inside the tubes.
Then we set off, crawling in the mud and wriggling through crevasses; along underground streams and between narrow cracks. Honestly, although it was kind of interesting, I was not enjoying myself too much – I couldn't help thinking that if the light went out, or if I was left by myself, there was no way I could find my way out. I would be utterly and completely lost in the absolute darkness. He knew his way around somehow, and led us in a wide circle, pausing occasionally to point out something or to wash the mud off his arms and legs.
When we got back to the tubes, I was relieved. We must have been clambering through those twisting passages for twenty minutes or something, but all I wanted to do was to get out. Getting dressed, I briefly checked my money belt and wallet, and everything seemed to be OK. I took a photo of some ducks (you see them everywhere in Laos), and we left.
Han asked for money, 100,000 Kip! But I bargained it down to 35,000 – which was more than I had planned for, but I reasoned that he'd done a good job showing me around.
My tuk-tuk was waiting for me, we went back to the town and so, that was that. A moderately entertaining, somewhat expensive, afternoon of sightseeing was completed.
Or so I thought.
When I went to book and pay for a minibus, I noticed that around 400-500,000 Kip was missing from my money belt

I had changed USD100 earlier in the day, and about half of it was gone… Somebody must have come in after 'Han' and filched money from my money belt; maybe that means the woman at the entrance was in on it too? I dunno, there may be another entrance too.
Not much to do about it at that point. I couldn't prove anything and the hassle of going to the police etc. would just take up lots of time…
Looking back, the most obvious warning sign was the way in which 'Han' had acted in a controlling manner – not asking me if I wanted a guide, telling me to leave the dry bag there, and so on. In my experience (I have been conned before), people like that try to take control as soon as possible, and don't let you have an opinion; a more normal guide/person would be more solicitous of what you want.
So – lessons learnt:
• Even in Laos, like everywhere, there are people ready to take advantage of travellers - who typically carry around a decent amount of cash with them.
• If you're going tubing or caving in Vang Vieng (or anywhere else for that matter), leave all your valuables and everything in a safety box in your guesthouse. Just take enough cash for the day.
• If anyone starts trying to boss you around, when you're the person paying them, be careful.
• Lonely Planet is not always right.
• But, in the end of the day, these things happen and don't let them stop you trying out and exploring new things!