I've been meaning to do this for more than a week now, but have been pretty busy (some previous thoughts
here
).
The KL Bar Council's Information Technology Committee has planned a series of forums on IT related issues, and this was the first one on "Blogging and Defamation". It started on time (unusually) and the panellists were three long-standing bloggers -
Nizam Bashir
,
Foong Cheng Loong
and
Jeff Ooi
.
The Chair of the Committee stareted by explaining that defamation was
'a statement calculated to injure another person or reduce willingness of others to associate with said person'
There is also civil and criminal defamation - which may be based on the same definition, but the criminal one can land you in jail for two years. He pointed out that there is
NO
special protection for bloggers, and even criticising someone's
char kuey teow
in Jalan Alor can be considered defamatory. By the way - 'slander' is oral, and 'defamation' is written - I think they have the same potential liabilities though.
Nizam Bashir (sorry no photo) gave a
detailed presentation
on the legal history and other facts about defamation and blogging. He pointed out the constitutional 'right to freedom of speech and expression', but there are provisos that limit this right in relation to security, contempt of court, 'morality' [not sure what this was exactly], defamation, incitement of an offence; and also relating to (Bumiputra, I suppose) privileges, religion, and the rulers.
Defences that can be used are:
• Truth: (if it's the truth it's not defamation, I suppose)
• 'Legal, social or moral duty' to say something to a particular person (e.g. a teacher telling a parent their child is no good at school). As relates to blogs, you could have a password protected post for particular person
• Expressing an opinion: the facts must be reasonably accurate and in the public interest - based on the concept of "fair comment"
He said that the key issue was where to place the boundaries to free speech. He said that Malaysians should be able to speak about some of the topics placed 'off-limits' - "we are made of sterner stuff". He also said that one of the consequences of the recent legal actions initiated against bloggers was a chilling effect on the freedom of speech; more people may want to stay anonymous - which affects the credibility of blogs; and overall more problems than solutions is the general result.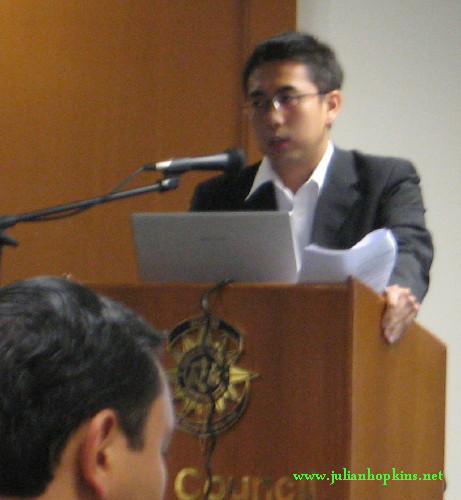 Then Foong Cheng Leong talked about libel (same thing as defamation, I think), and made some important points. A blogger can definitely be held liable for anything on his/her blog,
even for comments
- because the blogger is "actually the publisher of the website". He himself was threatened with a law suit once for something he had on his blog, and he showed us the letter accusing him of libel. He advised everyone to follow these steps if faced with a similar situation:
• Seek legal advice
• Immediate removal if necessary
• Cooperate with plaintiff/offended party
Also, to avoid potentially defamatory statements the comments should be moderated. Other measures were mentioned - but I missed them, except for one about disabling Google caching.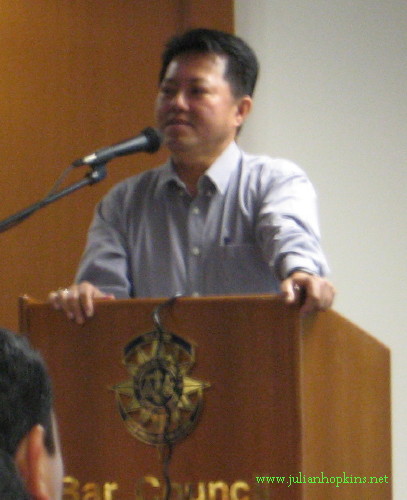 Finally, Jeff Ooi gave his contribution. He talked a bit about why he started blogging; interestingly, he said that although he "started the so-called social-political blog movement in Malaysia", he said that he preferred not to call his blog SoPo, but instead considered it to be about "governance" - both in the public and private sector.
He then concentrated on the issue of comments, mostly. They are an integral part of blogs, and initially he approached them with the "nineties mindset" - i.e. where people can use a nick and say whatever they want; then in 2004 he started having some problems because of comments and decided he needed to control them more. People complained about having comments moderated and not being able to see the comment come up immediately, so he had a system for registration - but some people who seemed OK at first then started to make unwelcome comments. He said "when you get famous and are the target of attack you need to have total control" - for this purpose he has his own platform and now has a more controlled system of authentication using a third party control. This has meant less comments, but I guess he prefers that to having to deal with malicious attacks.
As regards defamation, he also pointed out that if you quote another person's defamatory statement you can also get done for defamation - I'm not sure of the way around this, but he seemed to be suggesting that if you paraphrase carefully, or something, you can avoid liability.
After that, there was the Q&A session - a number of interesting questions were asked, and these points regarding defamation are useful to note:
• If you link to a defamatory webpage, you are also liable because you are "republishing that information" (Foong). You may also be liable if you indicate specific search terms to guide people to the page. However, if you link to a blog/website in general (i.e. just the main address, not the specific permalink) then it's probably OK.
• Disclaimers have no legal use, but can still be used as a warning to commenters.
• Although the
Communications & Multimedia Act
says that "Nothing in this Act shall be construed as permitting the censorship of the Internet." (
Section 3.3
), the
MCMC
can still block sites, etc; and other laws relating to sedition, defamation, etc. are still applied. As we have all seen recently. This may be somewhat contradictory, but that's the way it's happening.
• Regarding someone forwarding emails - you are liable if you forward defamatory material (e.g. some recent case regarding Siti Noorhaliza, apparently).
• Regarding 'fictional' content - you can still get into trouble if you make innuendos. I guess the issue is how specific the 'fiction' is and how likely it is to 'to injure another person or reduce willingness of others to associate with said person'.
Basically, the bottom line is - as Jeff Ooi says - 'The Internet does not operate in a legal vacuum'. You should be prepared to take responsibility for anything you say, on or offline.
For me, it was a very informative session, and I learnt things (such as the perils of linking to particular pages) which are good to know. I didn't meet any of the usual bloggers who go to the 'SoPo' meetings, though I did meet
Eddie Law
(you can see Foong's presentation on his post) who specialises in online resources for lawyers. Overall, even checking afterwards, there seemed to be little of the usual 'buzz' around this event - it's a pity, as it's something every blogger should be aware of.
By the way, Eddie Law is also hosting the
eLawyer Legal Blog Writing Contest 2008
- there's a top prize of RM500 for bloggers and/or legal people out there.
Here are other posts about the event - there was a very short article in the NST on 25/10/08, basically the same content as the Bernama article below (please add a comment if you see any other posts or articles, thanks):
• Berita Dari Gunung:
Malaysian Media Council: Double handcuffs or media freedom?
[very brief mention of Jeff Ooi re. Media Council]
• www.fadaf.blogspot.com:
Of Here and There
• Global Voices:
Malaysian Media Council: Double handcuffs or media freedom?
• Poetic Justice:
Forum on Blogging and Defamation
• LawEddie.com:
Blogging & Defamation Laws Forum
• www.xes.cx:
End of a Headache
(passing mention by one of the speakers)
• Bernama:
Bloggers Reminded To Exercise Caution