Yet another free movie thanks to Nuffnang

Thanks again!
There are many reviews of
Mamma Mia
out there (will do a list in the next post) but here's my opinion anyway.
It was enjoyable, and I like Meryl Streep, so I enjoyed seeing her in a pretty unconventional role. However, I'm not completely convinced by this recent slew of semi-musicals with conventional actors (the other one I saw was
Sweeny Todd
): I mean, they don't sing that well, and that is important for a musical after all! As a comparison, I didn't enjoy it as much as
Across the universe
, which I think is because I prefer The Beatles to ABBA, and it had a very cool sixties/psychedelic feel to it. Also, the singers were better – perhaps because they were not big stars, so the casting could be done more in relation to their musical skills. WW preferred Mamma Mia to Across the Universe, so I guess it depends…
It's a fun movie though, with an unexpected ending and a non-conventional feel to it – it's good to see a movie that's not obsessed with showing youth as the only beauty. Although there are scenes with hot young women and men, there are also scenes with older people enjoying themselves too. There is some very nice photography that made me feel like going to Greece again. Overall, I'd give it 7.5/10.
Before I left for the movie, I spotted a post by
joshuongys
who was suggesting that Nuffnangers meet up at Burger King beforehand – and managed to gather about 30 bloggers and friends there! Not bad! He only posted the post the night before, but it got Nanged enough to put it in the top ten in Innit which probably explains the turnout.
Normally I never eat in fast food (costs too much and isn't very good usually), but I will make an exception for Burger King – and I tried out a Black Pepper Whopper. Honestly it wasn't bad, although the sauce kept dripping all over the place. Here's the obligatory food photo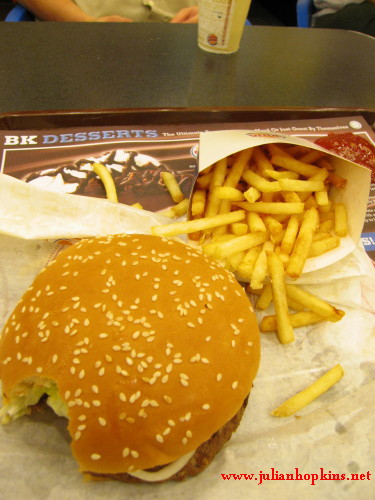 I met
Jentzen
and
Marcus
for the first time, and caught up with a couple of other bloggers. In the cinema, there was a funny incident when I started talking to the people next to me – somehow they weren't bloggers and had got the tickets from a friend, and looked at me kind of strangely when I started chatting and asking them what was their blog…
OK – I gotta rush because… I GOT FREE TICKETS TO HED KANDI!! Hehehe

Thanks to
yapthomas
I found out about a competition a week or so ago, and yesterday got a call to tell me to get to
Euphoria
before 11pm today. Honestly, I haven't been to a club in years (literally), so I feel I've got nothing decent to wear and wondering how long I will last - but I'm looking forward to it anyway