Last Saturday Nuffnang was kind enough to invite me to a blogger sharing session at
the apartment downtown
. It's in KLCC, right in front of the fountains, and there is a nice view from downstairs (where the restaurant is) and upstairs (where there's a bar). The design concept is interesting – based on the 'apartment' theme, there's like a living room, bedroom, shower, etc… even the toilet is called the 'Loo'.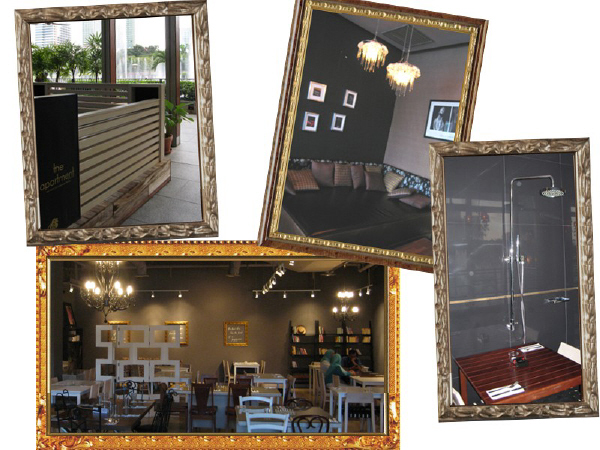 The concept of the menu seems to be 'east meets west' – in the buffet they had pasta, lamb, chicken as well as ikan cincalok, kangkong, rendang and other Malaysian specialties. I had the ikan cincalok, pasta, kangkong and bread with a tasty butter (it had sundried tomatoes in it I think) – it was OK, but the pasta was overcooked. For desert I jumped on the apple and pear crumble, along with some kuih – all very nice, and the coffee was good too. Unfortunately free alcohol was not on offer (boo) but the coolers were very refreshing.
Their menu is online
, if you want to check it out.
After that, we all trooped upstairs to have our semi-formal 'sharing session' before the band started. Richard (the manager I think) explained a bit about the restaurant and answered questions from the bloggers – earlier we had talked and he had explained some of the problems of serving western food in Malaysia. For example, people here are used to the food coming very quickly, but it's not so easy with western food which must be freshly cooked (as opposed to a curry, for example), and which also often takes longer to cook. That's why you get starters in Europe, but here people like to have everything served together so they can share. So, sometimes people complain when their meal takes longer to arrive... It's true, I've got so used to the speed of service here that when I went back to Europe, I found myself getting impatient easily.
Muzaffar and RedMummy talked about how they started blogging, and also how the month of Ramadan changes their habits – RedMummy 'only' posts five times a day during Ramadan, as opposed to eight times a day normally! Muzaffar got his present job, as entertainment journalist with Astro, thanks to his blogging about Akademi Fantasia (mostly).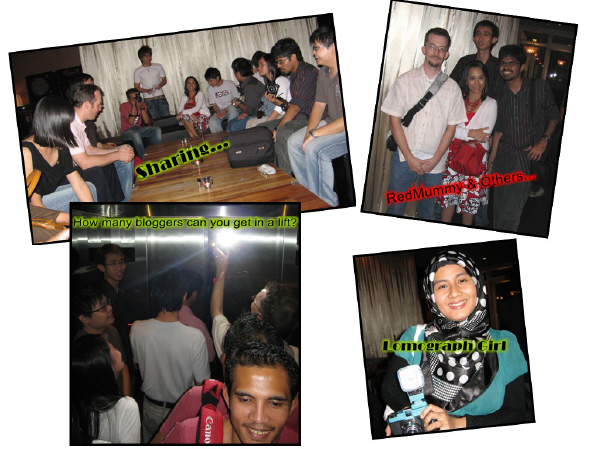 Then Robb submitted himself to questioning too, and explained various things about why and how blogs get advertisements. It's the kind of question he gets ten times a day, apparently! From what I could gather, there are four types of ads:
1) Advertorials: these are commissioned specially from blogs with large audiences.
2) CPC: cost-per-click. He pointed out that the average industry CTR (click through rate – i.e. the proportion of visitors who actually click on an ad) is 0.2%. This means on average you need 500 visitors to get one click!
There was also some discussion about fraudulent clicking, and he pointed out that they can tell who is clicking by checking the IP address and stuff.
3) CPM: cost-per-impression – depending on your band (how many visitors you have), you get paid differently.
4) Finally, MCPM: metered-cost-per-impression – I think this is what most people have, because it enables Nuffnang to put ads on blogs with less traffic. There is a limit of impressions per day, and once you have had (for example) 50 impressions (unique visitors), it stops showing the ad. But it may run another ad after that. I'm not sure if it also recognises individual visitors coming back (and shows them a different ad if available).
Anyway, I hope I got that right. If you have any questions – try the
FAQ
.
There were quite a lot of Malay language bloggers there, which was different to the blogmeets I've been at so far. Actually, a serious drawback for my research is that I can't understand BM well enough to read BM blogs; it means that when I say 'Malaysian blogosphere', I really mean 'English language Malaysian blogosphere'. This also means – mostly – Chinese, educated, urban bloggers.
So, I took the opportunity to ask
redmummy
and
sultanmuzaffar
about BM bloggers, and they gave me some interesting insights. One point they both agreed on was that people are less likely to use direct confrontational language – i.e. swear words and the like – but instead, if they to criticise someone, it will be done in a more subtle way – by using a pantun, for example. Over supper, I talked with
syd
, and she also made some good points – for example that Google Adsense is not likely to work as well for a BM blog, because most of the ads (and related keywords) are in English. Well duh! you might say, but I hadn't thought of it before

. Though I do have a feeling that I saw BM Adsense ads before somewhere… I guess one way of getting around that is just to use a few keywords in English, even if most of the post is in BM.
So, I had a nice time as usual, chatting with
Leo Raj
,
gregorule
,
Jacquelyn
,
Zaidi
,
Mr. Right
, and
[s][e][x][y][i][n][r][e][d]
; and I left with some answers and more questions! YapThomas kindly offered me a lift home, and apparently went on to
party the night away
. Dang I haven't been clubbing for ages, makes me feel old… just like that guy in the pasar malam who calls me 'uncle' makes me feel ooolldd :-p
Other posts on the Nuffnang Sharing Session
(please tell me if I'm missing any)
• Aimless Ramblings Of A Disturbed Teenager:
Nuffnang Sharing Session @ The Apartment
• Aku Betul…!:
Today My Birthday
• Being Yourself:
The Event: Nuffnang Sharing Session @ The Apartment Downtown Part 2
;
The Event: Nuffnang Sharing Session @ The Apartment Downtown.
• Gee Wheez Sudah Malas Menulis:
Nuffnang Ramadhan Sharing Session at the Apartment, Downtown KLCC
• kuE:
the apartment downtown
• NO 30 JALAN F3:
DISEKITAR NUFFNANG SHARING SESSION
• RedMummy:
The Hair Makeover…
• Repekan Si Budak Jahat:
Nuffnang Sharing Session at The Apartment Downtown, KLCC

• ++[sexyinred]++:
Saturday Night
• ::xysdz[dot]com:: :
Berbuka puasa di The Apartment
Updates for other posts – 17 Sep 2008
• blogging with style:
Nuffnang sharing session at The Apartment
• catalyst:
Nuffnang Sharing Session @ The Apartment KLCC
• e s t a n c u s:
A loftly night at the apartments, KLCC
• Fidauz takes 5:
The Apartment.
• kuE:
nuffnang sharing session @ the apartment downtown
• Mya:
Nuffnang Sharing Session @ The Apartment
• Red Mummy:
Nuffnangers Shoes & Link…
• ++sexyinred++:
Nuffnang Sharing Session by The Apartment : Photos in Lomo
;
I'm Loving This
• Starry Eyed:
The one where I met the Diver in Jeans!
• Sultan Muzaffar:
Blogger Nuffnang Berkongsi Rasa
• YapThomas:
Nuffnang Sharing Session @ The Apartment KLCC
One more update - 22 Sep 2008
• Nuffnang:
Nuffnang Sharing Session - Breaking Fast at The Apartment Downtown KLCC
One more update - 14 Oct 2008
• jannah;
Nuffnang Ramadhan Sharing Session at the Apartment, Downtown KLCC