Well I have spent the last day-and-a-half compiling some statistics regarding the online aspect of the BUM 2007 meeting - I went there offline, and had that experience, so I'm thinking that one way to proceed is to compare the on and offline experiences. Here are some thoughts.
One thing that differs is that offline the meeting was (obviously) dominated by the speakers, but these speakers did not all post online as well, and those that did, did not post a lot: specifically
Jeff Ooi
and
Rocky's Bru
. None of the other speakers appear to have posted anything online. Four of the organisers posted something:
Howsy
,
Desiderata-ylchong
,
Lucia Lai
, and
Politikus
. Only Desiderata-ylchong seemed to engage in any significant sense with the issues raised at the meeting.
Here are the posts categorised by type of post - the categories are rough and subjective, and one post may be included in more than one category.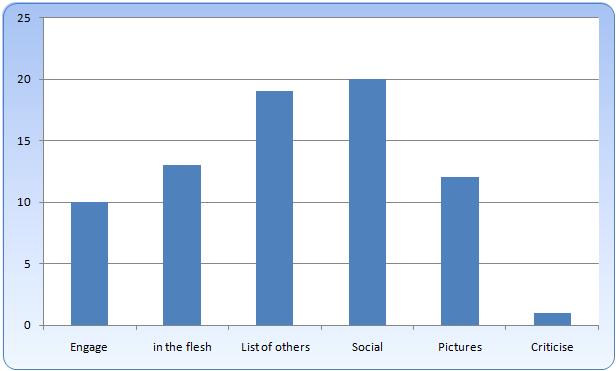 Explanation of the categories:
Engage: The post discusses some of the specific issues raised by the speakers.
In the flesh: The post mentions something about meeting other bloggers 'in the flesh' (online meeting offline).
List of others:The post lists other bloggers who were there, with little extra information except perhaps a short description or one-liner.
Social: The post discusses the event as a social event: the food, the atmosphere, etc.
Pictures: The post has pictures/videos
Criticise: The post criticises the meeting
So, there is a different set of players online, different centripetal poles of interaction. How can one determine their significance? The number of hits the related posts have, and as incoming links, would be a good way. Problems with this would be: the hits relates more to the regular readership of the blog rather than the issue in the post - thus the difference between the normal number of hits and the hits for specific post would be a more useful statistic; incoming links are important, as these usually come from other bloggers finding that post important enough to mention and link, but not all who read it will link to it.
Another way would be through the number of comments, assuming that the number of comments indicates a higher level of interest. Going by the number of comments,
susan loone's post
has the most (61). However, many of those posts are by the same people, having a somewhat acrimonious debate: 34 of the posts are by 'monsterball' - a self-defined 'travelling blogger' - i.e. he does not have a blog of his (?) own, and 'travels' around leaving comments (monsterball qtd. in Loone); rocky's bru had the second largest number of comments (36); followed by Politikus.
The number of comments can also be inflated by the blogger responding to comments: out of the 31 posts, 23 have comments, and 20% of the comments are by the blogger him/herself. Some more stats follow: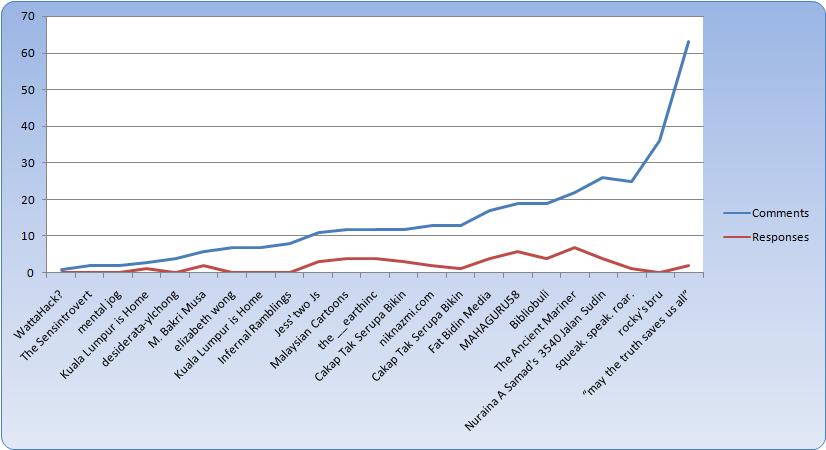 Lowest no. of comments 1
Highest no. of comments 61
Average no. of comments 12.7
Median no. of comments 8
I find that comments are probably the most important feature of blogs, the single one thing that I could point to that makes blogs a unique form of media. I haven't done an analysis of the comments here, but it would be necessary to get a full picture.
Here are some demographics: overall points to note - majority male, 'Professional' (i.e. some kind of white collar/middle-class type job), and the blogs are mostly of the 'Social Comment' type (@ 'SoPo').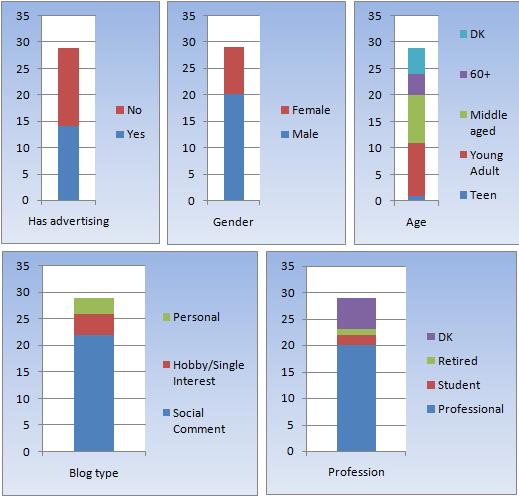 So, conclusions? Well, first of all this takes blinking ages! Aargh!
• I need to get a proper database program to compile my data - I think I'll get Filemaker Pro (the latest version has some feature where you can integrate webpages, which sounds like just what I need)
• Whether BUM 2007 was a political/activist-type meeting, or a social gathering seems to be a matter of debate. The general tenor of the related posts indicates more of a socialising angle, but there are some who objected to the presence of representatives of political parties, and who saw the event as more of a gathering of 'SoPo' (socio- political) bloggers. The stats seem to confirm the latter. It's important to note that the great majority of bloggers do not focus on social/political issues, and probably have an audience limited their circle of offline friends. In this context, Herring et al. ask

If significant numbers of female and teen bloggers exist, how can their relative absence from public discourses about weblogs be explained?... the apparent gender and age bias in contemporary discourses about weblogs arises in part as a result of focus on a particular blog type, the so-called "œfilter" blog, which is produced mostly by adult males." (Herring et al.)
It's also important not to see blogs as one single monolithic genre, a point well made in
an article by Boyd
• There's a lot more that could be said, particularly in relation to how the community of bloggers is reacting to the
All-Blogs initiative
. There has been an alternative proposed by other bloggers (
susan loone
,
ktemoc
). In addition, the MSM is also proposing something similar, with the Star Online leading this initiative (The
AllMalaysian Bloggers Project (AMBP)
,
Shaolintiger
)
• I've managed to do some nice looking graphs with the new Excel, but they are not massively informative.
++++++++++
Works Cited.
Boyd, Danah. "A Blogger's Blog: Exploring the Definition of a Medium".
reconstruction: studies in contemporary culture
. 6.4 (2006). 20 Nov. 2006
http://reconstruction.eserver.org/064/boyd.shtml
.
Herring, Susan C., Inna Kouper, Louis Ann Scheidt, Elijah L. Wright. "Women and children last: The discursive construction of weblogs". Ed. Laura J. Gurak, Smiljana Antonijevic, Laurie Johnson, Clancy Ratliff, and Jessica Reyman.
Into the blogosphere: Rhetoric, community, and culture of weblogs
. 2004b. 11 Nov. 2006
http://blog.lib.umn.edu/blogosphere/women_and_children.html
.
Loone. "About B.U.M 2007 last night".
may the truth saves us all
. 20 May 2007. 5 June 2007
http://sloone.wordpress.com/2007/05/20/about-bum-2007-last-night/
.
Trackbacks
Show preview

Hi and thanks for dropping by – this post is to explain (a bit) the anthropological research I'm doing on Malaysian blogs and bloggers for a PhD in Social Anthropology at Monash University. If you're a Malaysian blogger, or a blogger living in Malaysia