Bako Park was really nice, a perfect place for a day trip from Kuching or more. We spent two nights there, and did a six-hour easy walk on the second day. For me, I love watching monkeys, and there were three kinds there – two I had not seen before.
Around the accommodation area there were Long-tailed Macaques (
Macaca fascicularis
). These are the common type you often see in Malaysia – they're also known as 'Crab-eating macaques', I suppose because they eat crabs; however, these ones spend most of their time hanging around the canteen in order to steal food.
This guy was on a branch overlooking the back of the kitchen
There are rare monkeys there too, the Proboscis Monkey (
Nasalis larvatus
) is an endangered species and one of the highlights of Bako. On the first day we managed to spot a few at dusk, and on the third day we went out early to try to see some. We spotted about five moving around the treetops. They're easy to hear when they're near – when they move from tree to tree there is a loud rustling; but as they stay high in the canopy they are difficult to see, and even more difficult to photograph – this is the best I got!
But if I had a super zoom lense, a tripod, lots of time and mosquito repellent, I might have been able to get this

On the way to see the Proboscis in the morning, we came across a pack (what are groups of monkeys called??) of Silvered leaf Monkeys (
Trachypithecus cristatus
) hanging about the jetty. They mostly ignored us, and it was really nice to watch them play and socialise.
One older one checked me out
and younger ones were playing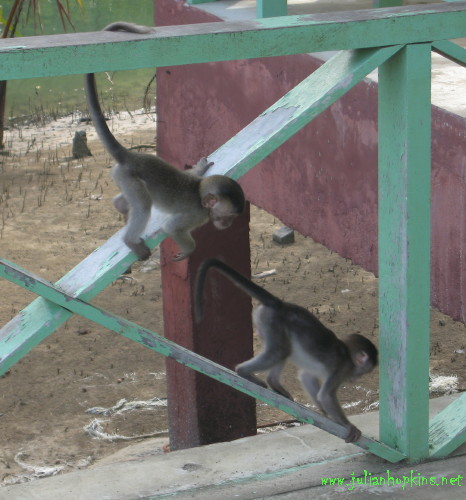 and getting groomed

But there was also a reminder: Don't throw effing rubbish around! >:[