**Sticky post until 13/08/08 - Scroll down for new posts**
In a way, it's a story about blogs – you know how you randomly spot something in PPS or Innit, then click here then there, and end up somewhere you never expected?
It all started with a post by
yinhao
– through him I came to
Nikkiko
who was promising a link to anyone who posted a photo showing how not to use plastic bags. So,
I did
, and also set up a space in my sidebar for Bloggers who hate plastic bags.
Then I got a comment and an email from
The Tiny Tapir
: she has this
online shop
full of great enviro-friendly stuff, and was asking me if I wanted to review some reusable bags! Cool! My first review, and for environmentally friendly stuff summor

So, I've been using them for a couple of months, and here it is… Oh and you can
win one
, details at the bottom!
The first thing I noticed, was how small they pack up; the
manufacturers say
"our patent pending enclosure system enables three bags to roll up to about the size of your cup of coffee." Actually, the 'patent enclosure system' is a couple of velcro straps sewn onto the top, but they work very well and the bags arrived in one A3-size envelope, delivered two days after ordering online.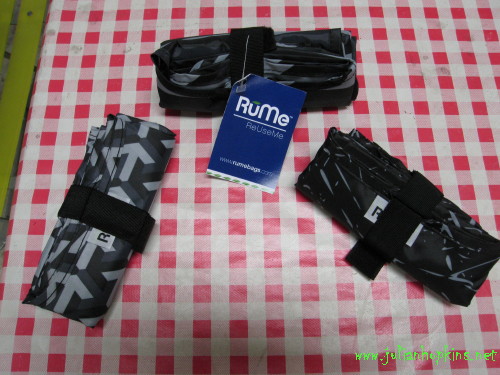 Radioactive Man vs. RuMe!
I decided to compare it to my usual cloth reusable bag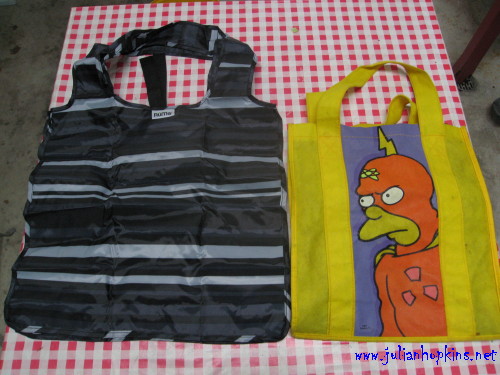 As you can see – it's way smaller folded up, and larger when it opens out.
Next, I took it to the pasar malam – one disadvantage with the Rume bag, was that it does not have the stiff bottom, which means that things are more likely to pile onto each other. On the other hand, the long handles are very useful for slinging over the shoulder.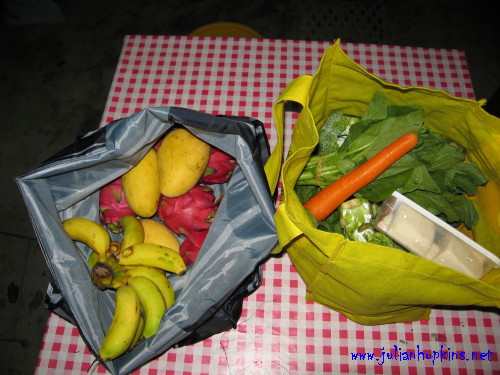 I needed a Malaysian test too - it also carries durian effectively (yummy!).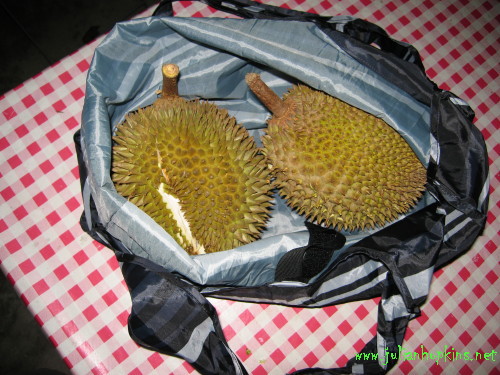 My spouse immediately grabbed one for herself when I got them, and uses it all the time – for example, it came in use to take things back from a weekend movement-building meeting for the next
Fiesta Feminista
(yes there will be another! You heard about it here first

).
Basically, they are very useful to have around (for
carrying a sleeping bag
too), and because they wrap up so small I have one in my laptop bag for random uses, and one in the glove box of my car.
How much? RM85 (recently reduced from RM95) for a pack of three bags. Delivery is RM10. Not massively cheap, I agree – but they are Fair Trade (i.e. not produced in sweat shops where all the profits leave the country), and will last a long time – after all
RuMe
stands for ReUseMe! They can carry up to 23kg, and have waterproof coating. Since you get three in a pack, you could also keep one or two and give away the rest as presents

Honestly, I don't think that before I would have considered buying them, but now I would miss them sorely if I didn't have them – mostly because they are so practical, and I don't forget to bring them with me because there's always one in my bag and car.
Win a RuMe bag!
OK – now you've been forced to read to the bottom, here's what you can do to win one bag for yourself.
• Do a blog post about plastic bags, and how to avoid using them.
• Posts will be judged on originality, creativity, and relevance. Feel free to use photos, etc.
There are some examples in the side bar under 'Bloggers who hate plastic bags'. Be as original as you like, but you don't have to
build a boat with plastic bottles
and sail to Hawaii…
• Tell me about it by
emailing me
and, if you like, leave a comment
• Deadline: Wednesday 13 August, at midnight
• Prize: one
RuMe bag of your choice
(value: RM28.30), delivered for free to Malaysia or Singapore
• And I'll link you in my 'Bloggers who hate plastic bags' panel
Get blogging! Do something to stop plastic bags choking up our lovely planet, and get yourself a free reusuable bag!

[Edit:03/08/08 - forgot to add the following...]
**This review has not been paid for, but I have been supplied free reusable bags by Tiny Tapir in order to be able to review them. All views are my own, and I am not required to give a positive review.**