I did my first interview this week – it's kind of early but the blogger was around and I wanted to take the opportunity. My planned schedule for research is somewhat messed up because the 'traditional' read --> fieldwork --> write-up stages are getting mixed up; my 'fieldwork' is blogging, taking notes and recording aspects of blogs, and meeting bloggers, and I've been doing that for about a year already. And I was blogging before anyway.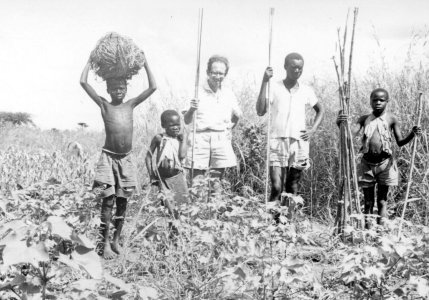 Fieldwork - how it used to be

(Source)
Anyway, I practiced on a fellow student last week (which was very useful), and met up with the first interviewee for about four hours. I'm calling this blogger 'AlphaBlogger': I decided to make them all anonymous, and this blogger gets 'A' as the first name – the blogger chose the name, I just said it should start with an 'A'. The next one will be something starting with a 'B', and so on.
Unfortunately for AlphaBlogger the aircon gas in my car needs topping up (something I noticed in the morning only), so I drove an increasingly sweaty blogger through a somewhat jammed Bangsar and into PJ to try to catch some duck rice at the famous 'Sunrise' place in Taman Paramount, but unfortunately we were too late at 13.30! That place really runs out quickly. So we ate somewhere else, and after went to Monash for the interview.
Anyway, AlphaBlogger was very friendly and easygoing, which made it easier for me. The interview went well, and was very interesting; I learned a few things about the history of blogging in Malaysia, and blogging in general that I never knew. AlphaBlogger mentioned
Blue's News
as one of the first 'bloggers' (not Malaysian) – apparently the website owner started a section called 'Out of the Blue', which was updates on his personal life and stuff. It's something that has never come up in the literature: Blue's News is a site related to gaming, whereas the typical chronologies are the one by (for example)
Rebecca Blood
, have blogs starting with tech/programmer-type people.
AlphaBlogger's name is somewhat appropriate, as AlphaBlogger is
[edited slightly - 1/8/08]
a very early Malaysian blogger. There were very few Malaysian bloggers then apparently, but AlphaBlogger didn't mention
Oon Yeoh
who's been blogging since 2001. One of those mentioned was
Absolutely Fuzzy
who (according to the Copyright information) has had a blog since 2000.
This is also different from the 'official' story I've heard before about the 'father' of Malaysian blogging, Oon Yeoh, and
Jeff Ooi
, etc… It may have something to do with the divide between SoPo bloggers and 'personal' bloggers; SoPo bloggers always get more attention in the MSM, and – it seems to me – represent in most people's mind what a blog is about. In fact, the great majority of blogs are not SoPo blogs.
Jorn Barger's '
Robot Wisdom
' is often cited as the first blog (1997), but I recently found out about
Justin Hall
who started in 1994 – said to be the first personal blogger. Again, it seems that in the conventional histories, the personal bloggers are often overlooked… interesting…
Anyway, it was very useful to talk to an 'A-list' blogger. I definitely learnt stuff that I would never know otherwise (unless I start getting thousands of daily visitors, which ain't gonna happen anytime soon). So, you know who you are, thanks again and hope to meet up sometime again

And if there's anyone who has any information about the history of blogs in Malaysia, please tell me! I'm about to start a chapter on it, and all information is good

Trackbacks
Show preview

From what I've been told, the founding of PPS was an important milestone for blogging in Malaysia. There were ten original founders, and part of the agreement was that they should have a permanent feed with their latest posts on the sidebar ( AlphaBlogg