All-Blogs started
around April last year
, Blog House opened
in August
, and Malaysian politics entered a dramatic new phase 100 days ago (actually 122 today). To celebrate the 100 days, All-Blogs organised a dinner last Saturday.
Given all the heated political happenings recently, you might have expected there to be some serious politicking going on, but the evening turned out to be much more relaxed than I expected.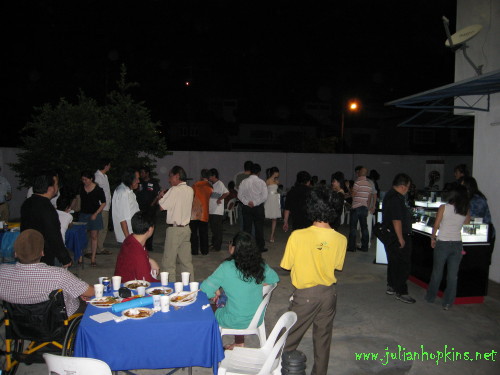 Soon after I arrived. More people turned up later.
I arrived about 8pm, and after signing in and signing my own cup (part of an effort to avoid wasting plastic cups – good idea

), I got a beer and some of the nice food provided. As the evening went on more people turned up, and I was surprised by the number of YBs there – seven in all:
Nurul Izzah Anwar
, Mukhriz Mahathir,
Jeff Ooi
,
Loh Kwo Burne
,
Wee Choo Keong
,
Ronnie Liu
, and
Tian Chua
came by – I didn't see him but saw a photo afterwards. Notice the odd one out? I asked Mukhriz Mahthir if he had a blog, and he said no but maybe he would get one...
This gathering really seemed to reflect some of the momentous changes happened over the last year: from 'stupid unemployed women', (some) bloggers have been promoted to legitimate political commentators on a national scale, BN and UMNO have been shaken to the core, and the opposition is in the ascendant.
Blogs really are the flavour of the week: when I went to the Blog House opening last year, there was a definite feeling of being a bit 'underground', and blogs were regularly being attacked and demonised in the press. And you would not have seen major companies sponsoring them! This time round, a whole slew of companies donated funds, including Air Asia and LG in particular.
In
Rocky's post
there are some comments questioning the implication of corporate sponsorship, to which Rocky has responded; and someone has suggested the formation of an alternative bloggers group.
It was a fund raising event, and there was an auction. One of the lots was a poster…
the poster is a print-out of a blog button done before the elections – it still has the name 'Barisan Rakyat' on it, and was one of thirty printed. This one was signed by four of the MPs present… a real bit of blogging history there – I would have liked to be able to afford it, but it went for RM1,500 in the end.
There was also a lucky draw, and the top prize was an LG Secret phone – I had a look at it (there were demonstrators showing it around) and was hoping that for once I might win a lucky draw…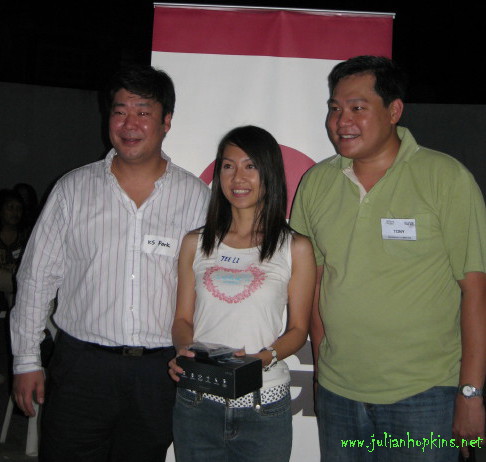 It has this (probably useless, but nifty) motion sensor that means you can
play a fishing game
on it – kind of like a Wii. I wonder what more practical use it could have…
Overall, the feel was quite different from other All-Blogs/BUM meets I've been to; normally they have a few speakers and some social-political theme. Although some of the YBs gave a short talk, this time round there was not much politics discussed at all, some noted activists were rubbing shoulders with MPs, and there was even some unexpected jollying between people like RPK and Mukhriz
Marina Mahathir also mentions
"how, for the first time ever, Nurul Izzah Anwar and I met."
When you think of what their fathers must think of each other, you can imagine that there was some uncomfortable vibes!
Maybe it's too optimistic to agree with RPK when he said "here in Blog House we don't care a damn [who you are]… here you are a blogger…"; but it does say something about how the shared practices of blogging are creating something like a hub for different influential (some more than others) people to gather – both offline and online.
Anyway, I'd like to send out a thanks to all the organisers for all the hard work to put together an enjoyable event, and to the pleasant company for a good evening

Links to posts about the event
(if you know of any others, please put it in the comments - thanks!

A Little Taffer's Room:
100 Days MPs Party
All-Blogs 100 Days [official blog]:
Thank You, Sponsors!
;
Post Your Secret & Win
Another Brick in the Wall:
No to Civil and Liberal Hipocrasy in All Blogs!
Can you see it?:
All Blogs Dinner
Euphoria in Misery:
100 Days bla bla bla
Jinggo's FotoPage:
Bloggers Gathering at Blog House
Malaysia Today:
Bloggers Gathering at Blog House
The Manor Farm Journal:
From Sentul To Damansara Heights
MikeMmery:
All Blogs 100 Days @ Blog House
Mr. Manager:
I'm sorry.
The Nocturnal Mind:
Sponsoring Freedom, Democracy and Bangsa Malaysia
The People's Parliament:
RPK's out
The "thirteen million plus Ringgit" guy rambles….:
Blogging hiatus
(well, actually he's saying he's on strike and will not blog about the event

)
Rantings by MM:
Night of The Stars at Blog House
Screenshots:
Blog House
Surind:
100 Days' - Thank You Organisers & Sponsors!