Well, a morning rather. What I try to do every morning is add some blogs to my database. I made it using
FileMaker Pro
, which is relatively easy to use I find, and basically I try to collect information that I'm able to find from the blog itself, to which I occasionally may add information I know from other sources. The point is to gather 'demographic' information about all these 'inhabitants' of the Malaysian blogosphere: what kind of blog they have, what ads they have, which groups they're part of, age, occupation, gender, etc.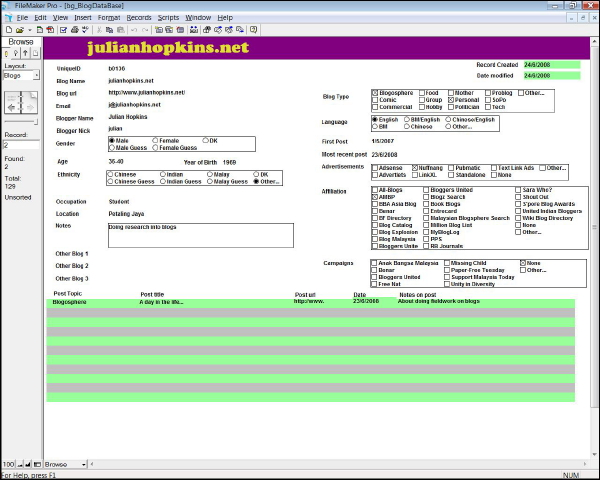 What I also do is note down specific posts that I find important as examples of types of behaviour, like the other day I noticed someone talking about how they'd been blogging for three months but made less than a dollar (which is more than I have :/ ), and there were some comments with advice and so on. A good example of people sharing practices and therefore building common practices and 'socialities' as
John Postill
might say.
By noting who comments where, and tracking the different related posts on a particular event, I can also do some social network analysis and come out with visualisations of this type (done using
Netdraw
), which sometimes help to get an overall picture (I've taken off all names etc. to keep it anonymous).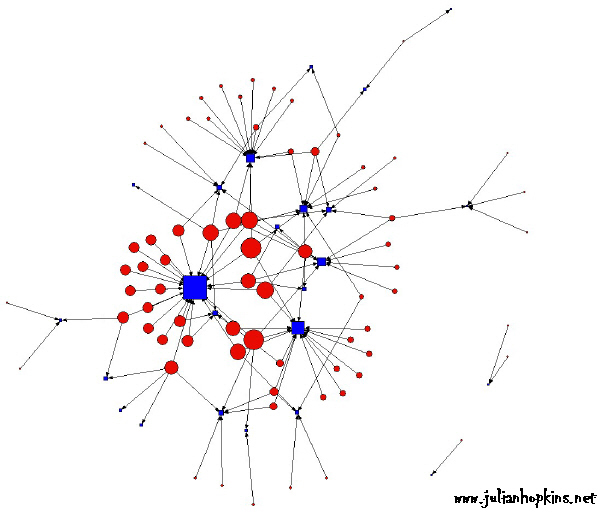 The red circles are people leaving comments, and the blue squares are people receiving comments.
The size of the nodes relates to how 'close' they are to everyone else in the 'network'. Imagine for example five bloggers linked via comments:
A has a comment on blog B, C and D
B has a comment on blog A and E
C has a comment on blog A
D has a comment on blog A
This means that:
A is 'closest' to everyone – it only takes one step to get to everyone else in the network, except for E for which it has to go via B
B is second closest – it has a direct connection to E, and via A it can get to everyone else
C and D are the same – via A they can get to everyone, but to get to E it takes them two steps, i.e. A -->B --> E
So there you go – fascinating eh? However, it's all very time consuming, and if there's somebody out there who would be able to automate some of this, I would love to hear from you